Mask Mandates In The Workplace: What Employers Need to Know Now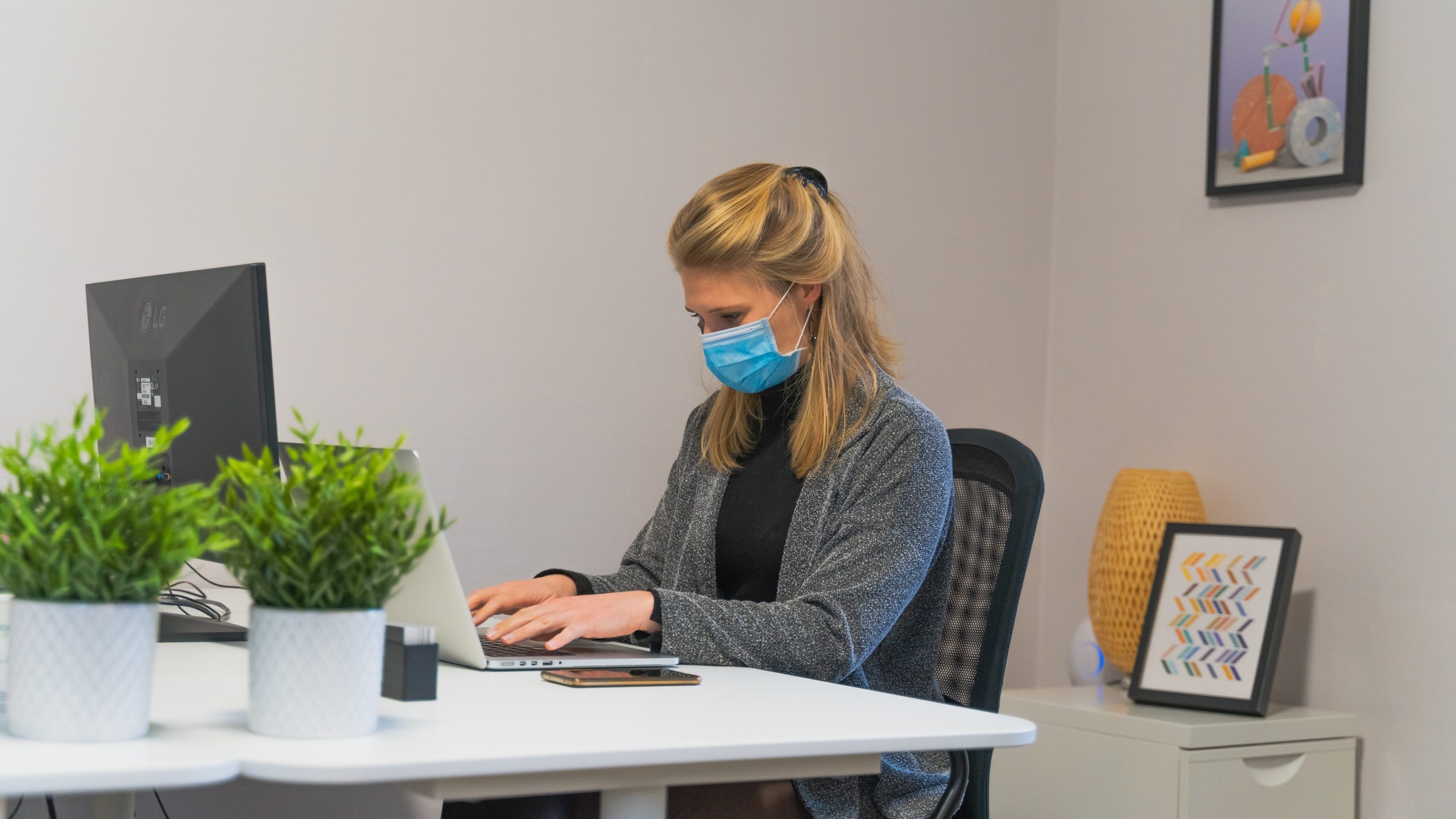 As cases rise again, so are discussions about whether to impose mask mandates in the workplace to protect employees and the public. If you're like many organizations, it can be challenging and time consuming to try to stay up to date on the latest guidance, and you may be wondering about what's best for your business in the current environment.
Complete Payroll Solutions' certified HR professionals have been advising companies for over 18 years on workplace policies and practices, including how to keep workplaces safe, productive, and open during the pandemic, To help you understand whether to mandate masks in your business, here we'll discuss:
Can I require masks in the workplace?
Are there federal or state laws about masks in the workplace?
What if an employee can't or refuses to wear a mask?
Do I need to provide masks to employees?
Should I have a mask policy in writing?
After reading this article, you'll have the information you need to make a decision about the use of masks in your workplace at this point in the pandemic.
Can I enforce a mask mandate in the workplace?
While masks are still required for workers in certain settings like healthcare and public transportation, even if there is no legal obligation to do so, you can require masks in the workplace. And that's true even if your employees have been vaccinated or they work outside.
As you decide whether to mandate masks in your workplace, you should look to guidance from the CDC, OSHA, and your state health and other governmental agencies, which we'll discuss next.
Are there federal or state laws about masks in the workplace?
There is no federal law requiring masks in the workplace for fully vaccinated individuals. However, there is some guidance from federal agencies that may help you when reaching your decision about masks in your business.
For example, while the situation is changing almost daily, currently the CDC recommends that individuals who are fully vaccinated should wear a mask indoors in public in areas of substantial or high transmission for protection from the Delta variant and prevent the spread to others.
If employees haven't been fully vaccinated, the CDC recommends the use of a mask in indoor public places.
Likewise, OSHA points to the CDC's guidance when you're making a decision about whether to require masks and recommends that all employees wear a cloth face covering when in public and around other people. Masks should be addressed as part of your safety program to ensure compliance with OSHA, which requires under the General Duty Clause that you provide workers a workplace free from recognized hazards that can cause death or serious physical harm.
Beyond federal guidance, you may need to follow state laws regarding mask regulations where you operate if there are directives in place. In fact, a growing number of states and municipalities are reinstating indoor mask mandates such as in the 12 of 17 counties in Nevada and in certain counties in Massachusetts. Be sure to follow your state and local mandates when making your decision around mask use to avoid a violation.
What if an employee can't or refuses to abide by workplace mask requirements?
If you decide to implement a mask mandate in your business, you may get some resistance from employees who refuse to comply for personal or health reasons. In most cases, you can enforce your mask requirement and, if workers fail to comply, you can discipline or terminate them.
However, there are some exceptions to this approach. If an employee has a disability that makes it difficult for them to wear a face mask, they may request a reasonable accommodation under the Americans with Disabilities Act (ADA). Some examples of reasonable accommodations in this case could be allowing the employee to work remotely or in an office by themselves, if that's possible.
Do I need to provide masks to employees?
If you're requiring masks in the workplace, you should provide them to those workers who need face coverings. In some states, this is a requirement, such as in Washington, where employers are required to provide cloth face coverings or more protective masks to employees free of charge when the use of a mask is required.
Even if your state doesn't require you to provide masks, if you mandate their use in your workplace, it's a good idea to give them to workers. That way, you don't have to worry about the effectiveness of an employee's own mask, dress code adherence, or an employee who forgets their mask.
Should I have a mask policy in writing?
If you decide to require masks in the workplace, you should put your policy in writing and make sure you communicate it to all employees in emails, letters and posters. Your policy should address:
An explanation of the role masks have in helping to prevent the spread of COVID-19
When and where masks are required, for example, you'll want to address whether you will require masks if an employee is alone in a room or vehicle or while eating and drinking
How you will provide face coverings, meaning, who do employees contact to get a mask, and guidelines on acceptable masks if employees use their own
How to properly wear a mask to afford adequate protection as well as clean and/or dispose of the coverings
Consequences for not complying with the policy
While your policy doesn't need to be included in your employee handbook, you should have employees sign off on it and retain a copy for your records.
How to Best Manage Mask Requirements in the Workplace
We know that the mask guidance is difficult to stay ahead of and that you have factors and considerations that are unique to your company when making a decision about mask use in your workplace.
Complete Payroll Solutions can help you create the right policy for your company by advising you on any requirements currently in place and best practices. We may be an ideal partner for you during this time if you:
Want both on-demand and live access to HR support
Prefer a provider who may also be able to assist with other business functions as you grow like employee benefits
Want guidance from professionals with industry certifications that can keep you in compliance
To learn if we may be the ideal HR partner for you, read our next article on the factors to consider when choosing an outsourced HR company.
in

HR