Corporate Philanthropy Programs: Engaging Your Team While Giving Back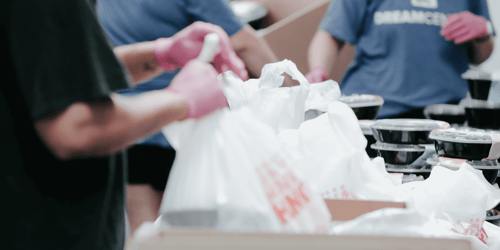 In the continued tight labor market, you're probably anxious about employees leaving your workplace and eager to find ways to combat attrition. One approach that may help is corporate giving. That's because corporate philanthropy has been found to help build a sense of community that results in engaged employees who are more likely to stick around. If you're thinking of implementing a program in your organization, we'll break down what you need to know to get started.
In this article, we'll discuss what corporate philanthropy is, different types of giving, the advantages to your business, and how to implement a program. After reading this, you'll know to enhance your culture and retention through charitable giving.
What is corporate philanthropy?
Corporate philanthropy are the efforts a company voluntarily undertakes to responsibly manage and account for its impact on society. These can include investments of money, donations of products, in-kind services and technical assistance, employee volunteerism, and other business transactions to advance a social cause, issue, or the work of a nonprofit organization.
What types of corporate philanthropy are there?
As we just mentioned, there are various options to include in your corporate philanthropy program. We'll get into a little more detail about some of the more popular ones here.
Monetary investments: These can either be outright donations directed to organizations that reflect the values of your company, such as

Mastercard's funding of Junior Achievement in many regions throughout the world

, or you can match a gift to a nonprofit by one of your employees. One of the advantages of matching gifts is that they give the choice of charity to the individual worker.
Product donations: Your company can allow organizations to submit donation requests for items. For example, nonprofits may ask for food for an event, goods for an event auction, or technology for their offices. Many large companies offer this option, including

American Eagle Outfitters, who donates gift cards for programs or events that support youth and teen initiatives

.
In-kind services and support: While physical goods that we just mentioned also fall into the category of in-kind gifts, what we're talking about here is your time and expertise. Some of the more common donations are legal, accounting, or consulting services. Just be sure to get an acknowledgment from the organization if your in-kind gift is valued at more than $250 for tax purposes.
Employee volunteerism: You may decide to provide volunteer

time off

that allows employees to volunteer for an organization that's meaningful to them. Or you could choose to identify volunteer opportunities like building a home through

Habitat for Humanity

and organize a group of volunteers to take part. This option allows you to learn more about your employees on a personal connection and share an experience.
No matter which option(s) you choose for your program, the key is to make sure that your philanthropic work is tied to well-thought-out objectives so you'll want to think about your goals. For example, you may not only want to create a more positive work environment and greater employee engagement but also enhance your public image or customer relationships. We'll get into more of the benefits of corporate philanthropy next.
What are the advantages of philanthropy for your organization?
As we just mentioned, a corporate philanthropy program can provide several important benefits to your company. These include:
Enhanced relationships with customers and stakeholders: You'll demonstrate that you're interested in more than just increasing your profit margin. In fact,

two-thirds of consumers try to support companies that have a social purpose

.
Better recruitment: Today, many employees – especially millennial and Gen Z workers -- are increasingly looking to work for companies that are actively involved in charitable efforts and genuinely interested in giving back.
A deeper personal connection with employees: You'll have opportunities to understand what matters to employees personally or to bond over shared charitable events and experiences.
Stronger brand awareness: You'll make an impact on your community, organizations, or causes, which can enhance your brand awareness by connecting it with positive social initiatives.
Increased employee engagement: While monetary compensation is important,

purpose-driven work is essential to thriving

; when given opportunities, employees will become more invested and productive.
How do I start a corporate philanthropy program?
To create a meaningful corporate philanthropy program, you'll want to take a number of steps.
Decide on your giving elements. Select the opportunities you want to include in your program and where you want to direct your efforts. You may want to establish a committee to gather feedback to determine the types of causes that are important to support.
Make it simple to participate. Don't create too many steps for employees to take part. Instead, make sure any sign up tools or request forms are simple so it's as easy as possible to get involved. Provide various options they can choose from and be sure to offer ways for families to get involved also.
Communicate. Whether you use flyers, internal newsletters, or other methods, be sure to promote your program so employees are aware of the corporate philanthropy opportunities available to them. As you complete activities, highlight any important statistics you have so that your team can see their contributions and their impact such as the total amount funded or number of volunteer hours. Showing off the good work will also inspire employees to participate.
Reward good work. Some companies choose to offer a reward like a dress down day or early Friday release when they reach a philanthropic goal as a way to say thank you. You may want to consider this approach.
Make philanthropy part of your corporate culture. This starts with leading by example so be sure management takes parts. However, it shouldn't stop there. To make corporate philanthropy part of your organizational culture, don't let your giving be a one-and-done but make sure you commit to ongoing initiatives.
How to Continue Engaging Your Team With Corporate Initiatives
As you can see, corporate philanthropy is a great way to boost employee engagement while also furthering your business goals. If you're looking for additional ways to help facilitate employee engagement within your organization, get started by learning more about employee engagement software for your organization.
in

HR , Corporate Philanthropy