What Does An HRIS Cost? An Employer's Guide To Pricing & Savings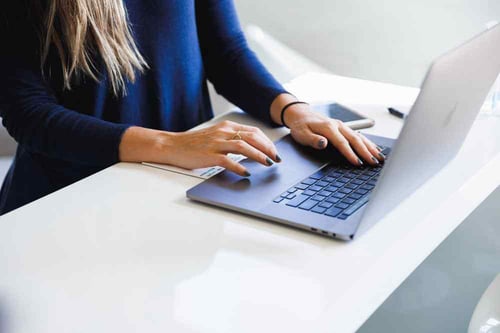 As your company grows, you'll likely find that you're spending more and more of your day on HR administrative tasks and less time on more strategic work. If this is the case, you may want to consider an HRIS system. An HRIS can help you gain more efficiencies in your HR processes to free you up to focus on revenue-generating activities. But you may be worried about the cost.
Complete Payroll Solutions offers HR consulting to companies throughout the Northeast. Although an HRIS may not be right for everyone, we often back up our services with this type of technology to maximize efficiencies in common HR practices like employee information management, hiring, onboarding, and performance reviews. While that may make us a little biased, we also know how these solutions are priced in the market.
To help you understand what you can expect to pay for an HRIS, here, we'll cover:
How an HRIS is priced
Average costs for an HRIS
HRIS implementation costs
Ways you can potentially save on the cost of an HRIS
After reading this article, you will know what you can expect to pay so you can decide if an HRIS is right for your business and budget.
What is an HRIS?
An HRIS is a technology solution that helps companies manage their workforces. In its most basic form, it allows you to manage and track employee information. But you can also add on a lot of other features to help with a wide range of HR tasks. Some of these include :
Recruitment/applicant tracking
E-Verify
Background checks
Onboarding
Benefits enrollment
Performance reviews
Position management
Compensation management
Employee self-service
Depending on your needs, you can start with a comprehensive system that includes all of these features or you can begin with the most basic package and add on functions, or modules, as you need them.
No matter which route you choose, we see most companies consider an HRIS when they grow past the point of being able to manage employees manually using spreadsheets. Although there's no exact number, this typically happens when you reach around 25 employees.
What is the price of an HRIS?
There are many HRIS options on the market today. As you start your research, one of the most important considerations you'll want to evaluate among vendors is cost.
Typically, HRIS providers will charge a per employee per month (PEPM) cost. On average, you could expect to pay costs ranging from $1 to $15 per employee per month depending on the features you select. So, you'll be at the lower end of that range for more basic systems and see higher prices as you add on functionality.
At Complete Payroll Solutions, we charge between $1 and $4 PEPM for a system that includes management of employee information, onboarding, and benefits enrollment.
What can drive up the price of an HRIS?
As we just mentioned, the main factor that can increase your HRIS costs is adding on features if you want your system to have more functionality. Essentially, the more your system does, the more expensive it will be. For example, at Complete Payroll Solutions, if you opt for a full-suite solution that handles all aspects of the employee life cycle from onboarding to position management, you can expect to pay $6 to $7 PEPM.
There are other items that may increase what you'll pay for an HRIS as well. These include:
Recruitment capabilities: It's important to point out that a recruitment feature in an HRIS is often a separate price. That fee is usually based on a number of factors, including the number of open job requisitions.
Implementation fees: Depending on the vendor you choose, you'll likely have to pay a one-time setup fee. This charge will cover configuring your solution based on your needs, implementation, connecting with outside vendors, and upfront training and support.
Systems integration: If the HRIS you select doesn't integrate seamlessly with any legacy systems that you have in place, you may need to invest in upgrades to your technology to make sure everything is compatible.
Ongoing training and support: While your initial setup fee should include training for your staff, depending on the provider, you may need to pay for additional support. For instance, you may require training for new managers who may need to use the system. This should be spelled out in your contract with the vendor.
Are there ways to save on an HRIS?
If you're looking to save on the cost of an HRIS, you can start by focusing only on basic features you need at the outset. This approach will make it less expensive to implement an HRIS.
However, it's important to consider that bundling features you anticipate needing in your HRIS initially may save you money in the long run. While you may not need all of the functionality at the start, it will cost you less to build your solution with all the modules you need than to add them one by one later on.
What are some ways an HRIS can save me money?
While you'll have to make an initial investment to take advantage of the benefits of an HRIS, the systems may also end up saving you money. An HRIS can reduce your costs through:
Increased efficiency: An HRIS will automate many tasks to reduce your administrative burden, resulting in time savings and, therefore, labor cost savings. In addition, greater efficiency in your processes will allow you to focus more on strategic HR tasks that will help grow your business like culture, employee development, and retention.
Improved employee experience: By encouraging self-service in certain functions, like requesting time off or accessing the employee handbook, an HRIS can improve employee satisfaction and morale, boosting retention. And that can save you the cost of a new hire.
Enhanced compliance: By improving accuracy, storing information properly, and offering integrated reporting capabilities, an HRIS can help you be more compliant with state and federal laws so you avoid costly penalties.
Better planning: Having a centralized solution enables you to have immediate access to needed employee information as well as integrated data for analysis. With better insight into workforce trends, an HRIS can help with decision-making regarding your personnel to support your growth initiatives.
So, how do I pick the right HRIS?
An HRIS is surprisingly affordable, especially when you consider the cost savings you'll realize when you implement one. As mentioned earlier, you can expect to pay $1 to $15 per employee per month depending on the functionality you choose.
These costs can vary widely based on the vendor as well as the features you select so you should compare pricing to find the best fit for your company. There are a lot of HRIS options on the market today. As you're considering solutions, we thought we'd tell you who Complete Payroll Solutions is a good fit for.
We are ideal for companies who want:
An experienced technical implementation team focused solely on setting up your HRIS
To be able to contact support directly and not get routed to a call center
A solution that can scale to accommodate future growth
The ability to access additional HR outsourcing services from the same vendor
If an HRIS sounds like a good fit for you, review our blog on what to consider when choosing an HRIS so you make the best choice for your business. Ready for an HRIS and think Complete Payroll Solutions might be the right fit? Read our blog on the HRIS options we offer to learn more.
in

HR , HRIS , HR Software , Technology