Best Corporate Learning Management Systems (+Tips For Choosing An LMS)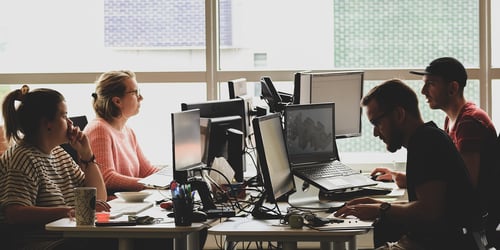 If you've decided to use a learning management system (LMS) to help you best manage your employee training and development initiatives, you may be wondering how to find the best fit for your company. With so many corporate learning management systems available, narrowing your list of potential partners can be challenging. Here, we'll break it down for you to make choosing the best LMS easier.
In this article, we'll evaluate the top LMS training options on the market today, comparing them in terms of a number of important factors such as their features, cost, and support. After reading this, you'll be prepared to weigh your choices to decide on the right learning management system for your company.
What are some of the best corporate learning management systems?
As you search for the best LMS training system for your organization, here are some of the top choices to consider.
360Learning
360Learning uses AI and collaborative features to turn a company's in-house experts into L&D collaborators, so you can upskill fast and continuously all from within your own organization.
Paycom
Paycom Learning let's companies easily and consistently train their employees with learning management software as they engage them with ongoing development.
Paylocity
With Paylocity's LMS for employee training, you can assign courses to an individual or a group of employees to train them in new skills, policies, and more.
Rippling
According to its site, Rippling is a fully automated corporate learning management system that allows employers to deliver the right courses at the right times with intelligent course assignment.
TalentLMS
TalentLMS is a learning platform that's fully customizable and easy to manage. It makes it easy to provide the right training for any team and every use, while giving expert guidance and support every step of the way.
How do I choose the best LMS for my business?
As you consider different corporate learning management systems, it's a good idea to start by comparing your options against one another like we did above. However, to decide which solution will be a fit for your business, you'll also want to factor in the unique needs of your organization. While you'll likely find that most systems offer similar functionality, identifying the areas that matter most to your company will be key in your decision-making process. For example, if you're just getting started with employee training in your organization, you may want a high tier of support. In contrast, if you're introducing an LMS to boost your existing employee training program, more robust features and reporting may weigh heavier on your decision.
Now that you have a better understanding of how to evaluate providers, we'd be remiss if we didn't encourage you to consider Complete Payroll Solutions as a potential partner to deliver employee trainings. Discover if one of CPS' employee training and development solutions is the right choice to enhance your organization's efforts.