Employee Training Programs At CPS: Our Top Employee Learning Solutions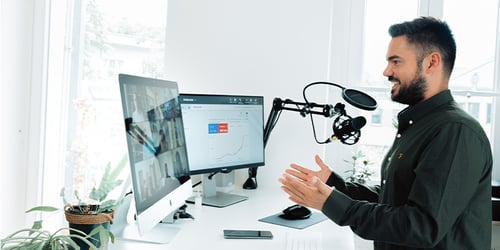 If you've been thinking about using a third party to help you best manage your employee training programs, you've probably compiled a list of providers you're considering. Since you're here, that means you're thinking about Complete Payroll Solutions as a possible employee training partner. Not sure how our offerings match up with what you're looking for? Let's find out.
In this article, we'll explain the different types of employee training programs we offer, their features, what you can expect to pay, the level of service and support provided, and more. After reading this, you'll be able to decide which of our employee learning options would be the best fit for your organization.
What employee training programs does CPS offer?
At CPS, we offer a number of different employee training and development options. The options can be categorized into two primary types, which we'll break down for you here:
Learning Management Solutions
We have two options when it comes to LMS training.
LMS software: One option is to buy an annual license for our LMS system. When you do, you'll automatically get access to 150+ pre-built trainings you can send to your employees. You also have access to add single courses as needed from a selection of more than 50,000 options from our content marketplace.
LMS service: Alternatively, you can just use our LMS to purchase trainings rather than getting your own license for the LMS. In this scenario, you'll buy the individual courses you'd like to offer your employees.
Content
With either choice, you have access to a wide range of learning opportunities, from required courses for compliance training to courses on topics that relate to the specific needs of your organization. They also contain a mix of learning elements such as quizzes and gamification.
When you purchase a license to our LMS, you also have the option to upload your own custom or third-party content in Shareable Content Object Reference Model (SCORM) file format. This approach can be helpful when developing employee training programs because you have the opportunity to curate, create, and deliver unique, custom content to your staff.
No matter what option you choose, the trainings are all offered electronically through one of our LMS systems.
Certificates
Employees will receive a certificate for completing a course or path that can either be saved or printed. In addition, employees can earn badges and accumulate points when trainings are completed. These rewards can serve as a motivator for learners.
Ease of use
Our systems are simple for both employers and employees to use.
As an employer, your managers can add and manage users, create assignments and assessments that can be completed and graded online, and review results and provide timely feedback to employees.
Employees can access their courses anytime, from anywhere, as long as they have an internet connection. They'll receive the trainings through an intuitive dashboard, which will include any messages for learners as well as what courses they're enrolled in, training requirements, and records of completion and certificates, if required.
Support
With both our LMS software option and LMS service, we offer a strong customer support team that can answer questions and help you get your program up and running, whether you need assistance before you launch your LMS, during implementation, or after.
Reporting
You get access to reports on who has completed their trainings and whether anyone struggled with concepts in the courses. Managers and supervisors can review this data to monitor training progress. Our reports are also helpful in the event of an audit if you need to submit documentation to maintain compliance.
Cost
The cost for our LMS-based employee training programs depends on whether you purchase our LMS software or LMS service.
LMS Software: When you choose to purchase an annual license to our LMS software for training, you can pick from two levels:

LMS Only: With our Learn system, you'd get access to 150+ trainings that you can send electronically to any employee. For this, we charge $3.50 per employee per month with a one-year commitment. If you have 40 employees, it would cost $1,680 for the year for this option.
LMS with SCORM Content Viewer: For our Learn & Grow system, you get access to the same 150 trainings, but also have the ability to add your own training content. For this, we charge $6.50 per employee per month with a one-year commitment. Using the same 40-employee company, it would cost $3,120 for the year with this option.

LMS Service: If you instead decide to simply utilize our LMS service to access trainings rather than purchasing your own license for the LMS, you'd only be responsible for the cost of the courses. We sell individual courses for $20 per employee per training. In this case, if you have 40 employees to train, it would cost you $800 for each training you choose for your workforce.
As you can see, an LMS is a cost-effective way to provide training that's consistent, measurable, and transferable among managers and employee groups. However, you may prefer live courses led by an instructor instead for a more interactive experience for employees. We'll talk about the instructor-led options we offer next.
Instructor-led Employee Training Programs
We offer three types of instructor-led training, which we'll compare in several different areas. Any of these are available for clients of Complete Payroll Solutions or non-clients.
Individual and team trainings: Our team of licensed HR professionals can lead trainings for your company from our library of courses. You can pick the titles you want based on a number of factors such as required compliance topics or trainings for different groups of employees like supervisors or managers. We also offer "tracks" for certain individuals like a management skills pathway that include multiple classes.
Length: The courses vary in length and can be anywhere from an hour to two days.
Cost: The trainings vary based on the topic and audience. For example, management trainings cost $850 for up to 35 participants.
Format: Our individual and team trainings can be conducted on-site at your location(s) or via video conference.
Certificate: All attendees receive a certificate of completion at the end of the class.
Online employee training seminars: We offer a selection of online training seminars that one or more employees at your organization can register for. The offerings change frequently based on demand or developments in the industry but include a variety of topics, including sexual harassment, leave management, employment law, and more.
Length: The courses vary in length and can be anywhere from an hour to two days.
Cost: The cost of the trainings depend on which seminar you choose and how long it is. For example, our sexual harassment training for managers course is 1.5 hours long and costs $100 per registrant.
Format: All of these seminars are delivered via video conference.
Certificate: All attendees receive a certificate of completion at the end of the class.
Webinars: These webinars are offered periodically on timely topics for the industry and are often presented by our HR professionals in conjunction with other industry leaders such as employment law attorneys. The schedule for these webinars depends on what's happening in the industry but past topics have included hiring practices and paid leave.
Length: The webinars are typically one hour long.
Cost: Our webinar series is free to attend.
Format: All of these seminars are delivered via video conference.
Certificate: For webinars, no certificates are provided; however, SHRM credits may be available.
Which employee training program is best for me?
With both LMS and instructor-led employee training programs to choose from, it may be challenging to decide which of our employee learning options is right for your company. As you evaluate Complete Payroll Solutions' options, you may want to consider a few factors to help you in your selection, including:
Resources: If you decide to buy a license to our LMS, do you have the staff to roll it out and customize it?
Employee preference: Will employees embrace online learning or do they prefer in-person training?
Investment: Do you have the budget for an annual license to an LMS or do you want to pay as you go with individual courses?
Compliance: Do you have compliance requirements in your industry or state that mean you need to report on course completion?
Adoption: Will your employees need reminders to complete courses or are they driving their own training and development?
After answering these questions, you may find that you have one clear winner. If not, our experts are available to help you understand your options in more detail so you can choose the right approach to training for your business.
How do I get started with CPS?
Depending on which of our employee training programs you select, there are different steps you may need to take to get started. For example, if you decide to buy a license to our LMS, you'll have to set up an account and customize your portal before you roll out trainings to employees. If you choose instructor-led trainings, you'll want to identify your needs and then identify what programs we currently offer to pick what will work best for your company.
Either way, your employee learning program should be part of a comprehensive approach to employee development. For more information on what CPS can offer as an outsourced HR provider, visit our dedicated HR outsourcing page.
in

HR , Employee Engagement , Training , HR Outsourcing