Employee Onboarding: A Guide To Creating A Process That Works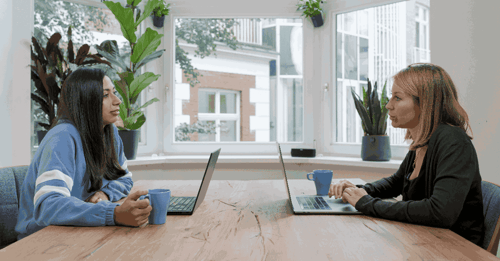 If you're hiring employees for the first time or are looking for ways to bring new workers up to speed more quickly, you may be wondering if there's an optimal way to onboard. Employee onboarding best practices can be a critical factor in setting up workers – and your company – for success. What do you need to know to implement a process? Let's find out.
In this article, we'll explain what employee onboarding is, why it's important, when you should start the process, steps to include, and implementation tips. After reading this, you'll know the key elements of a proper employee onboarding process for your new hires.
What is employee onboarding?
Onboarding refers to the processes used to integrate new hires into an organization. It includes activities that allow employees to complete an initial orientation process as well as learn about the organization and its structure, culture, vision, mission, and values. All of these are intended to help employees move from their initial excitement about a job to a feeling of psychological safety and belonging.
As we'll discuss next, onboarding should really start before an employee's first day so that you and your worker are prepared for a seamless transition, and it should last well beyond as well.
When does onboarding start?
Ideally, the employee onboarding process should start before a new hire begins. This phase of onboarding is typically called preboarding and it can begin as soon as an applicant has accepted a position.
During the time between when they commit and their first day, you can use this opportunity to build the employee's excitement and make sure they have everything they need to be successful. That could mean:
make sure any needed equipment is ready

set up their access to technology

provide benef

it information, required notices, and other necessary

paperwork

share the

employee handbook

send them company swag

If applicable, let them know where to park
By taking these steps, you'll help reduce a worker's anxiety about the first day and also enable them to hit the ground running once they officially join your organization.
Once they join, onboarding should continue the great momentum you started. It's a good idea to have a 90-day onboarding plan to make sure you cover everything that's needed. We'll explain what that should include next.
What should be included in my employee onboarding process?
Knowing how to onboard a new employee is essential to give them everything they need to reach maximum performance in their new roles as quickly as possible. To provide a comprehensive onboarding experience for your new hires, consider including the following components in your plan:
Offer a welcome tour

. Walk the new hires around to meet other members of the team, or schedule video calls if employees are remote. Introduce them to their work area. And show them where key areas are like the restroom or kitchen.

Confirm paperwork is complete

. Have your new employee meet with an HR representative who can make sure that a

ll

new hire paperwork and information have been submitted and answer any questions. If you use employee onboarding software, this should be a convenient, self-service process.

Introduce them to company policies

. Go over payroll procedures. Walk them through company policies such as work hours, requesting time off, and how to clock in and out. You'll also want to cover business practices like communication expectations that they'll need to know in their role.

Schedule necessary training

. Whether you use an

LMS

or other format, be sure to provide employees with the technical, compliance, and other training they need to get them up and running. Three-fourths of new hires say training during the first week is most important to them

.

Provide a buddy, mentor, or coach

. Even if you don't h

ave a formal

mentorship program

, partner your new employee with a high-performing team member who can help guide them in their first few weeks on the job.

Assign projects

. Don't be afraid to give new hires tasks. While they may need to spend time acquainting themselves with your culture, their team, and work policies, a project will give them an opportunity to gain practical experience. And be sure to give a deadline.

Set future expectations

. Outline upcoming projects you'll assign and the support you'll offer to help complete them. Set aside time to work with them on goals for the year. And provide a

professional development plan

for training that will help them get to where they want to be.

Check in regularly

. Employees want frequent feedback today, and that holds true for new workers as well. Schedule weekly check-ins for the first month to help them feel welcome and secure. And arrange social events with other teammates as well so they can interact and integrate.

Continue the onboarding process

. Show you care by continuing t

o set them up for success. Focus on continuous development, share their career path, and ask how you can support them. This extended process can go a long way to boosting engagement and retention.
Why is good onboarding so important?
With a solid process in place for employee onboarding, you'll not only put new hires on a path to success but you'll also realize other benefits.
Improved productivity

. Employee onboarding can help new team members acclimate to their work and become more effective contributors quickly. Organizations with a great employee onb

oarding program

experience up to 54%

greater new hire productivity

.

Increased loyalty and retention

.

93% of employees say a good onboarding experience is a critical factor in their decision to stay with a company

. By having an effective plan in place for all new hires, you'll boost retention.

Enhanced culture

. Employees want to work at a place that resonates with what they value and where they feel like they can make a difference. With proper employee onboarding, you'll instill a clear view of your culture and their role in it.

Greater engagement

. Creating a culture of inspired, happy, and engaged employees starts with their onboarding experience. With a clear strategy and proactive onboarding, you'll see greater levels of engagement.
How to Best Implement an Effective Employee Onboarding Process
To implement an employee onboarding process, you'll want to map out your steps first. It's a good idea to create a checklist for preboarding and onboarding tasks so you don't miss any important components.
Next, make sure you have the right team in place. It should include HR but also other critical members of an employee's onboarding like their supervisor and mentor, if appropriate. You may also want to involve executives and other departments to help employees learn how the company works as a whole and make broader connections.
You'll also want to invest in the right tools to support your process like an LMS or employee onboarding software. Keep in mind that some employees will prefer technology-based onboarding, but others may find other methods like live training more effective.
By following the guidelines in this article, you'll be best prepared to immerse your employees from day one to set both them and your company up for future success. Read our next article on employee engagement to learn more ways to build buy-in and support.
in

HR , Talent Management , Onboarding