What Employers Need To Know Before Implementing A Probationary Period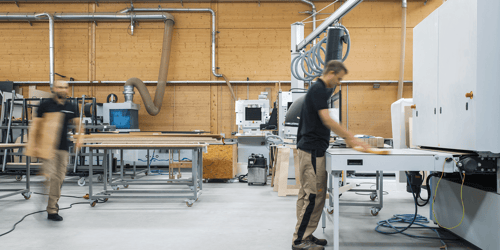 With the high rate of turnover today, you'll likely have to fill a role at some point. And no matter how much effort you put into getting the process right, there's still a chance the employee will turn out to be a bad hire for your organization. To help you minimize the impact to your business, you may want to think about a probationary period for new employees. What do you need to know about probationary periods to decide if they're right for your business? Let's take a look.
In this article, we'll describe what a probationary period is, how they work, the benefits and risks, and what to include in a policy if you choose to have one. After reading this, you'll understand whether implementing a probationary period for new workers is the best approach for your business.
What is a probationary period?
A probationary period is a period of time that allows you to test out an employee and decide if you want to offer them a full-time job based on how well they fit with the company, both in terms of culture and the role.
In some cases, companies may use probationary periods if a worker is being disciplined for performance issues. But for the purposes of this article, we'll focus on their application to new hires.
How does a probationary period work?
When you decide to bring someone on in a probationary role, you'll want to take a few steps:
Spell out the terms. Be sure you explain how long the period will last and the process for assessing whether a new worker has passed or failed their period. We'll talk in a little more detail about what to include later in this article.
Let workers know how their probationary period will be managed. For example, what are their goals for performance that you'll be evaluating, what skills training will you provide, how often will you share feedback?
Make a determination: Set a date to have a review before the probationary period ends. During this meeting, you can determine whether the employee has passed, needs an extended period of review, or should be dismissed at the end. Keep in mind that you don't need to wait until the end of the probationary period to let someone go; likewise, in an at-will employment situation, the employee may leave the position at any time without cause.
Put your decision in writing: Once you make a decision to retain an employee, give them written confirmation.
How long is a probationary period?
While there's no set time a probationary period lasts, they are generally 1 to 3 months. However, they can be shorter or longer depending on your organization's preferences and needs.
In some cases, you may want to extend a probationary period if you haven't had adequate time to assess new employees. An extension may also be necessary to allow employees more time to improve their performance to demonstrate their ability to complete their duties. Either way, this must be by agreement between you and the employee or according to the terms of any employment contract if there is one in place.
What are the advantages?
A probationary period has benefits to you as the employer but can also be to the advantage of workers.
Employers
Fewer expenses: Because you likely won't provide company benefits like health insurance during a probationary period,

you may save on perks

.
Better onboarding: By giving new hires ongoing support during their probationary period, they'll be more likely to get off to a successful start in their new role. The goal of a probationary period is to provide a positive, learning opportunity.
Easier termination procedures: By their very nature, probationary periods allow you to

terminate employees

in a little more streamlined manner. For example, you may not have the same disciplinary documentation requirements.
Employees
A fit assessment opportunity: Like you, employees also want to make sure the job works for them, whether that means considering their colleagues, the commute, or other factors.
Detailed feedback and support: You're more likely to provide extensive input and training when you're trialing a new employee, which can help them grow.
Gainful employment: The bottom line is that workers are hired by your company and will get a regular paycheck and gain valuable experience, even if they don't stay on after the probationary period ends. And, if they successfully pass, then they will become a "full-fledged" employee.
What are the potential downsides?
While there are some pros to a probationary period, there are also some potential disadvantages.
Employers
Compliance concerns: Generally speaking, there are no state laws that prohibit employers from having probationary employees. However, you'll need to make sure your policy is compliant with any applicable employment laws and regulations as well as collective bargaining agreements.
Potential contractual obligations: If an employee completes their initial evaluation phase, it may imply contractual obligations. To avoid this, you'll want to spell out your policy clearly and communicate it to new employees that are covered by it. Otherwise, a court could decide that the period has eroded your at-will provision and are "guaranteed" employment once it's over.
Morale impacts: By bringing an employee on "temporarily," you may not be sending the right message and they may not feel like a welcome addition to the team right away. This could also impact your culture and, ultimately, your reputation in the market.
Employees
Feeling undervalued: Since they are hired on a trial basis, workers may not feel like they're part of the team if they perceive their employment as "temporary." This concern could translate into dissatisfaction with their role and your company..
Greater stress: If employees feel they're under a microscope and at a high risk of losing their position, it might create unwanted pressure during their first few months on the job.
Application discouragement: When a prospective employee learns they'll be required to complete a probationary period, it may dissuade them from applying in the first place, limiting your pool of prospective workers.
Do I need a probationary period policy?
If you decide to implement a probationary period, it's a good idea to spell out your policy so you can implement it consistently with all employees. Some elements of a probationary policy to consider include:
Establish the length of time a probationary period will last
Explain that employment is at will and that the probationary period doesn't guarantee job security
Set a frequency for regular reviews to monitor progress
Determine what milestones/goals need to be achieved before the period is over and criteria for successful completion
Describe any benefits that employees will receive/not receive during the probationary period
How to Decide if a Probationary Period is Right for Your Company
As you can see, there are a lot of things to consider when deciding if a probationary period policy is a good approach for your organization. While these periods offer advantages for both you and your employees, there are also some potential drawbacks, including increased legal risk around terminations. It may be a good idea to weigh the costs to your business to decide whether a probationary period is the right fit. To help with this, learn more about the expenses associated with a new hire as well as the cost to your business if that hire ends up not being the best choice for your team.
in

HR , Hiring , Employee Engagement , Talent Management