J-1 and H-2B Work Visas: Tips For Hiring Temporary Workers From Abroad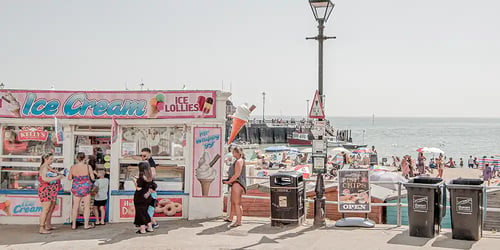 If you're struggling with staffing issues and are considering temporary workers to fill the gaps, you may be thinking about hiring non-citizens who are looking for US-based work as a visa holder. However, work visas have specific requirements that you as the employer and any visa holders you plan to hire must follow. To help you stay compliant with the rules, we'll break them down for you here.
In this article, we'll explain the options when it comes to work visas, what you as an employer need to know before hiring temporary workers, and tips for recruiting J-1 and H-2B visa holders. After reading this, you'll have a good idea of whether hiring employees with work visas is the right option for your company to address your workforce shortages.
What are work visas?
Temporary work visas are permits that allow non-citizens to enter the US for employment lasting a fixed period of time and are not considered permanent or indefinite. There are several categories of visas based on the type of work an employee will do, but for the purposes of this article, we'll just focus on J-1 and H-2B visas.
J-1 Visa: This is a J-1 foreign

student exchange visitor visa

offered through the J-1

Summer Work Travel program

by the Department of State. It is specifically for students with at least a semester of post-secondary academic study at an institution outside of the US who are coming here to teach, study, conduct research, demonstrate special skills, or receive on-the-job training in an approved program. If you're looking to hire college students or recent grads for roles such as camp counselors, research assistants, or trainees, this program can be a good option.
H-2B Visa: The

H-2B nonimmigrant program

is more general and allows you to temporarily hire

nonimmigrants

to perform nonagricultural labor or services in the US regardless of their student status. These workers commonly help fill

seasonal

gaps in positions like landscaping, grounds maintenance, restaurant/hospitality, construction, and others. Before you can go this route, however, you'll need to prove that you looked for US employees first.
Can I hire J-1 visa and H-2B visa holders?
As you consider bringing on visa-holding temporary workers to staff your team, it's important to note that each type of visa has different requirements that may impact your ability to hire these individuals.
To hire a J-1 visa holder, you'll need to either "sponsor" the nonimmigrant or work with a designated sponsor. Not many companies manage their own visa programs but if you're interested, you must demonstrate your ability to comply and remain in compliance with all provisions of the Exchange Visitor Program regulations and meet your financial obligations and responsibilities.
Alternatively, if you want to hire individuals holding H-2B work visas, you'll need to file an Application for Temporary Employment Certification with the DOL and be granted registration before you can start recruiting. Note that there's a statutory cap on the number of foreign workers who can be granted an H-2B visa in a given year so you'll want to start the application process early. In addition, you'll need to comply with the program's many requirements.
How Can I Prepare To Hire These Temporary Workers?
As we just explained, hiring either a J-1 or H-2B visa holder requires that you take certain steps first. In some cases, that means submitting an application. The application process for hiring individuals with work visas varies based on the type of visa holder you're recruiting.
J-1 Visa
If you're thinking of sponsoring a worker yourself, you'll need to apply to be a designated sponsor. To do this, you'll need to complete and electronically file an application and pay a fee, which is currently $3,982. It's important to note that program sponsors must have at least 5 exchange visitor participants on an annual basis to remain eligible for sponsor designation. Once you submit your application to the State Department, they'll review it and all supporting material and either send you a letter of designation or a letter of denial. If approved, then individuals can apply for your program.
Alternatively, if you don't want to sponsor your own program, you can work with a third-party sponsoring organization instead. This is the more common option and can be a good choice if you don't want to take on the added cost or responsibilities of monitoring all aspects of the program.
H-2B Visa
As we mentioned earlier, you'll need to apply for and receive a temporary labor certification for H-2B workers with the US Department of Labor. After receiving the certification, you must submit Form I-129 with USCIS. Once approved, prospective workers from outside the US may apply for a visa and/or admission.
Keep in mind that you'll need to follow the rules of the program when it comes to pay, hours, and recordkeeping. For example, you'll need to pay at least a wage equal to or exceeding the highest prevailing wage or federal minimum wage, state minimum wage, or local minimum wage.
Getting Started With Recruiting Applicants On Temporary Work Visas
Like other aspects of the work visa programs, how you find participants will vary based on the type of visa holder you're planning to hire.
If your plan is to hire J-1 visa holders to fill your workforce needs, it's likely that you'll be working with a third-party sponsoring organization, as we discussed earlier. That organization can serve as your staffing agency and help identify and recruit foreign students and arrange for interviews. In addition, potential participants can find you by searching for designated sponsor organizations on the Exchange Visitor Program website.
Alternatively, when preparing to hire H-2B workers, you can either advertise for the positions yourself or work with a third party. A recruitment agency can serve as a liaison between you and prospective employees and help you find workers that may be a good fit for your company.
Since it can be helpful to work with a recruiting agency to identify the best candidates when hiring J-1 or H-2B visa holders, it's important to understand the top factors to consider when evaluating agencies to choose the best option for your organization's needs. If you're looking for a partner that is cost-effective, ready to scale with you, and can provide a high- tier of support, learn about the services we offer at Complete Payroll Solutions to help businesses like yours fill their recruiting needs.