Recruitment Services Offered At Complete Payroll Solutions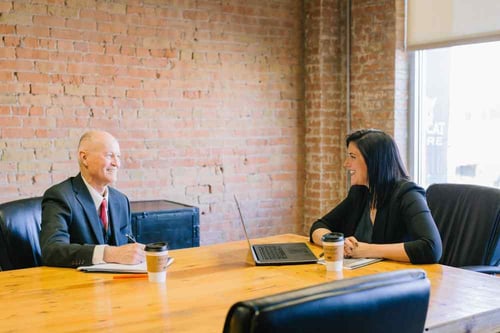 Let's face it: if you've ever recruited talent, you know it can be difficult and time consuming, which is why you're looking into outsourced recruiting options. At this point, you have likely settled on a few potential partners, including Complete Payroll Solutions, so you may be wondering what services we offer to support your business' growth.
Complete Payroll Solutions provides outsourced HR services, including recruiting, to thousands of companies. To help you understand what recruiting services we offer, here we'll discuss:
What recruiting assistance we provide
The cost of our recruiting services
Additional support provided during the hiring process
Level of service delivered by our recruiters
After reading this article, you'll know if Complete Payroll Solutions' recruiting services are the best fit for your company.
What recruiting services does Complete Payroll Solutions offer?
Depending on the level of support you need with your hiring, we offer a range of services to help you recruit employees. These include:
Job Descriptions: A job description is an important step in attracting the right candidates. In addition, by accurately describing the duties and responsibilities of the job, you'll clearly set expectations, which can improve satisfaction and retention. At Complete Payroll Solutions, we can work with you to develop detailed job descriptions for your open positions that will help you identify the best employees for the role.
Advertising: Once you have a job description, we can use this as the basis to create an advertisement for the position. The ad will include the essential elements of the role as well as important information that will promote your company such as special benefits or reasons why someone would want to work for you. Think of a job advertisement as a way to sell the role to prospective talent. We'll also make sure the ads are compliant with employment laws and regulations.
Posting: Our professionals will post your job ads to help you get the most exposure for your open opportunities among potential candidates. We'll get the word out by posting your ad on job boards, your website and social media as well as tapping into our own network of talent to reach the right applicants.
Candidate Review: As we drive interest for your open position, our recruiters will review submitted resumes and determine which candidates may be a fit for the role and for the organization as well as which unqualified applicants can be weeded out.
Screening: Once we review all the resumes for a role, we'll identify the top candidates for your position and reach out to them to set up an initial phone screen. This short and simple screening call is simply designed to assess an applicant's skills, motivations and personality so we can present our impressions to you when recommending a candidate for an interview.
Present Candidates: Once we complete all the phone screens, our team will recommend the top candidates for the job to your hiring manager. From this point on, your internal team will typically handle interviewing the applicants, reference and background checks, and presenting any offers, although we can provide these as additional services, which we'll discuss in a bit.
What do Complete Payroll Solutions' recruiting services cost?
For all of the services we just described, we charge non-clients a percentage of your new hire's first year salary. While some outsourced HR providers may charge as much as 40% of a worker's salary, at Complete Payroll Solutions, we charge 20% of an employee's first year of compensation.
For example, if you want to bring someone on board at a salary of $60,000, you would spend $12,000 in recruitment fees. In case an employee doesn't work out, we offer a 90-day guarantee so you wouldn't have to pay anything additional for us to conduct another search for the position.
Existing clients don't need to pay a percentage of the new hire's salary but instead pay a reduced hourly rate of $125/hour for our recruiting services. Unlike our non-client guarantee, we charge this fee even if we have to conduct another search because the employee is not a fit.
One way you can save on our recruiting costs is to only use our services as needed. For example, we can help with just one or more steps in the process. For ad hoc assistance, we charge an hourly rate of $125/hour for clients and $175/hour for non-clients.
What other support does Complete Payroll Solutions provide when we're hiring?
As you look for qualified employees to fill your open positions, we can support you with additional services depending on your needs. The 3 most common types of support we provide are:
Salary Benchmarking: To make sure you're properly incenting applicants, we'll match your open position against other jobs to help you understand the market-based rate for the position so you can extend a competitive offer. For benchmarking the salary for a position, we charge $400.
Background Checks: It's a good idea to conduct background screenings before you hire, even if your industry doesn't require them. At Complete Payroll Solutions, we always recommend what we term Level 3 screens for all new hires that includes a check of an applicant's name, address and social security, national database search and federal criminal search. For these, we charge $40 per employee; however, additional fees may apply if an applicant has lived in several different counties.
Compliance Assistance: If your hiring manager or supervisor hasn't gone through a training on how to interview and hire in a manner that complies with all employment laws and regulations, we can provide this type of education. This training would cover interview styles, how to develop good interview questions and the legal and policy issues related to interviewing so you can take precautions to prevent violations such as claims of discrimination.
What kind of service does Complete Payroll Solutions' recruiting staff provide?
When you outsource your recruiting to Complete Payroll Solutions, you'll be assigned a dedicated HR professional who is certified by industry organizations like the Society for Human Resources Management (SHRM) or the HR Certification Institute (HRCI). This team member will get to know you and your business and you'll have direct access to them each and every time you call.
How to Choose the Right Recruiting Services for Your Business
With a complete range of services to help you throughout the recruiting process, Complete Payroll Solutions offers a comprehensive option for businesses who want a holistic approach to hiring support. We can be an ideal fit for you if you:
Want a cost-effective approach, for example, we can post to approximately 50 free websites
Prefer a recruiter who can assist you with other HR functions as you expand such as onboarding or training
Need additional support to recruit and onboard a new employee
If this sounds like you, the next step is to view our detailed pricing page.
in

HR , CPS , Talent Management , Recruiting