Remote I-9 Verification Using E-Verify: Do You Qualify As An Employer?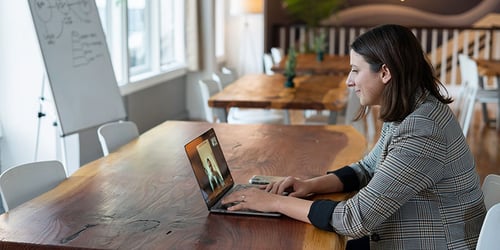 If you're like many employers, odds are you have workers who are remote at least some of the time, especially because this arrangement lets you tap into a large applicant pool in today's tight labor market. If you do, it's important to onboard them properly, just like you would on-site workers. That means taking care of all necessary paperwork, like Form I-9. Wondering whether you can use remote I-9 verification? Let's find out.
In this article, we'll explain what remote employment verification using E-Verify is, who is eligible, and steps you'll need to take to confirm a worker's eligibility this way. After reading this, you'll know what you need to do to keep your remote hiring processes compliant with Form I-9 verification rules.
What is E-Verify?
When you hire new employees, one of the steps you'll need to complete is to verify their identity and employment eligibility using Form I-9. In addition to physically examining a worker's documents in person, E-Verify is an online system that allows you to confirm the employment eligibility of new hires electronically to make it faster and easier to complete the process. This is particularly true in the case of remote workers, for whom arranging to have verification completed in person can prove challenging.
It's important to note that E-Verify isn't a substitute for the I-9 process; it's just a way to verify the employment eligibility of your new hires electronically.
Is it required?
In most cases, participation in E-Verify is voluntary. However, in several states, you may be required to use E-Verify. For example, in Florida, private employers must use E-Verify if they have at least 25 employees. Be sure to check your state's requirements to keep your processes compliant. In addition, E-Verify is also mandatory for federal contractors and subcontractors covered by the Federal Acquisition Regulation E-Verify clause.
Who is eligible to use the alternative procedure for remote employment verification?
Up until July 31, 2023, a COVID-19 temporary policy allowed for remote I-9 verification. That policy became permanent in a US Citizenship and Immigration Services final rule effective August 1, 2023, that allows eligible employers – meaning those who are E-Verify participants in good standing – to have an alternate procedure for remote I-9 employment verification.
There is a new Form I-9 that reflects this change that you'll need to use starting November 1, 2023. Specifically, it has a checkbox you'll select to indicate you've examined the Form I-9 documents via live video rather than through a physical examination.
What steps do I take to complete remote I-9 verification?
The option for I-9 verification for remote employees allows you to complete the process electronically using E-Verify and a live video interaction. Here are the steps you'll need to follow:
Enroll in E-Verify: You'll need to have several pieces of information about your organization to complete this task as well as sign a memorandum of understanding at the end. If you have more than one location where you'll be hiring, you can either choose to designate one site to create E-Verify cases for new employees for the whole company, or enroll each site that will perform its own employment verifications.
Complete E-Verify training. All employers who enroll and any users who will create cases must complete an E-Verify tutorial that includes fraud awareness and anti-discrimination training.
Within 3 business days after a new hire's first day, create an E-Verify case. To do this, you'll input the information from sections 1 and 2 of the Form I-9.
Conduct a live video call with the employee. The employee must first transmit copies of the documents they plan to present. Then, during a video call, you'll complete the remote I-9 verification process by examining the employee's documents to confirm they appear genuine.
Indicate you used the alternative procedure on Form I-9. As we mentioned earlier, this is simply checking a box.
Keep copies of all documents. You'll need to make and retain clear and legible copies or electronic images of the documentation presented by employees. This will allow DHS to review the documents that were presented to you in the event of an audit.
Consistently use the alternative process at your site. If you choose to offer this procedure for employment verification, you'll need to do so consistently for all employees at that site. However, you may choose to do it only for remote hires and apply physical examination procedures for those who work on site or in a hybrid arrangement.
Maintain Compliance With Proper I-9 Verification for Remote Employees
Since an I-9 audit can happen any time, you'll want to ensure your processes for remote verification of employment are compliant. That holds true if you have remote employees and plan to use the alternative procedure for new hire verification. Since there are specific rules to follow when conducting remote I-9 verification using E-Verify, you may want to consult a professional to review your processes. Learn the talent management services Complete Payroll Solutions offers to help you correctly onboard new hires, including support with I-9s.
in

HR , Compliance , Form I-9 , Talent Management