Remote Onboarding for New Hires: A Complete Guide for Modern Employers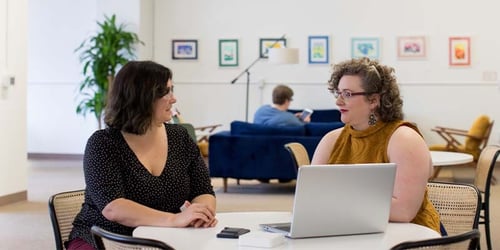 In today's economy, remote work – at least some of the time – is here to stay. And when you hire remote employees, it's critical to get them up to speed on your practices, processes, and people quickly and effectively. What do you need to know about remote onboarding to set the stage for your mutual success? Let's find out.
In this article, we'll discuss just what remote onboarding is, the steps you should take as part of your process, and best practices for your organization to boost satisfaction with your company from the start. After reading this, you'll be able to establish a plan for bringing on new remote workers, no matter where they're located.
What is remote onboarding?
Onboarding remote employees is the process of bringing on new workers with the right technology, tools, and resources so they can become familiar with the company and their coworkers. In that way, the fundamentals are the same as those for onboarding on-site workers. The primary difference is that there are particular elements of onboarding remote employees that require more attention, specifically, extending your culture virtually and fostering authentic connections. We'll discuss best practices for these in a bit.
What steps should be in my remote onboarding process?
Just like traditional work environments with on-site employees, you'll want to create a process for remote onboarding. It's a good idea to break these steps into the different stages of onboarding so you can make sure you're providing what your remote workers need, when they need it. Here, we've listed things to do during 5 distinct time periods.
Preboarding
Distribute required notices, forms, and benefits information

Provide a digital version of your employee handbook

Share videos about your company, its culture, and mission

Ship laptops, phones, and other tools in advance so they'll be set up and ready to go when they start

Hold an HR orientation to go over any necessary

new hire paperwork that needs to be submitted
First Day
Arrange a virtual lunch; consider emailing a gift card to a local establishment

Ask teammates to send welcome emails

Assign a buddy or onboarding liaison as a go-to person

Help workers get online with all the tools they need to connect and do their job

Explain the day-to-day work logistics and provide a list of key contacts for things like IT issues
First Week
Be available to answer questions

Schedule introductions with stakeholders both within their department and across the organization

Provide needed education for them to be successful as they start in their new role

Assign projects, including a group project, if possible, that will introduce them to team members and drive collaboration

Set clear expectations
First Month
Provide remote training opportunities

that cater to different learning types

Foster connections through new hire cohorts (if you have multiple employees onboarding at the same time), Slack channels, or other online forums

Help new employees prioritize and accomplish some quick wins so they gain confidence

Lay the groundwork for ongoing development
First 90 Days
Conduct employee surveys to get a pulse on how they're doing and feeling

Hold regular check-ins to provide feedback on their performance and make sure they have what they need to be successful

Provide a roadmap for the first 6 months that outlines their goals and how they align with the company's vision and objectives
What best practices should be followed when onboarding remote employees?
When developing a plan for how to onboard remote employees, you'll want to keep in mind key strategies that can help ensure an effective process.
Use checklists. It can be more challenging to keep track of everything that needs to be done when onboarding remote employees so use checklists and automated reminders to help workers stay on track. An onboarding software can help with workflows customized to meet the needs of specific departments or locations.
Connect. There's no substitute for in-office peer interaction but you

can replicate this virtually by keeping social interactions as frequent as possible when onboarding

. Be sure to include a wide variety of individuals – leadership, managers, and coworkers – to expand a new hire's exposure to your culture, make them feel welcome, and lay the foundation for relationships.
Lean on technology. All of the activities a new remote hire will complete during their onboarding will depend on technology so make sure you're leveraging the best platforms to make everyone's lives easier. Beyond just video conferencing, these can include options for learning content, collaboration, forums, and more.
Ask for feedback. Whether you use surveys or less formal ways, check in with employees about their remote onboarding experience. This type of feedback can help you understand what's working with your current processes and where there are opportunities for improvement.
Managing Remote Employees Effectively Starts With Successful Onboarding
In many industries, remote work is now the norm. So it's essential for companies to get remote onboarding right since it's the first step in effectively managing remote employees and establishing a foundation that will drive their productivity, engagement, and satisfaction. Once they're onboarded, learn 8 key tips to best lead your remote team. Worried about going it alone? You may want to consider partnering with an outside HR company to make sure your policies and practices are optimized to give employees what they need to thrive remotely.
in

HR , Hiring , Talent Management , Onboarding