Employee Morale: Keeping Your Workforce Engaged Through Tough Times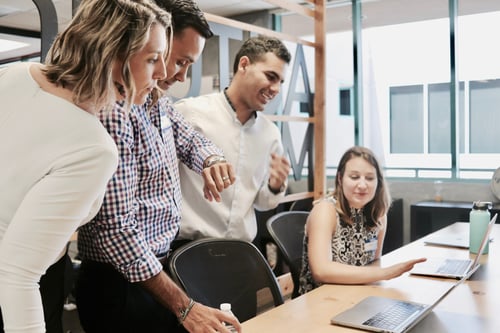 During the pandemic, the percentage of working Americans experiencing a lot of worry in their daily life rose. So after 15 months of stress, it's easy to see why employee morale is taking a hit. If you're like most employers and are eager to resume business as usual, it's critical to understand the difficulties employees have faced and currently struggle with to positively impact satisfaction and motivation. But how?
At Complete Payroll Solutions, our certified HR professionals work with companies of all sizes to help them manage employee relations challenges like low morale. We know how difficult this time has been for both employers and employees who are trying to move forward in the new normal in a way that works for them.
To arm you with tactics you can employ in your workplace to help keep employees happy, here we'll discuss:
Top causes of low employee morale today
Impacts of low morale on performance
What you can do to support workers
After reading this article, you'll know some steps you can take to help you make a difference in the lives of your workers.
Top Causes of Low Employee Morale Today
COVID-19 was a stressful time for many employees who worried about the future of their employment, juggled childcare and work responsibilities, and had to adapt to new tools and ways of working remotely. But just because the majority of the population has been vaccinated and many employers are asking their teams to return to the workplace doesn't mean an end to the stressors workers face.
Here are some of the common reasons affecting employee attitudes post-pandemic:
Lack of Transparency: Many companies haven't spelled out their reopening plans, leaving employees in the dark about if and when they will need to return to the worksite.
Safety: Some employees have fears about whether a return to the workplace is safe.
New worksite dynamic: In many businesses, there are new safety protocols and other policies in place that are different from what existed pre-COVID, which can create added burdens on workers.
Unfair application of remote work policies: At some companies, there is inconsistent treatment of groups of employees when it comes to mandating a return to the workplace, leading to resentment.
Isolation: For those continuing to work remotely, they may feel a continued sense of loneliness and disengagement, impacting their motivation.
When employees experience one or more of these feelings, it can lead to a persistent, negative attitude that impacts both their performance and the company's, which we'll discuss next.
Impact of Low Morale on Performance
Low employee morale can be problematic for your company for several reasons. Some common negative consequences include:
Poor work performance: You may see that an unhappy employee is starting to miss deadlines, make mistakes or drop off in their service levels due to their lack of enthusiasm in their work. And this can have a ripple effect since the quality issues can also affect other workers.
Increased turnover: When employees aren't happy and don't feel the company is being supportive and meeting their needs during challenging times, they may begin to look elsewhere. This can force you to have to hire in a tight labor market and invest an average of $4,000 to hire a new worker.
A culture hit: When one worker is dissatisfied, odds are, they're voicing their unhappiness to others. And that can build discontent among others as well or even lead to disagreements or conflict. When multiple employees have a negative outlook, the culture can suffer.
Lower productivity: Workers who are unmotivated won't put in the same level of effort as engaged employees. And that can have a direct impact on your business. Conversely, highly engaged workers are 17% more productive, which can positively increase your profitability.
Despite these negative effects, it's important to note that low morale can be controlled and there are steps you can take to boost employee satisfaction.
What You Can Do to Support Workers
While it can seem overwhelming to combat low employee morale, as you can see, the impacts to your business make it essential. Fortunately, there are many actions you can take:
Conduct surveys: Solicit feedback to determine employee morale and engagement levels and take action by investigating complaints and solutions.
Be flexible: Many workers after COVID-19 may want a better work-life balance so consider continued telecommuting policies or hybrid work schedules that will allow them to come in some days and work remotely on others.
Provide support: With mental health issues increasing during COVID-19, EAP programs are on the rise and can go a long way to demonstrating that you care about employees' well-being. If you offer a program, make sure employees are aware of the resources available to them.
Recognize and reward. One study reported that nearly 80% of workers leave their jobs due to a lack of appreciation so be sure to reinforce employees' sense of value by recognizing successes to create a supportive environment.
Increase interaction: Foster openness among your team and give them regular opportunities to share their challenges and goals and what they need to accomplish them. This step can also help employees stay connected to their peers.
Stay positive: In many cases, leadership sets the example. In times like today, by acting enthusiastically and optimistically, you'll set the tone for the workplace.
Communicate: Be sure to communicate broadly about changes the business is going through and discuss your messages so employees can express questions, concerns and feelings. And try to hold weekly team meetings, even if they're virtual.
Train: Educate managers to proactively look for signs of stress and burnout and strategies to address them.
Focus on wellness: Some companies are adopting new ways to prioritize well-being. For example, Mozilla shut down for a week-long "Wellness Week" in July and LinkedIn for a week in April.
Creating a Culture of Satisfaction To Boost Employee Morale
Since employee satisfaction can positively impact your success and your employee's, it's important to pay attention to worker attitudes as you reopen.
To help you create a plan to address morale issues in the workplace, Complete Payroll Solutions' HR Business Partners can work with you to identify top areas that need to be addressed and appropriate actions to combat morale issues.To learn more about how we can help impact attitudes in your workplace, read our next article on our HR offerings.
in

HR , Employee Engagement