Reasonable Accommodations: The Big Issues Employers Should Avoid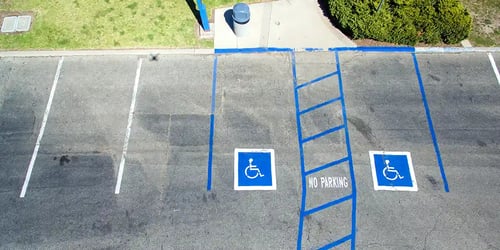 As a business owner, it may not always be easy to tell when an employee is making a reasonable accommodation request under Title I of the Americans with Disabilities Act (ADA). In fact, in many cases, we've seen that companies only learn of an alleged ADA violation when an employee files a charge of discrimination. And that can be problematic since a complaint can lead to a lawsuit that results in costly fines.
Complete Payroll Solutions' team of compliance experts helps businesses comply with state and federal employment laws and regulations like the ADA. We know how important it is to take steps to prevent an ADA lawsuit by solving any compliance issues with the reasonable accommodation provisions.
To help you understand your responsibilities and the actions you need to take under Title I of the ADA, here we'll discuss:
Who requires a reasonable accommodation?
Whether you can deny requests
If you can take away a reasonable accommodation
How to stay compliant
After reading this, you should have the practical knowledge you need to help address potential problems and avoid employee lawsuits.
What is the ADA?
The Americans with Disabilities Act (ADA) is a federal civil rights law that was enacted 30 years ago to prevent discrimination against people with disabilities. The term disability applies to an individual who has a physical or mental impairment that substantially limits one or more of their major life activities.
The Act applies to many areas, including employment, which falls under Title I of the law. Title I requires employers to provide qualified individuals with disabilities an equal opportunity to benefit from the full range of employment-related opportunities available to others. These include:
Hiring
Promotions
Pay
Training
Social activities
Part of the law's provisions also requires employers to provide reasonable accommodations to employees or applicants who can perform the essential functions of a job with the aid of that accommodation.
Common accommodations include modifications to the way a job is performed or the equipment used, making facilities readily accessible by employees with disabilities, or additional leave time beyond what's required.
First off, does my business need to comply with the ADA?
Title I of the ADA applies to employers with 15 or more employees. It covers private employers, state and local governments, as well as employment agencies and labor organizations. Even if you don't currently have 15 employees, but you're growing and expect to expand, you should familiarize yourself with the rules for compliance.
What is considered a reasonable accommodation?
A reasonable accommodation is defined as one that doesn't place an undue burden on you as the employer. When determining whether an accommodation would impose an undue hardship on an employer, there are several factors that should be considered, which include:
The nature and cost of the accommodation
The overall financial resources of the company and the impact of providing the accommodation on expenses and resources
The type of operation and whether the accommodation would be unduly disruptive or fundamentally alter the nature of the business
The US Equal Employment Opportunity Commission (EEOC), the enforcement agency for the ADA, provides that there are certain adjustments that aren't considered reasonable. For example, an employer isn't required to eliminate an essential function of the position nor do you have to provide personal use items needed to accomplish daily activities such as a prosthetic limb or wheelchair.
What are my responsibilities under Title I of the ADA?
There are several steps you'll need to take to be compliant with Title I.
Understand when a request for an accommodation is being made. Generally speaking, if an employee tells you they need an adjustment or a change due to a medical condition to do the essential functions of the job, they're asking for one. And the request can even come from a family member, friend, or other representatives.

Keep in mind a request doesn't have to come in writing or specifically mention the ADA or the phrase "reasonable accommodation." So, for example, an employee who explains that they have difficulty getting to work on time because of medical treatments they're undergoing is actually making a request for a reasonable accommodation.

Be sure to train your team on how to recognize a reasonable accommodation request. In addition, you should have a policy about how employees should make requests, such as who they have to notify, as well as your procedures for responding to requests.
Once a request is made, engage in the interactive process, which is a dialogue with the employee to determine what accommodations they need. Suggestions they give may help you determine what type of reasonable accommodation to provide, although you can choose among reasonable accommodations as long as what you select is effective. The accommodation must also not worsen the employee's disability or cause other problems.

During this process, you're able to request documentation if the disability or need for accommodation isn't obvious. This should come from an appropriate healthcare or rehabilitation professional about the disability and functional limitations of the employee.
Provide reasonable accommodation unless it will pose an undue hardship.
Be sure to keep records of all requests, supporting medication information, and accommodations you offered. If you deny a request, which we'll discuss next, notify the employee in writing and explain your decision so they understand why.
Can an employer deny a reasonable accommodation request?
If you've evaluated the employee's request for a reasonable accommodation and your current circumstances and believe it will pose an undue hardship, you may decide to deny the request. However, simply having to pay for an accommodation doesn't mean it will cause an undue hardship so that alone cannot be used as the basis for denial.
It's important to note that an undue hardship defense is pretty tough to prove. And while you may conclude that providing a particular accommodation would result in undue hardship, there may be an alternative accommodation that would not, so you should consider alternatives before denying the request.
Can an employee sue me for denying a reasonable accommodation request?
Employees can't sue you outright if they believe there's been a Title I violation. They must first file a complaint with the EEOC. If the EEOC issues a right to sue letter, then the employee may file a lawsuit in federal court within 90 days of receiving the letter.
Can an employer take away a reasonable accommodation?
Once you provide a reasonable accommodation, you can't rescind it unless there's a material change in circumstances that warrants it.
Since you're limited in your ability to ask disability-related questions, if there was sufficient medical documentation establishing an ADA-qualifying disability previously, you can't request more information. However, if you don't have sufficient information – such as the duration for the need for accommodation – then you can request information from the employee about the ongoing need for it. Otherwise, you can simply confirm that the accommodation is still needed without requiring more details.
If there's a change that will impact your ability to provide the reasonable accommodation, since you already know about the impairment, you should re-engage in dialogue with the employee to find alternative accommodations.
Are there other laws that require I provide reasonable accommodations?
In addition to the ADA, some states also have laws that prohibit employers from discrimination and require you to provide a reasonable accommodation.
For example, both Massachusetts and New Hampshire have anti-discrimination laws that apply to employers with six or more employees. These states require an employer to provide a reasonable accommodation if it would enable the employee to perform the essential functions of the job without causing the employer undue hardship.
Rhode Island has a similar law that applies to private employers with four or more employees.
Depending on the nature of a request for accommodation, the Fair Labor Standards Act (FLSA) may also come into play. Specifically, employers are required to provide reasonable break time for an employee to express breast milk and provide a place, other than a bathroom, that can be used for nursing. State laws may also provide breastfeeding women more protections.
When there is more than one law governing the situation, you'll need to comply with whatever one provides more protection or greater benefit.
How can I stay compliant with reasonable accommodation rules?
With litigation under the ADA on the rise lately, it's important to make sure you stay in compliance with the requirements affecting employers. The Title I reasonable accommodation provisions are detailed and complex, but getting determinations right is essential to avoiding EEOC investigations and employee lawsuits.
Complete Payroll Solutions' certified HR professionals have deep expertise in helping companies comply with the ADA and can help you navigate the reasonable accommodation rules to minimize financial consequences to your company. Visit our HR solutions page to learn more about our outsourced HR services.
in

HR , Compliance