Recruitment Process Outsourcing: 8 Tips To Help Choose A Provider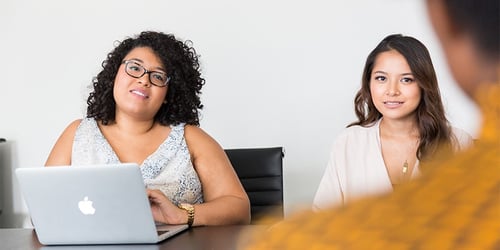 When hiring, you know how challenging it can be to find talent in today's tight labor market. If you and your staff are spending too much time and energy bringing on new hires, you may be considering recruitment process outsourcing (RPO) to help you find candidates. With so many recruiters to choose from, you may not know where to start when it comes to choosing an RPO provider for your business. We'll help you identify the best option.
In this article, we'll share 8 key tips to help you choose a recruitment services partner to support your company. After reading this, you'll know what makes a good recruiter and the steps you can take as you evaluate potential vendors to choose the best RPO for your business.
8 Tips to Help Choose A Recruitment Process Outsourcing Provider
When looking for the ideal recruiter, here are 8 key steps to take in your search.
1. Ask About Their Experience & Specialization
The more years a recruiter's been in business, the wider and deeper their connections and network of candidates that they can tap into to fill your role — and ones that aren't necessarily visiting job boards. Since a seasoned recruiter has access to more individuals who may be a great fit for your organization, be sure to ask about a recruiter's experience.
Depending on your needs, it may be important to not only have a recruiter that has been in business a long time, but also has experience in your specific industry so they're familiar with the training, technology, and other aspects of the work that are standard. Alternatively, you may prefer one that focuses on a certain level of position like the C-Suite or recent college graduates. Clearly identifying the role you're trying to fill and your objectives can help you decide if you need a recruiter with a specific background.
2.

Inquire About Their History of Success as a Recruitment Process Outsourcing Provider
Since the ultimate goal of outsourcing recruitment is to help you find the best candidates for your open positions, find out about their success in attracting applicants that are not only qualified but likely to stay with your company. A good way to find this out is by asking about their results. For example, see if they'll share:
the average time it takes to fill a role

the percentage of searches they actually complete

the percentage of hires that have stayed two years or more
3.

Understand How They Price Recruitment Services Up Front
Each recruiter may have their own way of charging for their services so be sure to find out their pricing structure. The most common way outsourced recruiters charge for their services is a percentage of a new hire's first year's salary – but only if they're successful in filling the position. The standard range is between 15% and 30% but you'll want to ask the recruiters you're considering exactly what it will cost you. That's because sometimes the percentage they charge may vary based on factors like your industry, the position, market conditions, and your geographic location.
4.

Request Information About Their Guarantee (If They Have One)
Since there's a lot riding on a successful placement, ask the recruiters you're considering if they provide a guarantee. Most will provide a set guarantee period – usually 90 days – in case the new hire doesn't work out. In these cases, the recruiter would conduct another search at no additional cost. Every recruitment process outsourcing provider may have a different approach to guarantees so make sure you clarify up front.
5.

Assess Their Cultural Understanding
When you're hiring, it's essential to find an employee who is a fit for both the role and your company. That means making sure your company's brand is reflected in your recruitment efforts. As you evaluate recruiters, ask how they'll gain an understanding of your values, culture, and how you treat employees so they can convey that information effectively. They should also be on the same page about what a quality candidate would look like for your organization so they bring forward candidates that are good matches.
6.

Review Their Messaging Procedures
Find out how the recruiter will position your open role. You'll want to make sure the recruiter's outreach reflects your company messaging and is attractive to your target candidates. Ask if they'll collaborate with you to create a credible message and one that "sells" individuals on the position. It's also important that they provide realistic information. Otherwise, you risk new hires feeling the job is not what they expected, causing them to either perform poorly or leave.
7.

Set Expectations About What Services Are Included
Each recruitment process outsourcing provider may offer slightly different services to help you attract, select, and hire candidates. For example, they may handle all or part of the entire recruiting function, which can include:
Job descriptions

Advertisements

Sourcing talent

Compliance with employment laws that prohibit discrimination

Application review

Candidate screening

Interviews

Offers
As you interview recruiters, find out exactly what they'll do to aid in your recruitment efforts and free you up to devote more time to your core business.
8.

Evaluate Their Level of Client Support
As you review recruiters, find out how often they will update you on their progress. Ideally, you'd want to get a status update weekly or bi-weekly so you can make any adjustments, if needed. It may also be a good idea to ask how many searches they're working on so you know if you'll get the level of attention that you expect. Having the time to engage candidates and follow up are crucial to hiring success.
Choosing The Best Recruitment Services Provider For Your Business
There are a lot of things to think about when it comes to finding the ideal recruitment process outsourcing provider for your organization. As you're evaluating potential partners, you'll want to narrow your list and then compare them using these 8 tips. While reviewing your options, Complete Payroll Solutions could be a good fit for you if you:
Need assistance with any role, including the C-Suite

Want a more personal relationship rather than working with an agency or call center

Like the added benefit of other integrated outsourced HR support to help your business' talent strategy
If Complete Payroll Solutions sounds like a good match, read our next article to learn more about the recruitment services we offer.
Editor's Note: This blog was originally published in April of 2021 and was updated in May of 2023 for accuracy and comprehensiveness.
in

HR , Talent Management , Recruiting