Hybrid & Virtual Team Building In The Workplace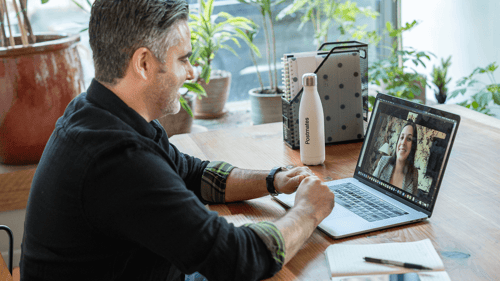 With 45% of workers now working fully or partly remote, it's important to find ways to keep camaraderie and morale up even when people aren't engaging in person every day. One way to do that is with virtual team building in the workplace. What are your options when it comes to building bonds remotely?
Here we'll share what virtual team building is, why it's important to your business, and top examples of team building in the workplace. After reading this, you'll know the steps to take to boost satisfaction, productivity, and your bottom line among your virtual and hybrid teams.
What is virtual team building?
Virtual team building is a set of activities that is designed to accomplish many things, including:
build trust among team members
develop workers
foster unity
clarify team norms
further understanding of virtual peers' work
conduct effective meetings in a virtual environment
Like traditional team building, when done correctly, virtual or hybrid team building can make remote workers feel just as close-knit as those working on site.
Why is team building important?
Virtual team building offers several advantages to both you and your employees.
For Employers:
Increased productivity. By strengthening collaboration and communication, you'll help employees accomplish their work and goals more effectively.
Greater satisfaction. Better working relationships between workers can lead to higher levels of happiness and motivation.
A positive workplace culture. In today's

tight labor market

, a positive culture can go a long way to boosting employee loyalty, and team building activities show you care about and value your workers.
Enhanced creativity.

Escaping long-established routines can lead employees to think more creatively

.
For Employees:
A change of pace. Taking a break from the demands of their job can give employees something to look forward to.
Reduced loneliness. Virtual team building helps foster human connection and a sense of togetherness.
Improved mental health. 47% of workers feel remote worker anxiety, which can cause them to feel exhausted or lethargic, have difficulty sleeping, or suffer from sadness or depression. Prioritizing inclusion can help ensure employees feel involved to help reduce their stress.
Increased confidence. Offering the chance for employees to contribute to their team's success can help them develop more confidence and feel more comfortable with their coworkers.
5 Examples of Virtual Team Building In The Workplace
Virtual team building can involve fun events or structured activities and exercises – or a combination of both. These can be led internally or you may want to utilize an outside resource.
Here are five examples of virtual team building activities that build relationships:
Icebreakers. These are activities or questions designed to warm up the conversation. They get people talking and help employees feel an initial sense of comfort. One example is to have people share their "favorite" – whether that's a vacation spot or anything else. It's simply a way to have people share something about themselves without it being too personal that you can use to start off any virtual meeting.
Group Brainstorming. With this approach, often referred to as brain-netting when done virtually, you present the group with a problem you're trying to solve or goal you want to achieve. Then you give employees the opportunity to voice their ideas, work through each one, and make an action plan. The key is to have all participants contribute to the process and encourage creativity and out-of-the box thinking.
Games. These types of virtual group events such as online escape rooms, Pictionary, or trivia are opportunities for employees to have fun, relax, and enjoy a bit of friendly competition with their coworkers. They also allow employees personalities to show, which can help colleagues find new connections that can help them work better together.
Discussion Topics. These events can take many forms, but one of the more popular is a virtual book club. This type of meeting allows for a spirited discussion about books that relate to work, leadership, or your industry (for example,

Zappos' first corporate book club read was

Atomic Habits

by James Clear

) or even those simply for enjoyment. The idea is to allow employees the chance to

talk about what they've read, share insights, and gain new perspectives

. It's also a good way for people to get to know each other better.
Problem Solving. These events allow employees to work towards a shared goal and capitalize on each other's skills and resources. For example, you can break workers into virtual teams and present them the same business problem, resources, and deadline, then have them develop solutions. Or it could be unrelated to work, such as sharing a scenario where workers are stranded at sea with just a handful of objects that they need to rank in order of how useful they'd be in helping the group survive.
How to Best Start Hybrid and Virtual Team Building
The opportunities for virtual team building in the workplace are limitless. The key is to understand what you're trying to accomplish to determine the best approach for your business. For example, you may want to simply build bonds or you may want to elevate skills as well in the process such as communication.
Next, you'll want to decide if you're going to facilitate the team building event yourself or use an outside party. For example, with The Trip, an online game where teams work together to solve 10 individual puzzles and a master problem, you can book a facilitated game.
Finally, you'll want to make team building a priority by planning regular events to maximize the advantages to your workplace and getting them on employees' calendars.
Team building activities are just one way to help you overcome many of the challenges virtual and hybrid teams present. If you're looking for other ideas on how to best lead these teams, find out more tips for best managing remote workers to help you fine tune your processes.
in

HR , Employee Engagement , Remote Work