Types of Business Insurance: What Coverage Is Best For Your Company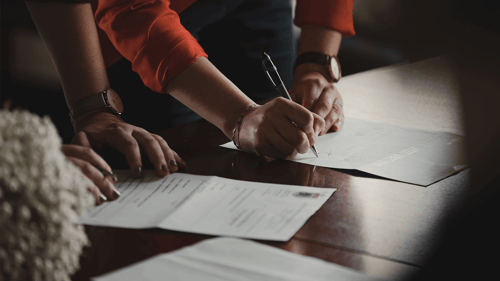 As your business grows, so does your risk of exposure. Whether you're worried about liability stemming from employee actions or injuries a customer may experience on your property or from using your product, the consequences can be devastating to your business. To best protect your company's future, it's important to consider the need for business insurance. Just what are the different types of business insurance and how do you know what your company needs?
Here we'll cover the various coverages available today, why you may need them, and what you can expect to pay for these types of business insurance if you decide to purchase one. After reading this article, you'll be better prepared to start discussions with an insurance company or broker to find the best policies for your company.
What are the types of business insurance?
To protect your business against a variety of risks you may face, there are many different types of business insurance available. Here are some of the most common types of business insurance products on the market today.
General liability: General liability insurance

protects a business against claims of bodily injury and property damage from customers and clients

resulting from your company's products, services or operations.
Commercial Property: C

ommercial property insurance

protects commercial property from such perils as fire, theft, and natural disaster

.

Business income: This type of business insurance covers loss of income caused when a business suffers damage to its premises that results in a slowdown or suspension of its operations.
Workers' comp:

Workers' compensation insurance

both protects your company from lawsuits by employees who experience a work-related illness or injury and provides care and compensation for injured workers.
Professional liability (aka errors and omissions): Professional liability insurance helps

cover you and your company if you make a mistake in the professional services given

to a customer or client. It's important to note that some states

require this type of insurance

, especially for attorneys and doctors.
Product liability: Product liability insurance covers your business from

claims that a product you sold, created, manufactured or distributed didn't work properly and caused bodily injury or property damage to someone else's belongings

.
Employment practices liability: EPLI covers businesses against

claims by workers that their legal rights as employees of the company have been violated.

Cyber liability: Cyber liability insurance protects your business from losses stemming from a data breach or other cyber security issues.
Commercial auto: This type of business insurance helps cover property damage and bodily injury claims from an accident caused by your company-owned autos.
Commercial umbrella: Commercial umbrella insurance helps to

pay liability claims that exceed the limits of an underlying insurance policy

such as a general liability policy or a commercial auto insurance policy.
What business insurance do I need?
There is no single answer to this question. Instead, the types of business insurance that you need depend on several different considerations.
Legal requirements: State law may dictate that you have certain coverage like workers' compensation insurance or professional liability insurance so it's important to understand what's required of you where you operate.
Your needs: You'll want to think about what your insurance needs to cover since you don't want to pay for protection you don't need. For example, if you don't have any company-owned autos, then you wouldn't need commercial auto insurance. Or if you don't give advice to customers, then you may not need professional liability insurance.
What you can afford to pay out of pocket: Another factor in deciding what business insurance to purchase is how much your business can afford to pay in case of a claim. Remember that without coverage, you'll have to pay out of pocket, which can result in devastating financial losses that can shut down your business.
Your risks: Each business has a unique set of risks so you'll want to think about what type of insurance or combination of coverages based on your location, company, and industry can best protect your business.
How much does business insurance cost?
The rates for the most common types of business insurance vary based on a number of factors. Some of these include:
Location: In some cases, such as with commercial property insurance, the rates may vary based on the location where your business is located. For example, if you operate in an area that is prone to weather-related catastrophes like hurricanes or wildfires, the rates will be higher.
Your industry: For certain types of business insurance, the type of work your employees do can be a big factor in what you'll pay for coverage. For instance, if you're seeking workers' compensation coverage, and you operate in the construction industry, you'll pay more for your policy than if you just had clerical workers.
Coverage limits: When you purchase a business insurance policy, you'll need to decide how much coverage to get. For example, you may want general liability coverage of $1 million per occurrence and $2 million aggregate, which would pay up to $1 million to cover a single claim, with a $2 million limit for all claims during the policy period.

That level of protection would cost more than if you dropped to a $1 million aggregate limit

.
Number of employees: For certain types of business insurance like professional liability,

businesses with more employees will pay higher premiums

.
Policy deductibles: The amount of your deductible is also a factor that will impact your cost of insurance coverage. Generally speaking, the higher your deductible, meaning, the more you're willing to pay out of pocket before your insurer provides financial coverage, the lower your rates. So you'll want to decide what you're comfortable with when buying a policy.
Claims history: In some cases, your past claims history will be taken into account when setting your costs. For example,

if you've been sued several times for mistakes you've made in delivering services, an insurer may charge a higher premium. Or if one of your drivers was in a series of accidents, your auto policy rates may be higher than if all drivers on your policy have a clean driving history

.
How to Get the Best Insurance Coverage for Your Business
If you're like most companies, you'll need some type of business insurance. But it can be overwhelming to understand the right level of protection for your business. One way to help you decide is to talk with an insurance company or broker who can help you understand your risks and find you the right coverage at the best cost. Complete Payroll Solutions can help you decide on the best options for your needs and budget. Visit our dedicated benefits page to see if we may be a good fit for your business.
in

Startups , Business Insurance , Business , Small Business