The Best HR Consulting Companies To Consider For Your Business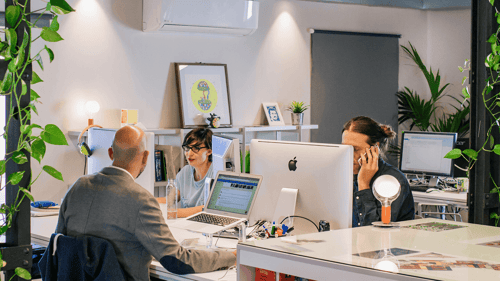 Whether you're looking for help with HR tasks for the first time to ease your administrative burden, engage your workforce, and stay compliant with labor laws and regulations or are considering changing HR consulting companies, there are a lot of options on the market to choose from today. In such a crowded space, how can you decide which partner is the best fit for your company?
Complete Payroll Solutions provides outsourced HR consulting to thousands of clients of all sizes and in all industries. We know that being a vendor ourselves may make us seem a little biased when it comes to evaluating prospective providers. However, we know that we're not necessarily the right choice for everyone.
To help you assess your options today, here we've listed the best HR consulting companies to consider and included important information about their location, size, service offerings, and cost. After reading this, you should be prepared to make a short list of top prospects and start your evaluation to find the right partner for your business.
6 Best HR Consulting Companies
Here are 6 of the best HR companies, listed in alphabetical order, who offer HR consulting services. One thing you'll notice is that we didn't include ourselves in the list. That's because, whether you choose us or not, we feel it's more important that you find the best partner for your business.
ADP
Year Founded: 1949
HR services/packages: ADP's

HR services

range from simple templates and help lines to long-term HR consulting engagements related to mergers, acquisitions, and reorganizations. The company also offers

outsourcing services

for those who want to take HR responsibilities off their plate.
Pricing: ADP's prices are not available on their website, but you can submit a form for more information.
Additional offerings: ADP offers additional services like payroll, time and attendance, benefits administration, and a PEO.
Location(s): Headquartered in Roseland, New Jersey, ADP also has offices in the Americas; Europe, Middle East and Africa; and Asia/Pacific.
Number of customers: ADP has over 920,000 clients in 140 countries.
Bambee
Year Founded: 2016
HR services/packages: With the help of a dedicated HR Manager, Bambee puts your HR on autopilot to streamline your HR and automate your onboarding, policies, and employee training. The dedicated HR Manager can also help you with employee relations and HR problem solving, company-specific policies and procedures, onboarding, terminations, and labor regulations, and coaching and guidance.
Pricing: Plans start at $99 a month, with the costs for HR Manager dependent on the number of employees you have. For 1-4 employees, the cost is $99 plus a one-time HR setup cost of $500; for 5-19 employees, it's $199 a month plus a one-time setup fee of $500; at 20-49 employees, the cost is $299 plus a one-time startup cost of $1,000.
Additional offerings: Payroll
Location: The company is headquartered in Los Angeles, California.
Number of customers: Bambee services over 10,000 American businesses.
Mineral
(formerly known as the combined entity of ThinkHR and Mammoth)
Year Founded: 2001
HR Services/Packages: Mineral offers two separate options for HR consulting: Mineral Intelligence, which offers personalized support, and Mineral Experts, which provides access to certified experts to answer your HR questions.
Pricing: Pricing is not available on Mineral's website, but you can contact their sales department via an online form.
Additional Offerings: None; the company focuses solely on HR and compliance.
Location: Mineral is headquartered in Portland, Oregon.
Number of Customers: Mineral helps

more than 500,000

companies with their HR-related needs.
Paychex
Year Founded: 1971
HR services/packages: Paychex's HR services include HR advice by dedicated HR professionals, recruiting and onboarding, training and development, and compliance support.
Pricing: For HR consulting services, you'll need to request a quote on their website.
Additional Offerings: Paychex has additional service offerings that include payroll, employee benefits, time and attendance, business insurance, and a PEO.
Location: The company is headquartered in Rochester, New York, and has more than

100 offices throughout the U.S. and Europe

.
Number of Customers:

More than 680,000

businesses use Paychex across the US and Europe.
PuzzleHR
Year Founded: 2019
HR Services/Packages: PuzzleHR offers an HR team that is made up of experts in employee engagement benchmarking, job descriptions, strategic retention strategies, onboarding, performance management, diversity and inclusion, employee handbooks, leadership development, pay and compensation benchmarking, and more.
Pricing: Pricing is not available online, so you'll need to request a quote.
Additional Offerings: PuzzleHR has additional service options that include

payroll management

and benefits.
Location: PuzzleHR is headquartered in Tampa, Florida.
Number of Customers: Unknown
Year Founded: 1988
HR Services/Packages: TriNet offers three types of HR expertise: Connect 360, which gives you personalized support and HR experts at your fingertips, Talent Retention, providing performance management, learning management, and leadership training, and Strategic HR for companies looking for ways to shape their company culture through compensation consulting employee engagement, and team building.
Pricing: You'll need to request a quote through their website for pricing details.
Additional Offerings: In addition to HR consulting, TriNet offers other services as well, including payroll and benefits..
Location: TriNet is headquartered in Dublin, California, with

regional offices

in 11 different states.
Number of Customers:

The company currently services

16,300

business.
Choosing the Right HR Consulting Company for your Business
We know evaluating the best HR consulting companies can be a challenging task. After reading this article, you should have a good idea of some providers to put on your list as you start your search for the right HR consulting provider for your business.
As you review HR companies, we'd be remiss if we didn't let you know what HR consulting offerings Complete Payroll Solutions has and who we may be a good fit for. We offer four HR packages that range from simple tools to one-on-one support. Our options may be right for your company if you:
Are looking to customize your HR solutions
Want the option to choose on demand or live support
Prefer a provider who may be able to assist with other business functions like employee benefits or a retirement plan as you grow
Want professionals with industry certifications that can keep you in compliance
For the top factors to consider as you investigate HR consulting companies, read our guide.
in

HR , HR Consulting , HR Outsourcing