Hiring Interns For Your Business: A Guide For Employers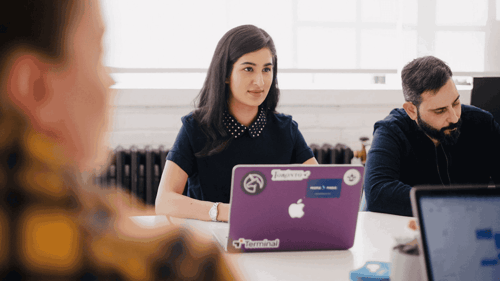 In today's tight labor market, companies may need to get creative when it comes to staffing. One option you may want to consider is hiring an intern rather than a permanent employee. Hiring interns can be an effective way to fill some gaps as well as gain fresh insights and groom potential future employees. But if you've never hired an intern before, you may be wondering just how to bring one on successfully.
To help you understand what you need to consider when hiring interns, here we'll cover the pros and cons of this approach, pay issues, and compliance concerns you need to be aware of. After reading this, you'll be prepared to decide if hiring interns is a good option for your business.
How is an internship defined?
Internships are short, real-world learning experiences where students or recent graduates work for a company and learn how to apply the things they learned in their coursework. Through this supervised work experience, interns gain hands-on skills and knowledge about working in a particular field or line of work before they've fully committed to a career path. Some of the most common fields for interns are business operations, marketing, engineering, sales and business development, and media, communications, and public relations.
What jobs can interns do?
When you hire interns, you'll need to create a learning experience that meets their school's requirements if they're seeking college credit. Even if they're not, it's still important to put the time into structuring the internship so it benefits both the intern and your business. That means developing an internship program that addresses several key components, including:
Goals and objectives for the interns

How you'll train them

Feedback processes you'll use

Assigning specific tasks
When it comes to this last point, it's helpful to think about the kinds of work you'll want the intern to take on and write a job description you can share. The tasks will vary based on your business and the intern's experience, but may involve working on a project, job shadowing, learning technical skills, and more. Examples of some responsibilities they may take on include:
Conduct research

Observe meetings and presentations

Perform database management
What are the benefits of interns?
While it may require some upfront work to hire an intern, your company can realize many benefits from internships. Some of the advantages include:
New perspectives

: Younger workers fresh from school often have just learned the newest best practices they can share with your organization to boost creativity and innovation.

An extra set of hands – for less

: With an intern, you'll have extra help that can pick up some tasks to ease the burden on your regular staff. And, whether they're paid or unpaid, they'll likely cost you less than a regular employee.

Good PR

: With students spreading the word about their internships, you'll enhance awareness of your company, which can be critical when recruiting college grads for open positions.

Future recruits

: If you're planning to hire a full-time employee in the near future, you may look to your interns as prospects since they already know a bit about your business, work, and culture.
Are there any disadvantages of hiring interns?
While there are many upsides to internships, it's also important to consider potential drawbacks before you hire an intern. These can include:
Added time: You'll need to develop a formal internship program and commit to working with your interns once you bring them on board, which can add to your workload and time away from other tasks.
Performance concerns: You may find that some interns don't take their job seriously or put in the level of effort required to produce quality work. If you entrust them with essential tasks, that can have an impact on your organization.
Payroll costs: While you may not have to pay interns legally, which we'll discuss in a bit, if you choose to, then you'll incur the costs of their salary and payroll taxes.
Short-term commitment: Unlike permanent employees who you hire for the long term, interns will only be with you for a

summer

or semester. That means you'll have to continually invest time in recruiting, training, and managing new interns.
How can I find interns?
If you've considered the pros and cons and decide hiring interns is the way to go, the next step is finding candidates. To start, you'll want to identify the skills and qualifications you're looking for. That may mean narrowing down your list of college majors or hard skills you want an intern to have.
Once you know what you want in an intern, there are several avenues to find one.
Local colleges, universities, and trade schools
Social media
Online job boards and career websites
Employee referrals
Job fairs
Your website's career page
Do I have to pay interns?
One of the biggest issues you'll need to think about when hiring interns is whether to pay them. If you do, you'll have to follow the Fair Labor Standards Act (FLSA) minimum wage and overtime requirements for employees.
However, your intern may not be subject to the FLSA, meaning, the internship can be unpaid, if certain requirements are met. The Department of Labor created a "primary beneficiary" test in 2018 to determine if an employment relationship exists with an intern or student. The DOL considers all of the following factors – not one is determinative – to conclude whether the employer is the primary beneficiary. If so, then the intern is considered an "employee" under the FLSA.
Both parties understand that the intern is not entitled to compensation.
The internship provides training that would be given in an educational environment.
The intern's completion of the program entitles him or her to academic credit.
The internship corresponds with the academic calendar.
The internship's duration is limited to the period when the internship educates the intern.
The intern's work complements rather than displaces the work of paid employees while providing significant educational benefits.
The intern and the employer understand that the internship is conducted without entitlement to a paid job at the internship's end.
In addition to federal law, you'll want to check with your state rules on internships, if any. For example, in New York, interns are only exempt from the state minimum wage and overtime rules if the intern and business are not in an employment relationship, which is determined by an 11-critiera test.
To avoid potential legal issues, it's a good policy to pay your interns a legal wage under the FLSA or your state law.
What other compliance issues should I be aware of?
As we just discussed, the primary compliance issue you'll need to be aware of is the potential for wage and hour violations. However, there are other topics you should know about to avoid noncompliance. These include:
How to Best Hire Interns
As you can see, there are a lot of things to consider when it comes to deciding whether hiring interns is the right choice for your business. If you choose to start a program, it's important to find interns that are a good fit. And attracting candidates today can be challenging. If you want help finding the right interns for your business, you may want to think about outsourcing your recruiting. To decide if this approach fits within your budget, read our pricing guide for outsourced recruiting.
in

HR , Hiring , Employee Classification , Talent Management