The 10 Best Payroll Companies: Regional & National Providers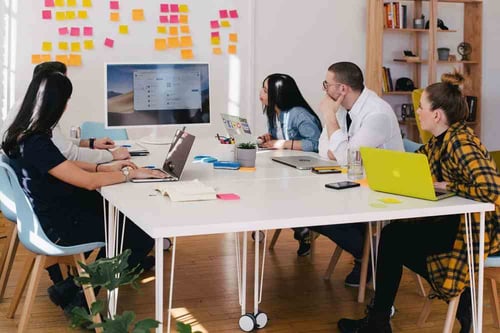 Whether you're looking to move to outsourced payroll for the first time or looking to upgrade providers, fortunately, there are lots of options out there to choose from.
But in such a crowded space, how can you decide what provider is the best fit for your company?
Download our free Complete Guide to Payroll Solutions and determine if outsourcing is right for you.
Complete Payroll Solutions provides outsourced payroll solutions to over 7,000 clients throughout the Northeast. We know that may make us a little biased. However, we don't necessarily think we're the best provider for everyone. In fact, as a vendor, we're often asked our opinion of other payroll providers in the area.
While the names of some big, national firms immediately come to mind, that may not be the right approach for your business. To help with your research, here we've listed a mix of both large payroll processing companies in the US as well as options to consider in the Northeast if you prefer to work with a local provider.
What is outsourced payroll?
Before we get to the list of some of the best payroll providers, let's start with what third-party payroll providers do.
When you outsource, you partner with a payroll service provider who will handle as much or as little of the administrative and compliance tasks associated with payroll as you'd like. For example, you may just want a vendor to process payroll and take care of tax filings. Or you may want to offload more responsibility and outsource other functions as well. The bottom line is that an outsourced payroll provider works with you in the way that you want, we're not a one-size-fits-all type of solution.
Outsourced payroll can be the right fit if you want to reduce the time that you, or your internal staff, devotes to payroll, or if you're looking to minimize or eliminate risks associated with in-house processing.
5 Best National Payroll Companies
When you start investigating payroll vendors, odds are you'll see a lot about the largest payroll providers in the country. If you're a small business, you may wonder if these companies are the right way to go. Even though they're big, many of the national vendors not only serve mid-sized or large employers, but also typically have a separate product or division that services small companies so may still be an option for you.
Below, we've pulled together some of the publicly available information on these companies so you don't have to.
ADP
Headquartered in New Jersey, ADP (NASDAQ:ADP) provides payroll, global HCM, and outsourcing services in more than 140 countries and markets.
Gusto
Launched in 2012 as ZenPayroll, Gusto is an online people platform that helps small businesses take care of their teams. It serves more than 100,000 businesses nationwide and is based in San Francisco, California.
Intuit
The Mountain View, California, company Intuit (NASDAQ:INTU) is a global financial platform company. It was founded in 1983 and has 20 locations in 9 countries.
Paychex
Headquartered in Rochester, New York, Paychex (NASDAQ:PAYX) was founded in 1971 and provides integrated human capital management solutions for payroll, benefits, human resources, and insurance services.
Paylocity
Founded in 1997, Paylocity (NASDAQ: PCTY) is headquartered in Schaumburg, Illinois, and provides cloud-based HR and payroll software solutions.
Top 5 Payroll Providers in the Northeast
As you vet payroll providers, you may decide that you want to work with a local vendor for more personalized support. If that's the route you choose, to help with your decision making, we've compiled a list of 5 leading payroll providers in the Northeast in alphabetical order.
BizChecks Payroll
A Marstons Mills, Massachusetts, company BizChecks Payroll processes payrolls throughout New England, with the majority of its clients on the South Shore, Cape, and Islands of Nantucket and Martha's Vineyard.
Checkwriters
This Northampton, Massachusetts, company has 30+ years of experience. Its focus is on developing cloud-based payroll, HR, attendance, and benefits software.
CSC Paymaster
In business for 56 years, CSC Paymaster is based in Warwick, Rhode Island, and offers payroll, time & labor management, and HR solutions.
Harpers Payroll Services
Harpers Payroll Services is a full-service payroll service bureau in Worcester, Massachusetts. For over 40 years, it has focused on the business of processing payroll for a wide variety of clients.
MassPay
Headquartered in Beverly, Massachusetts, MassPay was founded in 2004 and offers a range of solutions, including HR management, payroll, benefits administration & open enrollment, time & attendance, applicant tracking/recruiting, new hire onboarding, and performance reviews.
How to Choose the Best Payroll Provider
There's no way to compile a definitive list of the "best" payroll providers. It really comes down to what your unique needs are.
While you can't guarantee a perfect partner, you can set your company up for success by asking a few key questions as you evaluate vendors:
In addition to these questions, you may also want to review our list of things to consider when choosing a provider to help make the best choice for your business. As you do your due diligence and research the providers on our list, you may wonder why we didn't include ourselves. That's because we know that Complete Payroll Solutions isn't right for everyone. However, we are a good fit if you're looking for:
Seamless integration with your other business systems
Paperless payroll options that make pay more instantaneous
Data security with 24/7 monitoring
A stable vendor
A team of local payroll specialists
Solutions beyond payroll such as outsourced HR and employee benefits