Top 10 Considerations When Choosing a Payroll Outsource Provider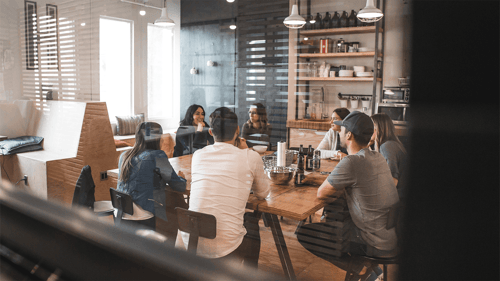 Once you've made the decision to use a payroll outsource provider to take advantage of the benefits like greater accuracy and efficiencies, it's important to make sure you find the right partner. Since every payroll outsourcing firm is unique and offers different services, you'll want to narrow down what's most important to your business and then compare your options to identify the best fit.
Download our free Complete Guide to Payroll Solutions and determine if outsourcing is right for you.
In this article, we'll help you in your evaluation by covering the top considerations you should take into account when selecting a payroll service. After reading this guide on how to choose a payroll provider, you'll be better prepared to do your due diligence and research and position your company for a successful relationship.
For more guidance about understanding the scope of payroll services—and how they align with your organization's needs, consider downloading our complete guide to payroll solutions.
10 Factors to Consider When Selecting a Payroll Outsource Provider
There are lots of payroll providers to choose from. In such a crowded space, it can be hard to know which payroll outsourcing firm to choose. Here are 10 tips to help you choose.
1. Stability
While no one wants to think of their pay deposits disappearing, in the extremely unlikely event that a payroll company goes out of business, it can happen. To help you evaluate the stability of a vendor, you'll want to find out how long the company has been in business. A proven provider with a tried and tested operating history can help give you peace of mind as you transfer your payroll to a third party. In addition, when you're putting together your list of questions to ask payroll providers, ask for their current SOC report, if they have one, which is an objective, third-party evaluation of a provider's systems and process.
2. Reputation
To make sure your vendor delivers on what it promises, it's a good idea to look for a payroll outsource provider with a good reputation. As you come up with a list of potential partners, look for reliable, objective reviews on industry news sites or in technology publications like PCMag. It's also wise to read feedback left by actual users in forums or review sites such as Capterra. To truly understand how it will be to work with a vendor, see if they'll give you client references you can speak to so you can hear firsthand how the company is to do business with.
3. Location
When you start searching for a payroll vendor, the names of some big, national firms are sure to come up. While you may feel more comfortable working with a large company, you may worry the relationship could be too impersonal and decide one of the biggest payroll outsource providers is not best for your business. Instead, you may want to look for a local vendor that offers more personalized support in case you need it. Be sure to target your search appropriately to avoid having too many options to consider.
4. Available features
If you have more than just basic payroll needs, you'll want to investigate what other features the payroll outsourcing firm offers to meet your requirements now and as you grow. For example, you may want mobile access if you'll frequently be uploading your payroll on the go. Or, depending on your situation, you may want a vendor that also has expertise to aid in compliance or provides HR assistance or health insurance.
5. Cost
For many employers, the decision over how to choose a payroll provider often comes down to cost. While outsourced payroll pricing depends on a number of factors, you can generally expect to pay about $200-$250 per employee per year. However, each vendor will have slightly different fees and include different services in their base price. For example, they may or may not include tax filing or other ancillary services. To make accurate comparisons between companies, you'll want to understand exactly the total price you'll be paying. Be sure to get a firm quote when you're investigating your options.
6. Ease of implementation
No matter which payroll provider you choose, getting up and running should be pretty quick. In fact, for a simple payroll, it should take less than a week. Generally, all that's required is that you sign some documents, provide banking information and details on how you're on file with the IRS and state tax agencies, and share your employees' Form W-4 details and direct deposit information. Even though you shouldn't need to do much on your end, be sure to ask payroll outsource providers to walk you through their process and timing so you know what to expect.
7. Ongoing support
Every payroll outsource provider offers customer service, but just how and when they provide it can vary. You'll want to ask each vendor about their training and support offerings. Support can range from more do-it-yourself (DIY) online resources, like how-to videos and searchable knowledge bases, to live chats or phone support. Even with live service, however, there may be variations between vendors. For example, some vendors offer phone support through a call center, while others will have a dedicated specialist to call directly any time you have questions or concerns. Think about what you need and find a vendor whose service approach fits your requirements.
8. System integration
If you're using existing software systems to run your business like time and attendance or accounting platforms, or even just Excel, you may want to look for a payroll outsource provider whose system integrates seamlessly. That way, you can be confident your data will flow between the systems to optimize your efficiencies. While most payroll solutions today are plug-and-play, system integration shouldn't be a given. Confirm that the systems will pair and how the vendor will handle the transition to make sure things run smoothly.
9. Scalability
Depending on your business' goals, you may find that you have simpler payroll needs now but will require added support as you grow. If you anticipate future expansion such as having employees in multiple states or wanting to offer health insurance to your workers, you'll want to look for a payroll outsource provider that has the ability to handle these complexities and scale with you to meet your objectives as your business evolves.
10. Security
With some headline-making security breaches in recent years, including a tax and salary data breach at ADP, you may worry about placing sensitive employee data in someone else's hands. While this fear is natural, it's also important to understand that security incidents are very rare. However, you should talk to all potential vendors about what policies and procedures they have in place to protect your data.
How to Choose the Right Payroll Outsourcing Firm
As you can see, there is a lot to think about when selecting a payroll outsourcing provider to make sure you have a successful partnership. As a next step, it's a good idea to narrow your list to two or three potential vendors and compare them in these 10 areas. A good place to start is with our list of the top payroll providers.