Employee Engagement Offerings At Complete Payroll Solutions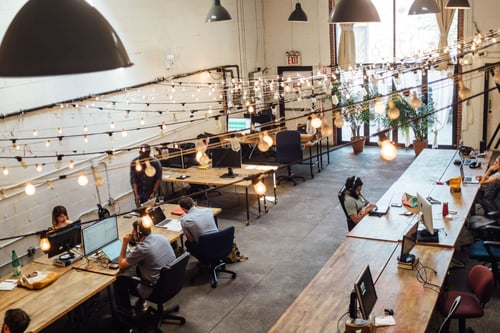 With today's tight labor market, employee engagement is more important than ever. To improve the employee experience, many employee engagement softwares are available on the market that can help you boost cultural alignment, morale, and satisfaction in order to enhance retention. And these types of solutions are important since a highly engaged workforce can reduce a company's turnover rate by 25-59%.
As you investigate your options for engagement software, you may be wondering what Complete Payroll Solutions offers to improve the employee experience.
Complete Payroll Solutions provides customized HR consulting and technologies to thousands of companies, including employee engagement software. While we know that our solutions may not be the right fit for every company, we offer software that can be an effective tool in understanding and recognizing employees beyond just their work.
Here, we'll address the details of Complete Payroll Solutions' employee engagement software so you can decide if our system is right for you, including:
Features
Cost
Integrations
Support
After reading this article, you'll have the information you need to decide if our software is the best option for your organization.
Features of Complete Payroll Solutions' Employee Engagement Software
Complete Payroll Solutions' employee engagement software enables you to empower your employees to share, learn, grow and perform. This type of engagement will help promote collaboration and feedback throughout your organization, which can go a long way to creating an environment that fosters loyalty.
Our employee engagement software helps drive multi-directional engagement both between employees and with them through a module, which can be integrated as part of our HRIS system, that allows employers and employees to take part in a variety of activities that can build a better organization.
Employers

Conduct surveys of a specific individual, group, or function to improve your work environment, culture or business strategy
Request feedback so employees feel heard and understood, and then take action on it
Create company initiatives
List events on a company calendar like team building exercises, volunteer opportunities, and company excursions and parties
Conduct performance reviews, both standard and 360 degree reviews from other employees or outside vendors or customers
Set goals for employees, groups or the company as a whole, which can help ensure everyone is on the same page and allow you to monitor progress
Employees

Share knowledge and ideas to foster communication and collaboration in the workplace and reward employees who share their insights
Provide feedback directly to another employee or their manager
Give praise to other workers, giving employees more real-time insight into their performance
Join groups, both internal and external, such as a wellness team or departmental group or based on interests like cooking or boating
Employees earn "points" for taking part in activities, which can be used to purchase items like gift cards or company promotional items when they achieve a certain status level.
What does Complete Payroll Solutions' employee engagement solution cost?
Employee engagement software can increase the performance of both your employees and your company. According to Gallup, companies that are the best in engaging their workers achieve earnings-per-share growth that is more than four times that of their competitors and 21% higher profitability. While the systems are a cost-effective way to further your growth, they'll still cost you something.
At Complete Payroll Solutions, the cost of our employee engagement module depends on how you want it customized to your needs. Generally speaking, our system costs $3-$6 per employee per month. When paired with payroll, HR, and benefits, further savings can be realized.
What other systems does Complete Payroll Solutions' employee engagement software integrate with?
To maximize the benefits of our employee engagement module, it can deliver even greater value when implemented as part of an integrated solution where one employee record can be shared across payroll, time and attendance, and HR.
With this approach, you can seamlessly manage the entire employee journey from one platform, scaling the solutions with added features and functionality as you grow.
Complete Payroll Solutions Employee Engagement Software Support
When you decide to utilize our employee engagement module, you can expect to have the system implemented in 4-6 weeks depending on whether you're integrating with other solutions like payroll, time and attendance, and HR.
To help you build the best solution for your company, you'll partner with a dedicated implementation team who will work with you from the start to gather and import your information into the system. The team will also provide training and you can access additional courses and help videos through an online university. You can always reach out to your dedicated team with any questions once you're up and running as well.
How to Pick the Right Employee Engagement Software for Your Business
Since much of your business' success depends on your employees' experience, it's important to find the right engagement software that can help you create a positive work environment. But with a range of functionality and costs, it can be difficult to select the best employee engagement software for your company.
Hopefully, this article provided an overview of our available offering and how you can customize it to best meet the needs of your business. As you evaluate your options, our solution can be an ideal choice for businesses who want:
A system that scales as your business grows
One integrated solution to manage employees from hire to retire
A dedicated support team that knows you and your business and can help you implement the right level of multi-directional engagement to meet your company's and employees' needs
Does our employee engagement software sound like a good fit for you? The next step is to review our detailed pricing page.
in

Payroll