Employee Engagement Software: What To Consider With This Technology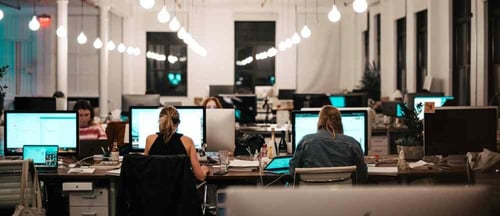 To help improve workers' experience in a tight labor market, many companies are implementing employee engagement software. That's because a highly engaged workforce can reduce a company's turnover rate by up to 59%. But despite its rising popularity, employee engagement software isn't necessarily right for everyone.
Complete Payroll Solutions provides customized HR consulting and technology services to thousands of companies, including employee engagement software. Yet since there are pros and cons to this technology, we know that these software solutions may not be a good fit for every company.
To help you decide whether to implement an employee engagement solution at your company, here we'll discuss the top factors to think about when considering the technology, including:
Cost
Resources
Time
Support
Integrations
Control
Culture
After reading this article, you'll have the information you need to decide if employee engagement software is a good option for your organization.
Considerations Before Using Employee Engagement Software
There are a lot of different factors that can impact your decision to implement employee engagement software. To help you evaluate whether this type of technology would benefit your company, here are 7 things to consider.
1. Cost of Employee Engagement Software
If you're like most businesses, every new expenditure means an evaluation of the cost. When looking at the investment you'd need to make for employee engagement software, the price you'll pay for a platform depends on the features it includes. So, for instance if you just want surveys, you'll spend less than if you also want recognition and performance features. Either way, you'll generally pay a per employee per month fee of around $10 to $20 a month.
While this cost may not be something you budgeted for, it's important to note that one of the biggest benefits of employee engagement software is the impact it can have on performance. In fact, according to Gallup, companies that are the best at engaging their workers achieve earnings-per-share growth that is more than 4x that of their competitors and 21% higher profitability. So the benefits to your bottom line can quickly outweigh the investment.
2. Necessary Resources
As with other software solutions, the success of an employee engagement platform requires more than just adopting one. Before you start shopping for a solution, you'll need to make sure you have key personnel to tap for this effort, which generally includes IT and HR. For example, IT may need to make sure that information doesn't get held up by a firewall or filter so that surveys can be automatically delivered. And HR will need to analyze the survey feedback.
Fortunately, the good news is that you can lean heavily on your software vendor for their expertise in technology and data analytics rather than having those resources in house.
3. Implementation Time
Another thing you'll want to think about if you're considering employee engagement software is the amount of time it may take to implement. Just like any other technology, you can expect that the software will take some time to configure to your needs, implement, and train users to operate. Depending on the features you decide on and whether you're integrating with other business solutions, the timeframe for getting up and running is generally about 4-6 weeks.
When you're looking at the time needed to get started and whether you can afford the investment right now, it's important to remember the time savings you'll realize once you begin using the software. Specifically, your staff can save time because the technology automates many activities, streamlines workflows, and centralizes data, freeing up HR leaders to focus on other workforce needs.
4. Ongoing Support
For some businesses, technology adoption can be daunting. And you may worry that you won't have the level of support from your vendor that you need to really maximize the benefits of an employee engagement software.
The good news is that most software vendors will have an implementation team to work with you from the start to gather and import your information and provide training to ensure your team knows how to use the system. And you'll also likely have access to ongoing support.
Just remember that when you start evaluating vendors, you'll want to find out what help is available to you. For example, find out if you have to submit a ticket or if you'll be able to access a real person versus using on-demand resources to address any issues you're having.
5. Employee Engagement Software Integrations
Another consideration when thinking about implementing employee engagement software is whether you have other business systems you'd want to integrate with such as:
Payroll
Timekeeping
Scheduling
If you do, having a software that can seamlessly connect with these other tools can deliver even greater value to your organization since you'll be able to manage the entire employee journey from one platform. The key is to look for pre-built integrations when you start evaluating software options.
6. Control Over Employee Relations
When some people think of technology, automation immediately comes to mind. And that can seem impersonal and hands off – a big consideration when it comes to employee relations.
But contrary to what you may think, employee engagement software can actually help you stay more connected to employees. That's because it can provide as frequent as daily engagement with workers. You'll just want to make sure you can configure your software solution and set how you want the features to work like surveys, goal setting and tracking or performance evaluations to enable the right type and timing of contact to best further your relationships.
7. Impact on Culture
Last but not least, another big factor when considering employee engagement software is the impact it may have on your workplace. Some employees may have hesitations about the technology that could impact morale. For example, workers could worry the surveys are not anonymous and that there could be reprisals over negative comments. Or if they provide feedback but no action is taken, that can make them feel like you don't care.
Fortunately, the impact of implementing a system will likely be positive, especially if you're transparent about what you're trying to do with the software. That's because research shows that when your team feels valued and that you're taking steps to make changes to improve the employee experience, they will be happier — and that can translate into a desirable environment that will drive loyalty and retention.
Is employee engagement software right for me?
As you can see, there's a lot to think about when it comes to employee engagement software. If, after you evaluate all these factors, you decide the technology is a good choice for your company, Complete Payroll Solutions' system may be an ideal option if you want:
A system that scales as your business grows
One integrated solution to manage employees from hire to retire
A dedicated support team that knows you and your business and can help you implement the right level of multi-directional engagement to meet your company's and employees' needs
See if our employee engagement solutions are right for you.
in

HR , Employee Engagement , HR Software , Technology