Labor Law Posters: An Employer's Guide To Compliance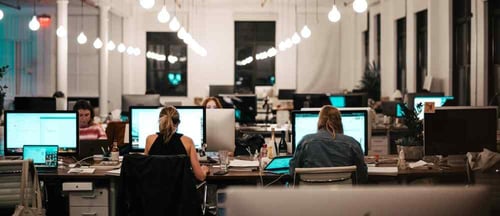 If you're in charge of workplace compliance, there's a lot to stay on top of. With all the employment laws and regulations, and constant changes to them, having a clear picture of what you need to do to avoid fines and lawsuits can be overwhelming. As a result, some tasks may fall through the cracks. One of the most common responsibilities that's overlooked by small businesses is workplace poster compliance.
At Complete Payroll Solutions, we have a team of compliance professionals who help companies of all sizes and industries understand and comply with mandatory labor law poster requirements. Whether you've just opened your business or added your first worker, or are facing a challenge from an employee, here we'll help you understand the rules and your responsibilities, including:
Covered businesses
Where to get posters
Posting locations
Storage requirements
Potential penalties
After reading this article, you should feel confident about how to tackle workplace posters to meet your obligations.
Who is required to post labor law posters?
Generally speaking, if you have at least one employee, federal laws and regulations require you to post certain notices in the workplace to inform workers of their rights. That means even non-profits must comply.
However, not every employer is covered by each law so you may not have to post all of the notices discussed in this article. For example, if you're a private sector business with less than 50 employees, you are not covered by the Family and Medical Leave Act (FMLA) so would not need to display the FMLA poster.
We'll cover who must post each notice next.
Which labor law posters do I need to post?
Labor law posters are intended to let employees know about their workplace rights. The following federal posters must be displayed in all covered workplaces:
| | |
| --- | --- |
| Poster | Who Must Post |
| Employee Polygraph Protection Act | Any employer engaged in or affecting commerce or in the production of goods for commerce |
| Equal Employment Opportunity is the Law | Employers subject to Title VII of the Civil Rights Act; Title I of the Americans with Disabilities Act; the Age Discrimination in Employment Act; the Equal Pay Act; Title II of the Genetic Information Nondiscrimination Act; Section 503 of the Rehabilitation Act of 1973; and the Vietnam Era Veterans' Readjustment Assistance ActEmployers with federal contracts or subcontracts and federally assisted construction contracts and subcontracts over $10,000 |
| Fair Labor Standards Act (FLSA) Minimum Wage Poster | Employers of any employee subject to the Fair Labor Standards Act (FLSA) |
| Employee Rights Under the Family and Medical Leave Act (FMLA) | Public agencies (including state, local, and federal employers), public and private elementary and secondary schools, as well as private sector employers who employ 50 or more employees in 20 or more work weeks |
| Job Safety and Health: It's the Law! | Private employers engaged in a business affecting commerce |
| You're Rights Under the Uniformed Services Employment and Reemployment Rights Act | The full text of the notice must be provided by each employer to persons entitled to rights and benefits under USERRA |
| Employee Rights for Workers with Disabilities/Special Minimum Wage | Every employer having workers employed under special minimum wage certificates authorized by section 14I of the FLSA |
In addition to these federally required posters, there may be state posting requirements. For example, in Massachusetts, employers must post additional notices like the Earned Sick Time notice and Massachusetts Wage & Hour Laws poster. To understand what you may need to display at your workplace, contact your state labor office.
Based on your industry, there may also be additional poster requirements. If you're an agricultural employer, for instance, you'll have to post other notices like the Migrant and Seasonal Agricultural Worker Protection Act poster. Companies that have federal contracts or subcontracts also have extra notice requirements. The Department of Labor (DOL) has links to workplace posters of special interest to federal contractors.
Where can I get labor law posters?
The DOL, which administers many of the employment laws that require notices to be posted, offers links to all of the federally required posters. From these links, you can download and print your own labor law posters free of charge.
Another option is to use a workplace poster service. These are companies that offer state and federal labor law posters based on your type of business and location that will update you when there are changes and automatically provide the latest versions.

At Complete Payroll Solutions, we offer a workplace poster service for $10 a month that provides all the posters mandated by federal and state laws and automatically sends you a revised poster each time a law is updated.
Where do labor law posters need to be posted?
Labor law posters generally need to be displayed in a conspicuous place where all employees can see them on a daily basis. Some examples include a break room, near a time clock, or on a bulletin board where notices are typically placed.

For employees who work remotely or travel frequently, you can send them a set of posters electronically or use a company intranet to show you're making an effort to advise them of their rights. Our poster service also has e-Posters available.
Some posters also need to be visible to applicants, like the Equal Employment Opportunity labor law poster. In these cases, you'll need to make sure they are visible to prospective employees as well by displaying them somewhere like the main lobby or interview room.
If you have more than one location, you'll have to display the posters at each site where business is conducted or services are performed.
Do I need to display multilingual posters?
Depending on the makeup of your workforce, you may need to display versions of federal labor law posters in other languages. For example, the Employee Rights Under the Family and Medical Leave Act (FMLA) poster must be in a language in which the employees are literate if a significant portion of workers aren't literate in English.
As we discussed earlier, state laws may have different requirements, including about posting in other languages, so you'll want to make sure you understand the rules where you operate.
How often do labor law posters change?
Posters can change frequently so it's important to stay on top of the requirements. Our recommendation is to review your posters once a year.
Once an updated version of a poster becomes available, be sure to hang it by the effective date. It's important to note that there will usually be a period of time, like 30 days, during which both the old and new versions are acceptable for compliance purposes.

When you hang new versions, you don't need to alert workers to the changes. Your only responsibility is to display the correct poster.
When you take down your older posters, it's a good idea to save them and take photos of where they were displayed to prove past compliance. That way, if there's ever an issue with an employee or the DOL, you can show that you informed workers of their rights.
What are the fines for failure to post required notices?
Failure to post required federal labor law posters can have serious financial consequences for your company.
Often, investigations into labor law posters will arise because of another issue. For instance, if an employee files a complaint about missing overtime, the DOL may audit your business to review the employee's time sheets and, in the process, check for your posters. If you don't have them properly placed, you risk penalties.
The fines for failing to display required federal labor law posters vary by agency. For example, while the maximum penalty for failure to post the FMLA notice is $178, the maximum fine for failing to display the OSHA poster, Job Safety & Health: It's the Law!, is $13,653 per violation.
And that's not all. You could even face a lawsuit by an employee over a violation of their workplace rights.
Staying Compliant With Labor Law Posters
To protect your company and your future, it's essential that you stay on top of labor law posting requirements. Since managing the task can be time consuming and complex, you may want to outsource your poster program to an HR provider who handles all aspects of compliance with employment laws and regulations.
At Complete Payroll Solutions, we provide simplified compliance for businesses by tracking all labor laws and regulations, including poster legislation, and providing actionable steps you can take to reduce your risk of violations. Visit our compliance page to learn more.
in

HR , Compliance