Top Features to Look for in a Payroll Portal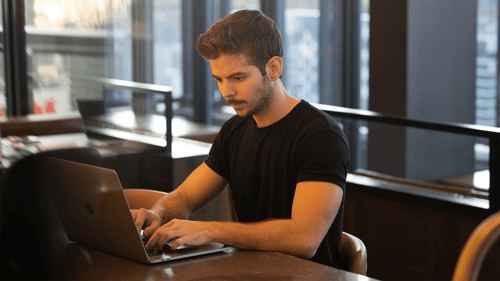 In today's labor market, meeting employees' needs for payroll information access, transparency, and engagement can help boost satisfaction. And one of the best ways to do this is with an employee payroll portal. Whether you already utilize payroll software and are looking to upgrade or are considering outsourcing, as you evaluate options on the market, you may be wondering what makes a good portal. Fortunately, there are key features to look for that may make your search easier.
Download our free Complete Guide to Payroll Solutions and determine if outsourcing is right for you.
To help you decide what you should look for in a payroll portal to best meet your needs, here we'll discuss some of the most common, including:
Onboarding
Compensation & Benefit Information
Time Management
Training
Company Information
Mobile Capabilities
Performance Management
Employee Engagement
After reading this, you'll have a guide to help you make the right payroll portal choice for you and your employees. For more guidance about understanding the scope of payroll services—and how they align with your organization's needs, consider downloading our complete guide to payroll solutions.
What is an employee payroll portal?
Employee self-service (ESS) portals are web-based tools through which employees can access relevant information and conduct certain transactions from a central online site or gateway. They can make it faster and easier for employees to access information they need and complete certain actions themselves instead of contacting you or your HR staff.
As the definition of payroll continues to expand to meet the needs of today's labor market, so do the features and functionality of the payroll software and portals companies leverage for their businesses. Depending on the software you choose, employees may be able to update their personal data, print out paystubs, and enroll in benefits. Next, we'll look at these and other top features you may want to consider when searching for a payroll portal for your organization.
The Top 8 Payroll Portal Features
As you evaluate payroll software options on the market, here are some of the top features that can benefit your employees as well as your company.
1. New Hire Onboarding
Especially with the rise of virtual hiring, self-service onboarding is quickly becoming mainstream. With onboarding as part of your payroll portal, your new employees can complete all their new hire forms electronically, enroll in benefit plans, stream training videos, and more. In addition to speeding up the process, it also frees up you and your staff, increasing everyone's overall productivity.
2. Pay and Benefit Information Available In Your Payroll Portal
To enhance convenience for employees, you may want to look for an employee payroll portal that allows employees to perform a number of functions regarding their compensation, such as:
View their

paystubs

Display year-to-date earnings and total compensation
Download their W-2s
Change their W-4 tax information
See current benefit elections
Enroll in benefits during open enrollment
Update benefits based on life events like marriage or the birth of a child
View current time-off status
View company messages and announcements
Providing anywhere, anytime access to these capabilities can give employees more control while decreasing the number of requests you and your team need to respond to.
3. Time Management Functionality
To more accurately track workers' hours, especially among remote employees, you may want to look for a payroll portal that integrates web-based time and attendance data collection. These options enable employees to clock in and out from anywhere and automatically integrate with payroll, simplifying the process for you and your team as well as eliminating error-prone data entry. Some also offer workers the ability to view their work schedules and place vacation requests for added empowerment.
4. Training and Employee Development
In the past, learning and development platforms were often separate from payroll portals. But this siloed approach made it difficult to track employee progress. Instead, consider payroll software that allows you to add your own training programs or can integrate with an LMS. By synching records, you can alleviate administrative burden by quickly seeing which employees completed particular modules and then using these training completions to easily establish individual performance milestones and personalize development plans. Plus, it makes it simpler for employees since they can use just one login from the same platform for a seamless experience.
5. Access to Company Information
With changing laws and regulations requiring regular updates to employee handbooks and policies, a portal can make a great place to house these dynamic documents. With this approach, you can ask employees to review and sign off on any new workforce rules you're putting in place. Not only does this make administration easier for you, but it allows employees instant access to important guidance, such as how to request leave.
6. Mobile Capabilities For On-The-Go Access
With mobile surpassing desktop as the primary way to access the internet, it's important that your portal meets employee expectations for immediate 24/7 access. Software that has mobile capabilities can enable employees to log in from their phone, tablet, or laptop from anywhere and accomplish the same tasks with greater convenience and satisfaction.
7. Performance Management As Part of Your Payroll Software and Portal
With performance reviews evolving, an employee portal can better allow you to stay up with the latest trends. For example, software can enable employees to complete self-evaluations, set goals, and review and respond to evaluations. All of this can drive employee engagement while also benefiting your HR staff by having all compensation and performance management data in one central place for better analysis and reporting.
8. Employee Engagement Tools Expanding Payroll Definitions and Expectations
A highly engaged workforce can reduce a company's turnover by 25-59%. As such, it may come as no surprise that software vendors are expanding payroll definition to encompass more than just traditional pay and time tracking. Many are looking at ways to integrate portal use with engagement functionality. In recent times,software use has expanded to include functions far beyond payroll, in some instances enabling users to conduct surveys, request feedback, list company events, and more to improve engagement efforts. In addition, your software may also allow employees to share knowledge and ideas, give praise to other's work, and join groups such as a wellness team. By promoting multi-directional engagement, you have a better chance to build an environment that fosters loyalty.
How to Select the Best Employee Payroll Portal for Your Business
With so many portal options, it can be challenging to decide what would best benefit your employees and organization. Hopefully this article gave you an overview of the most valuable features available today as you start your search. To learn more about what's trending in payroll, read our next article on the future of payroll.
in

Payroll , Technology