A Beginner's Guide To Employee Handbooks (+10 Must-Haves For Yours)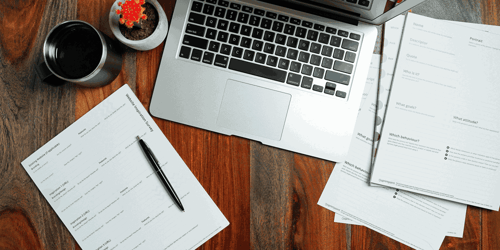 Whether you're hiring employees for the first time or are growing and want to make sure your business is protected, you're probably here because you've realized your business needs an employee handbook. But creating employee handbooks can be daunting. We're going to try to make it easier for you.
In this article, we'll describe the importance of employee handbooks and the top must-haves for yours. After reading this, you'll understand what your company handbook should include to optimize talent management in your organization.
What is an employee handbook?
A handbook is a valuable communication resource for your company that can help you more effectively manage your workplace by sharing information about your mission, values, policies, procedures, expectations, and benefits. By spelling out important policies and the rights of employees and employers, it can also limit your legal liability and protect you against claims such as discrimination or unfair treatment.
Why do companies need employee handbooks?
While not required by state or federal law, employee handbooks can help your organization run more smoothly by outlining the dos and don'ts of the workplace. But there are other reasons businesses of all sizes should have a handbook. An employee handbook can help your company:
Set expectations.

An employee handbook will help workers understand

what's expected of them and of the company

. This includes things like timekeeping responsibilities, safety expectations as well as disciplinary procedures that may be taken in the event of issues such as conduct or attendance. This can eliminate confusion and uncertainty.

Ensure fair treatment.

With policies shared with all employees and consistent enforcement across departments and groups, you'll demonstrate that you're treating everyone equally. This may be important in situations when a worker makes a claim of unfair treatment.

Meet compliance requirements.

Federal and state employment laws and regulations often require you to provide information to employees to notify them of certain rights and entitlements. These can include things like anti-sexual harassment and discrimination policies. By including them in your handbook, you'll ensure you meet the notice rules.

Inform employees of their rights and benefits.

With a handbook, you can make sure that all employees receive information about their rights and benefits such as their vacation policies, company holidays, and benefits eligibility.

Defend against lawsuits.

By documenting the information you shared with your employees in writing, a handbook can help prove that you communicated required policies and procedures to your workforce.

Improve communication.

Employee handbooks can help

open the doors of communication between employees and management, which can encourage prompt resolution of workplace disputes since workers will know the proper procedures for voicing concerns

.
What should be included in an employee handbook?
Whether you decide to develop a guide yourself or work with an outside expert on one, there are 10 employee handbook must haves you'll want to include.
Company Overview and General Information.

Employee handbooks should welcome employees in an introduction to set a positive tone for the manual as well as spell out company information like your mission, vision, and values. It should also contain a statement about what the purpose of the handbook is as well as an at-will disclaimer that makes it clear the guide is not a contract and either party can terminate the relationship at any time.

Non-Discrimination and Anti-Harassment Policies.

Your handbook should outline your company's policies for ensuring equal treatment. For example, you'll need to include

Equal Employment Opportunity (EEO) policies

and, if you have more than 15 employees, an Americans with Disabilities Act (ADA) policy. In addition, spell out what constitutes harassment, complaint procedures, and what actions your company will take in response to allegations. Keep in mind that some states or cities require certain policies so be sure your handbook complies with applicable laws and regulations.

Compensation and Benefits

. Outline your pay periods and how you manage timekeeping. Be sure to detail how additional compensation such as overtime, bonuses, and commissions are handled. You'll also want to describe both mandatory and voluntary paycheck deductions so there are no surprises. When it comes to benefits, include a disclaimer about your right to amend or terminate any programs described. Then provide a general overview of your offerings, leaving room for flexibility and eligibility requirements with links or locations of master documents for additional details.

Leave Policies.

Include your policies regarding time away from work like holidays,

vacation, paid time off

,

bereavement

, and

sick days

. You'll also need to include legal mandates like the Family and Medical Leave Act as well as

state or local requirements that may stipulate longer leave

. Make sure there are clear details on procedures for requesting and using leave.

Schedules and Business Hours.

To keep everyone on the same page, describe the company's regular business hours as well as how they may be impacted on special days or because of weather. If employees work shifts, describe how they are established and can be changed. You'll also want to explain any telecommuting or flex-time policies if you have

remote workers

. And include how your company handles travel time for business purposes.

Code of Conduct.

To ensure a safe and productive workplace, employee handbooks should outline rules regarding employee conduct. This section should include your policies on drugs and alcohol use, including

marijuana

use in states where it's legal, confidentiality, ethical standards, dress, meals and breaks, and acceptable behavior. And explain your disciplinary policy for violations.

Safety and Security.

In this section, you'll want to include policies to protect employees, visitors, and your facilities. This is where you should spell out that employees should perform their work in a safe manner that follows all regulations and standards that apply to their role. Be sure to also include your rules for bringing weapons onto the property, guidelines for visitors in the workplace, and how to report hazards, accidents, or illnesses on the job. Lastly, explain any emergency plan information employees may need to know.

Performance Management.

Include information about your performance reviews as well and

procedures for failure to meet performance goals

. This section should also include information about promotions and transfers within the company.

Technology and Social Media Posting.

Add a section to your handbook that outlines your communications policy for email and social media as well as what's appropriate use of and behavior on company-owned devices such as computers and cell phones. Let employees know that all information composed, stored, sent, or received are property of the company and subject to inspection and review.

Signature Page.

To maximize the protection your handbook affords, you'll want to make sure you ask every employee to provide a written acknowledgement that they received a copy, read the contents, and agree to the policies. Be sure to give the employee a copy and keep one on file.
When creating your handbook, keep it simple and use terms everyone can understand. And since federal and state laws may differ on topics such as leave, it's a good idea to use a phrase like "unless otherwise required by state law" when applicable.
Once complete, be sure to share it with all employees. Provide copies as part of the onboarding process and make it available at any time on a company intranet or provide a physical copy for employees without internet access in a break room or other common area. And make sure you review it annually and update the policies as needed; if you make any changes, promptly communicate them to employees.
How do I get started with creating an employee handbook?
As you can see, employee handbooks can be a vital tool for your business. But as you set out to create one, you'll quickly realize there is a lot of information to include, and it can be challenging to know just what policies you need for your business. To help you get started with creating a handbook, you can search for standard templates and tools online. Remember, however, if you choose to go this route, you'll need to customize it based on your workforce.
If you're worried you don't have the expertise in house to tailor the content, another option is to work with an employment lawyer or outsourced HR provider.
This blog was originally published in April of 2021 and was updated in December of 2022 for accuracy and to be more comprehensive.
in

HR , Compliance , Employee Handbook