Payroll Solutions Trends: Technologies and Features to Watch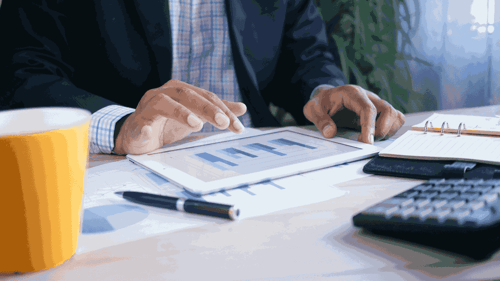 Fifty-four percent of workers have experienced a payroll problem, from a late payment to incorrect total earnings. In today's tight labor market, doing payroll right is more important than ever to keeping up morale. Fortunately, national payroll software companies are always adding features to improve payroll accuracy, timeliness, and engagement. What are the trends in payroll solutions you might want to consider to optimize your processes?
Download our free Complete Guide to Payroll Solutions and determine if outsourcing is right for you.
To help you understand the newest offerings you may want to consider, here we'll discuss:
Flexible pay options
All-in-one workforce management solutions
Cryptocurrency
Mobile and remote apps
Artificial intelligence
After reading this, you'll be able to decide if it's time to embrace one of these trends to improve your payroll – and employee satisfaction. For more guidance about understanding the scope of payroll services—and how they align with your organization's needs, consider downloading our complete guide to payroll solutions.
Top 5 Payroll Solutions Trends
If you're thinking about updating your legacy payroll tools with modern approaches, here are five trends to consider.
Flexible Pay Options
Whether employees are on site or remote, faster, more convenient access to their wages is essential. While paperless methods like direct deposit and paycards have become increasingly common to meet employees' needs, there are two emerging methods that are taking paperless pay to a new level.
Digital Wallets: If your workforce is made up of employees who prefer to use their smartphone over cash, they may be interested in having their paychecks deposited directly into a digital wallet like a Venmo account or Apple Pay. With this approach, there are no or low fees for you. And for employees? They can use their digital wallets to make purchases, pay bills, or send money to friends and family. Just keep in mind that providing a pay stub, in states where it's required, may be challenging unless you partner with a payroll provider that supports this feature.
Instant Pay Apps: These phone-based apps, like

ZayZoon

,

allow employees to access earned wages before their regular payday. This method satisfies the desires of a majority of US workers,

83% of whom believe they should have access to their earned wages at the end of each workday

or shift. However, you'll want to check if you will be charged fees for implementation and usage – and what employees will be charged for each advance. In addition, some states such as California may have wage and hour laws governing the use of a third party in the wage payment structure.
All-In-One Workforce Management Solutions
Standalone payroll systems are quickly becoming a thing of the past. Instead, one of the biggest payroll solutions trends is the move to comprehensive HRIS workforce management systems that can be used throughout the entire employee life cycle. With this approach, you'll have a single employee record that feeds payroll, HR, time and attendance, and benefits. For example, your time tracking and scheduling will synchronize with your payroll module automatically.
This single database of record makes managing your team simpler, accurate, and more efficient. Specifically, you'll realize benefits like:
Avoiding duplicate data entry – and the risk of errors
Accessing all essential information from a single dashboard
Being able to share data across systems
Gaining more actionable reporting
Plus, employees can log into a single portal for self-service tasks like updating their personal information, accessing their paystubs and W-2s, recording punch data, viewing and creating schedules, and requesting time off for increased engagement.
Cryptocurrency as a Pay Option
With high-profile individuals like politicians and professional athletes accepting their pay in Bitcoin, it's not surprising that cryptocurrency is making a move to the mainstream – especially among young workers. In fact, 36% of millennials and 51 % of Gen Z say they're willing to get half their salary in cryptocurrency.
Depending on your employee's interest, you can either pay them wages in US dollars then convert the funds to the digital asset of their choice, or you could pay in the cryptocurrency itself. If you pay in cryptocurrency, just remember you need to withhold and report payroll taxes, which will require you to determine the fair market value.
In addition, depending on your state's rules, you may need to have employees agree in writing to receive part or all of their wages in a form other than US dollars. Be sure to check local laws and, even if permissible, make any program optional and have employees consent in writing. Consent is also key because cryptocurrencies have been volatile, with steep drops in value in mere hours, and employees may have potential capital gains taxes so you'll want them to acknowledge the risks.
Payroll Solutions with Mobile and Remote Accessibility
With the rise of remote workers during – and beyond – the pandemic, employees are working from anywhere. But old systems may not be capable of meeting the needs of off-site staff effectively and efficiently. That's where mobile and web-based access come in.
Depending on what software you choose or your payroll provider's offerings, you may be able to allow employees to take several actions from their phone or computer, including:
Clock in and out with online time and attendance
Access their pay and tax information
Check PTO balances
Get instant payments
In addition to the added convenience for employees, these capabilities also benefit owners and/or administrators by enabling them to review, edit, and run payroll from anywhere.
Artificial Intelligence Capabilities
Companies are increasingly employing AI for everything from HR tasks to payroll. For example, some uses of AI in workforce management include:
Automating workflows by tracking and computing employees' hours and pay rates and sending the information to payroll for processing
Using algorithms to calculate the average earnings, deductions, and taxes by employee compared to the payroll being run to identify significant variations
Using pay rule engines to manage data sets and automatically apply laws and regulations for compliance
Helping with pay and salary considerations
Identifying reasons behind payroll mistakes to minimize future ones
Cleaning and analyzing data for more intuitive reports without much manual intervention
Providing predictive tools tied to online pay and attendance tracking to see if you're going to exceed your payroll budget
Offering chatbots to help employees with non-urgent requests as well as review punch details, time off requests, schedule, and perform multiple HR-based functions
Aiding in t applicant screening as part of the recruitment and hiring process
Automating scheduling functionality
Alerting management to an employee's likelihood of leaving
The key is to find the issues your payroll team faces and which AI capabilities could provide solutions to eliminate human error, decrease the burden on your staff, and boost employee efficiency.
How to Capitalize on Trends for a Better Payroll Experience
As the payroll industry continues to evolve, it's important to keep pace. And knowing the latest features offered by different payroll solutions is the first step to helping you improve the payroll experience for you–– and especially your employees. That's because employee retention is essential in today's labor market, and just two payroll errors can cause 49% of employees to start job hunting. To recognize these and other dynamics of a candidate's market, learn more about today's hiring environment.
in

Payroll , Payroll Trends