The Future of Work: An Employer's Guide To Emerging Workplace Trends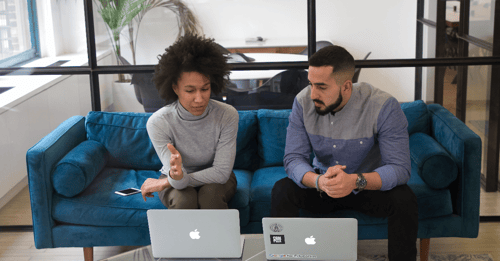 From remote workforces and emerging generations to AI and other technology, the workplace is changing faster than ever before. If you're like many companies, you may be struggling to stay on top of these changes and emerging workplace trends. While keeping up to date may be difficult, it's crucial to have an understanding of the impending changes so you can prepare and adapt. So, what does the future of work look like so you can get ahead? Let's find out.
In this article, we'll discuss what the future of work looks like, who will make up the workforce, key trends shaping what comes next, and how you can best prepare your business. After reading this, you'll have the information you need to continue to thrive in the coming years.
What is the future of work?
The future of work is about how work will get done over the next decade, influenced by technological, generational, and social shifts. It represents predictions of how work, employees, and the workplace will evolve. Since things will continue to change, it's important to note that the future of work is based on projections. However, employers can still look to the trends and where things are heading to make decisions that will prepare their workplace for what's next.
Who will make up the future workforce?
One of the biggest components of the future of work is who will be doing it. While AI may be making headlines, the near future looks to remain people powered. Here are some predictions about workers that can be helpful in making decisions to grow and develop your workforce now and in the future.
What workplace trends are shaping the future of work?
In addition to shifts in who will make up the future labor force, there are other key workplace trends that will likely impact your organization as the future of work becomes reality. These include:
The hybrid workplace will dominate

.

55% of employees say whether or not they can work flexibly will impact if they stay in their jobs

. To meet

employees' needs for flexibility

, you'll want to reshape your culture for a sustainable hybrid environment.

Work environments will become more person-centered

. Employees will increasingly expect their organizations to see them as a person and not just a worker. That means training managers to be more empathetic and focus on employee well-being

.

AI will change most occupations

. While

a truly artificial human-like brain remains far in the future

, AI systems mimic human behavior on tasks and will impact almost all occupations seeking

greater productivity

. Seek out opportunities to adopt the technology for optimal results.

Soft skills will be in greater demand

. In the future of work, marked by virtual relationships and less oversight,

soft skills

will be more important than ever. Companies should focus on

developing critical thinking, creativity, and problem solving

to enhance the way employees work and interact with others.

DEI will be crucial to sustainable growth.

Companies

in the top quartile for ethnic diversity on executive teams are 36% more likely to have above average profitability

than those in the fourth quartile. Taking meaningful actions now to improve inclusivity will position your company to succeed in the future.

Employees will see sustainability as the norm.

Sustainability is increasingly a focus in every industry, driven by regulations and pressures from stakeholders. And employees now see it as the norm, especially younger workers who are concerned with environmental issues and want to work for employers that are socially responsible. To meet these expectations, start making decisions now that improve your footprint. While there are plenty of ways to prioritize sustainability and minimize your company's environmental impact, converting to

paperless payroll

or finding ways to get the entire organization onboard with

corporate initiatives

are good places to start.

A culture of learning will be essential.

To address expected skills gaps, prioritizing employee training and development will be critical. And by establishing

a culture of learning

, you'll show employees you value them, which can boost their satisfaction and loyalty.
How can I best prepare my business?
Since the world will continue to evolve, the future of work is anyone's guess. But these workplace trends we discussed here can help you anticipate how business may change in the coming years so you can take action now. The best way to prepare for the future of work is to keep up and stay on top of the rapid pace of transformation. Join industry groups, follow influencers in your space, read what leading analysts have to say.
As you listen and learn, identify trends that have the highest chance of impacting your business so that you can prioritize where to focus. While what matters most will look different for every organization, having an understanding of what's to come will support your ability to adapt and pivot, which can make or break your future success.