Creating A Professional Development Program In 7 Easy Steps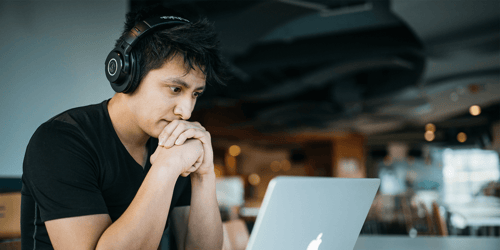 With 91% of employees looking for more training opportunities from their employers, a professional development program can be an essential tool to retain talent, among other advantages. But if you haven't offered education before, it can be overwhelming to know where to start. Fortunately, you can get underway in just a few steps. Let's find out what they are.
In this article, we'll introduce what a professional development program is, the benefits of one to your employees and company, and what to include in one to be most effective. After reading this, you'll be prepared to jumpstart your training program and give your workforce what they're looking for today.
What is a professional development program?
A professional development program is intended to arm employees with new resources to succeed in their roles and even prepare them to take on additional duties within your company. Keep in mind that it's not just training, which fills a gap. Instead, it is focused on the future and growth of your employees and your business.
While each professional development program is unique, two common features are that they are continual and allow employees to have control over their educational path.
What are the benefits of professional development?
Professional development opportunities can meet employees' desires for greater educational offerings, enhancing their satisfaction in the process. That's because they'll expand their knowledge base, boost their credibility, and potentially gain access to networking – all of which can increase their future earning potential.
But they can also benefit your organization. Here are a few ways:
Improved job performance: By increasing the knowledge of your employees, they'll be better prepared to contribute to your company and take on greater responsibility.
Greater efficiencies: Upskilling can help employees become more capable and competent so they can do their jobs more efficiently, saving you time and resources.
Higher profits: Companies that

invest $1,500 or more per employee per year on training average 24% higher profit margins.

Better retention:

Companies that don't offer education see greater turnover

. As interesting, challenging, and career-enhancing opportunities become the expectation, you risk losing employees if you don't offer th

is type of development.

Enhanced succession planning: Leadership development programs

can help groom future leaders

and help you ensure staff are prepared to move up.
Stronger brand reputation: By promoting learning, you'll demonstrate that you care about your workforce and invest in ways employees can grow professionally, building a positive reputation among prospective workers.
What should my program include?
There's no one-size-fits-all approach to creating a professional development program. Rather, they can contain a mix of opportunities to meet your workers' needs. So they may focus on mastering a specific skill or technology, improving communication, or helping employees learn new strategies for management and leadership.
Some types of offerings that you may want to consider for your team include:
On-the-job training including job shadowing
Mentoring or coaching
College courses
Workshops and seminars put on by industry or professional associations
License, certification, or accreditation courses
Lunch and learns
Conferences
To best design a program for your company, there are some key actions to take, which we'll discuss next.
How do I create a professional development program?
There are lots of ways to create a program that will work best for your team. But, generally speaking, the steps you'll take are the same. These are:
Ask employees: Be sure you or your managers meet with employees to find out areas where professional development would benefit them. And find out how they want to take part, meaning, in-person or

online

. By incorporating their feedback, you'll be more likely to engage them in opportunities.
Assess skills and gaps: Determine if there are skills needed for employees to get their current job done, take on new responsibilities, or to advance in their career.
Determine your departmental or organizational needs: An individual's career path should align with your workforce's needs. That means you'll want to consider your company's strategic vision and what knowledge you'll need to instill to enhance your future success.
Design your offerings: Once you understand where to focus, seek out opportunities that already exist or design your own custom program. For example, you could have internal experts who can develop content or your organization may decide to bring in outside experts to run training sessions for your staff.
Set policies for participation: Since you may incur some costs for the offerings you decide on, you may want to require that new employees wait 6 months before they can participate so they don't get a certification then leave your company. Or maybe you'll require pre-approval. Or there may be travel required for off-site sessions and you'll need to decide what you'll reimburse. Be sure to document all of the guidelines in your policy.
Share opportunities: Communicate all the offerings you provide to develop employees and incent workers to take part. Consider showing your team that learning and development is a priority at your company by taking part in the program yourself or leading a session. And share stories of success to help further market your efforts.
Track and report: Record the opportunities each employee takes part in so you can track progress towards goals. You'll also want to solicit their feedback so you can adapt your program as needed.
How to Best Launch a Professional Development Program
A professional development program can be a great way to further the capabilities of your staff and your company to best position you for success. Since each program will be unique based on a company's specific needs, goals, and workforce, it's important to take all of these into account when designing what you'll offer. If you don't have the time or expertise in-house to consider all these factors and develop the right mix of education, you may want to get the help of an outside HR provider. If you decide to go this route, there are several vendors to choose from. Alternatively, CPS' employee training programs may be a great fit for your organization.
in

HR , Employee Engagement , Training