Remote Training For Employees: A Guide For Employers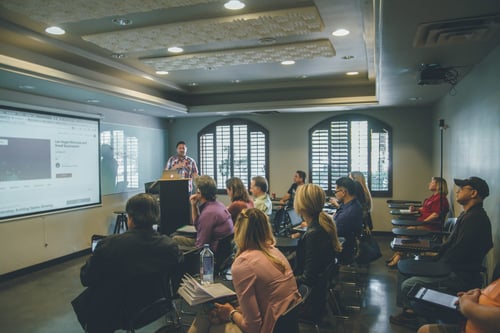 This fall, 45% of full-time US employees were still working from home either all or part of the time. Workers see many benefits to telecommuting like better wellbeing, work-life balance, and productivity; however, it can be challenging to keep employees engaged, and that's critical, especially in today's tight labor market. One way to do that is with remote training and development opportunities. In fact, employers who offer valuable training opportunities build their reputations as employers of choice. So just what is the best approach for training remote employees?
Complete Payroll Solutions provides outsourced HR consulting to thousands of companies, including workforce training services. We know how important training is to all employees, whether on site or remote, so here we'll break down what you need to know to enhance not only your staff's development, but their satisfaction as well, including:
What is remote workforce training
Which workers is remote training best for
How do I choose a remote training tool
What are best practices for training remote employees
After reading this article, you'll know how to put a plan in place to develop all workers for their benefit – and yours.
What is remote workforce training?
Remote training is the process of upskilling your employees from a distance using digital means. Types of virtual training can include online classes, webinars, podcasts, and other resources delivered either synchronously, when everyone learns at the same time, or asynchronously, meaning self-paced.
This approach targets employees who work from a physical location other than your organization's office, such as from home.
Who is remote training best for?
Distance learning is valuable for any remote employees. These could be new workers who have just completed remote onboarding, those that currently work from home or will in the future , as well as those who work from different locations such as on site at a customer's workplace.
It is also important for managers who are leading remote teams. For example, these individuals will need to learn how to effectively communicate, delegate, and check in with workers from a distance.
How do I choose a remote training tool?
To get the most out of your remote training effort, it's important to understand your workforce. What is their learning style? Are they comfortable with technology? What skills do they want to improve? Do they prefer to stick to a strict schedule or like the flexibility to train at times convenient for them?
You'll also want to consider your budget, how many people will need to access the system since some tools charge by the user, and the features you need.
All of these considerations can help you identify the best remote training tools for you and your workers. One popular approach is to use a corporate learning management system (LMS). A learning management system is a solution for online training-related activities and comes with a comprehensive set of features that allow you to create engaging learning experiences. The LMS acts as both the training foundation by incorporating all the modules and the engine by providing the environment for learners to access them.
What are best practices for training remote employees?
When it comes to rolling out your remote training program, here are some tips to make it successful.
1.

Establish Ground Rules For Remote Training
You'll want to spend some time explaining how to access the tool(s) you select as well as what happens when they have connectivity issues or other problems with the technology. For example, do they contact a member of your IT support team or does your training tool include a support option? It's also important that participants are actively engaged during the training so suggest they put their cell phones down, find a quiet place to learn free of distractions, and close their email or other programs.
2.

Centralize Your Learning Material
Make remote training as accessible as possible by having one centralized location. This will also allow you to more easily manage all of your courses and track employee training completion as well as their progress towards a learning objective. One approach to this is a learning management system, which we just discussed.
3. Vary The Content
Whatever training tools you choose, you should offer different ways of learning since one size does not fit all. Embrace everything from virtual classrooms and videos to gamification and simulation to appeal to each worker's learning style. And use reporting to identify opportunities to update your content based on what is working well or not. For example, if employees aren't watching certain videos, then you may want to replace them.
4.

Consider a Third Party
When it comes to e-learning, content is king. While you may opt to develop your own learning content in house for company-specific workforce training, many organizations also utilize third parties for more general training topics. Outsourcing can be a less costly and burdensome approach and help you get an outside perspective and expertise as well. In many environments, a blend of both types can enable a varied range of courses that can be used by many types of learners.
5.

Keep Remote Training Collaborative
While some employees prefer self-directed courses, it's important to remember the social aspect of traditional workforce training. Focus on human connections when possible. Look for opportunities that encourage participants to engage and interact with one another. Courses that group attendees and provide breakouts for them to take topics or assignments off line are good options. So are those that offer chat rooms so employees can ask questions and give input during the course.
6.

Try a Hybrid Approach
As more in-person conferences come back, remember that interaction and engagement are important to learning so consider how these live sessions may work with your workforce training strategies. Despite its rising popularity, remote training may not completely replace in-person opportunities but rather provide complementary learning. Just be sure employees comply with health and safety guidelines when attending training to reduce the risk of contracting COVID-19.
7.

Monitor Success
When using remote training to continue to build a high-performance team, it's important to make sure it's working. Solicit feedback from employees on the training to keep lines of communication open and improve the programs. And be sure to incorporate ways to gauge whether the programs are successful. For example, set goals and deadlines at the outset and track employees' progress so you can see if the workforce training is meeting its objective.
How to Launch a Successful Remote Training Program
When done right, remote workforce training can hold significant benefits to your employees and your organization. But since remote training is unique from traditional in-person methods, it can be overwhelming to determine the best way to proceed at your company.
One option is to team with an outsourced HR provider who can help you structure a remote training program that will work for your business. If you are considering this approach, Complete Payroll Solutions could be a good fit for your company if you want:
One provider who can advise on training options, lead courses, and offer a LMS
Trainings led by certified HR professionals
Integrated support with other HR training tasks such as onboarding
To learn more about our HR offerings, visit our dedicated HR page. For more information about training and who, when, and why it's important, read our next article on training employees.
in

HR , Employee Engagement , Training , Remote Work