Types of Employee Leave: Vacation, Paid Sick Leave, and PTO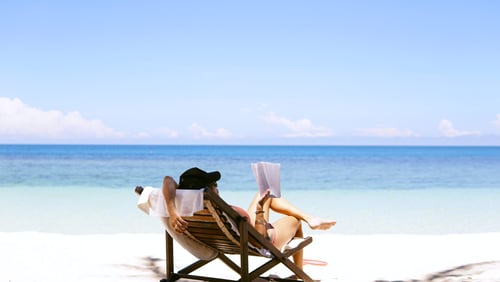 Time away from work is one of the most important employee benefits. But with multiple types of leave available to workers, it can be challenging to administer correctly, putting your business at risk of costly fines.
Complete Payroll Solutions' certified HR professionals help thousands of companies understand different federal and state leave requirements so they can properly respond when an employee requests time away from the office.
Since leave can be complicated, especially with changing laws and regulations like FFCRA, here we'll break down vacation, paid sick leave and paid time off (PTO), comparing them based on:
Whether you're required to offer leave
Who is eligible
Qualifying uses of leave
Governing laws and how to stay compliant
After reading this, you will be prepared to confidently address your employees' leave requests and stay penalty-free.
Differences Between Types Of Employee Leave
The most common types of leave that employers offer are vacation, paid sick leave and PTO. While the terms are sometimes used interchangeably in employee discussions, there are specific differences between the types of leave.
Vacation
Paid vacation allows employees to receive their regular wages when they aren't at work. Vacation days are a very common employer-provided benefit since most companies understand that allowing employees the chance to spend time away from the office can contribute to a healthier workplace culture and improved productivity.
In fact, 79% of private sector workers receive paid vacation days.
Am I required to offer my employees vacation time?
Generally, federal law doesn't require time off or pay for vacation, although employers with certain federal contracts may be subject to vacation and other paid time off requirements. Rather, vacation can be offered largely at your discretion.
How should I design a vacation policy?
Your vacation policy is up to you. That means you can set guidelines around topics like:
Rules for eligibility: One of the first things you'll have to decide is whether you want to offer vacation time to all employees or just full-time workers. You'll also need to consider whether you want employees to be employed for a certain amount of time before they receive vacation days. Many companies also increase the number of vacation days with an employee's length of service. For example, in 2019, more than 1/3 of workers received 10-14 days of paid vacation after one year of service. After 10 years of service, 35% of employees received 15-19 days.
Number of days per year: It's up to you to decide how many days off an employee receives. Whatever amount you decide on, you'll need to determine if you want to provide a fixed number of hours at the beginning of a work year or employee's anniversary date or have workers accumulate days. For example, you may decide to allow employees to accrue three vacation hours every biweekly pay period for a maximum of two weeks a year. You can also cap the amount of vacation time an employee may earn.
Using vacation: You'll also need to choose how employees may use their vacation. So, for instance, you may only allow vacation days during certain times of the year or you may require a certain amount of advance written notice. It's a good idea to create a vacation request form and have employees complete and submit it for your approval in advance. You'll also want to spell out procedures for requesting immediate unscheduled vacation time that doesn't comply with your notice requirements. Whether vacation days are scheduled or unscheduled, it's important that your policy explains that you reserve the right to grant or deny requests.
Carrying over vacation to the next year: If employees don't use all their vacation days in a calendar year, you can either have a "use it or lose it" policy that means they forfeit what they don't take, or you can allow them to carry over some or all of the time to the next year. A carryover policy can be an added incentive that makes your vacation benefit more appealing to workers and applicants. In addition, in some states, you're required to carryover days. For example, in California, you're not required to provide vacation time to employees but if you do, earned vacation time is considered wages and can't be forfeited.
It's important to note that if you do decide to provide vacation leave to your employees, it's critical that you apply your policy fairly and uniformly.
Do I have to pay out unused vacation?
While there is no federal law governing vacation days or the payout of vacation time upon termination, you'll need to be aware of your state laws. A number of states require employers to pay employees for unused accrued vacation when they leave.
For example, in Massachusetts, paid vacation days are treated like wages and must be paid out when an employee leaves or is fired. If you're found to violate this requirement, then you may face fines – and possibly a DOL audit.

You can find your state's vacation pay requirements by contacting your state labor department.
Paid Sick Leave
Most employers – 73% in the private sector – have some type of paid sick leave policy in place that allows employees to take time off due to a non-work-related illness or injury without fear of losing their job or seniority. In many cases employees are expected to use sick leave for their own medical care but some state laws also allow workers to take sick time to care for a family member.
Am I required to offer sick leave?
Currently, there are no federal legal requirements for paid sick leave.
A handful of states require employers to participate in insurance programs that pay benefits to employees who must miss work due to family and medical reasons, including pregnancy, disability or illness. The Massachusetts Paid Family Medical Leave (PFML) program is one example. Under the program, eligible workers can take up to 20 weeks for their own serious health condition, 12 for a family member's beginning in July, and 12 for the birth or adoption of a child.
In addition, many states have mandated sick leave, especially in the Northeast.

For example, in Connecticut, employers with 50 or more employees are required to provide one hour of sick leave for every 40 hours worked, up to a maximum of 40 hours per year. In Massachusetts, public and private employers with 11 or more workers must provide one hour of paid sick leave for every 30 hours worked with a maximum of 40 hours per year. Employers with less than 11 employees in MA must provide the same amount of time unpaid.

You can find out your state's rules by checking with the local department of labor.
How much sick leave should I provide?
As we just discussed, your state may require you to provide a certain amount of hours of sick leave. If you're in a state that doesn't have mandated sick leave, typically, employees would earn leave based on the number of hours worked. For example, you may decide to allow them to earn one hour of leave for every 30 or 40 hours worked.
Alternatively, you can decide to provide a year's worth of leave up front rather than require employees to accrue it one hour at a time.
When can employees use sick time?
If your state mandates paid sick leave, then it may also dictate a waiting period before new employees are able to use the time or may require that you can't have one. For example, in New York, employers can't set a sick leave usage waiting period for new hires. If your state doesn't have a law, then you can either let employees use paid sick leave as they accrue it or set a waiting period.
When employees plan to use their leave, your policy should require that employees communicate time off in advance when leave is foreseeable, such as when scheduling a surgery. In the case of an emergency, be sure to spell out procedures an employee should follow to let you know they're taking sick time.
Previously, it would be common practice to ask why an employee was taking time off or require some sort of evidence that an employee was sick. Now, especially with mandated sick time in many states, it's important that you don't question employees. However, if the employee is out of work for three or more days, you can still ask for a note from their doctor.
What are unused sick time rules?
You can structure your sick leave policy to allow employees to carry over sick time hours to the next year, cash out the value of accrued sick time hours, or forfeit what they don't use by the end of the year. Keep in mind if you're in a state with mandated leave, employees must generally be allowed to carry over up to 40 hours of sick time.
Unlike vacation time, which some states require you to pay out upon an employee's termination, there's no requirement that you pay out accrued sick time. If you choose to, it's completely voluntary.
Paid Time Off
While some employers choose to treat different types of leave separately, PTO groups together all paid time off like vacation days, sick leave and personal time into one bank so employees can use it any way they want.
Am I required to offer PTO?
There's no federal law requiring you to provide PTO. However, there are some states that require you to provide paid leave to employees for any reason.
For example, in Maine, employers with more than 10 employees must be able to accrue one hour of earned paid leave for every 40 hours worked, up to 40 hours in a defined year.
How do I create a PTO policy?
Just like other types of leave, with PTO, you'll want to create a policy that explains who qualifies for the time off, how and when employees will earn PTO or if they'll have access to it all upfront on a specific date like the start of a calendar year, and how you handle unused balances.
With PTO, as long as you don't discriminate, you can offer different policies to different employees. For example, you may decide to allow more time off the longer an employee works at the company or to more senior employees.
Unlimited PTO is also becoming more common. With this approach, employees don't have to accrue PTO before taking time off. Rather, they can take as many days as they want as long as they're meeting their goals and the leave is approved. Keep in mind that if you have different PTO policies for different employees, such as based on tenure, it can cause some issues in the workplace around fairness so you'll want to consider this approach carefully.
Whether you have unlimited or earned PTO, your policy should specify how employees should request time off and the advance notice required.
Can I require my employees to use PTO?
Employers may provide PTO then require that it be taken in a specific way or on a specific day. That means you can require employees to use PTO in certain cases. For examples, some companies have mandatory shut down periods or seasonal slow periods and require employees to use PTO during this time.
If you choose to force PTO, you'll want to make sure you're complying with state law. For example, in California, employers must provide a 90-day advance notice for mandatory PTO.
What happens with unused PTO?
In many places, it's up to you whether you want to allow employees to carry over PTO they've accrued to the next year, although you may be able to implement an accrual cap. However, the courts generally don't favor use-it-or-lose-it policies so it's a good idea to allow employees to roll over at least some of their PTO.
Likewise, when an employee leaves, you'll need to decide whether you're going to pay out all unused PTO. Many states, particularly those in the Northeast, require the time to be paid out since there's no distinction between vacation days – which must be paid out in these states – and other types of leave. In other parts of the country like the south, you may not have to pay out unused PTO if you don't include the feature in your policy.
Which type of leave is best for my business?
As you can see, there are many considerations when it comes to offering your employees paid time away from work. In some cases, you may be mandated to provide certain leave while in other states, offering a leave benefit is voluntary. Deciding on the best approach requires careful consideration of the laws in your state and your business' objectives.Whatever type of leave you decide to offer, it's important to have a clear policy and communicate it to all employees. Complete Payroll Solutions' certified HR professionals can help you create a policy that fits the needs of your business, your employees and your budget. To learn about our outsource HR consulting services, visit our dedicated HR page.
in

HR , Employee Leave