Comparing Payroll Companies: ADP Vs. Complete Payroll Solutions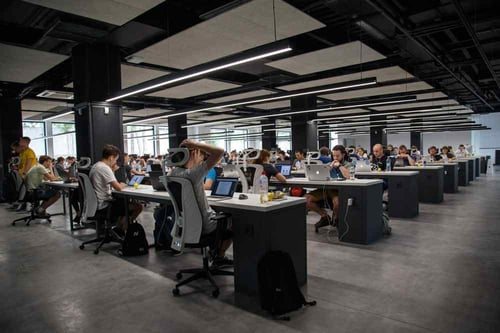 If you're getting overwhelmed by payroll responsibilities and are looking for outsourced help to alleviate the burden on your business, there are lots of providers both regionally and nationally who can be of assistance. But with so many options, you may worry about making the best choice for your business.
Download our free Complete Guide to Payroll Solutions and determine if outsourcing is right for you.
As you begin to research providers, you'll find that one of the more common options for small to enterprise businesses is ADP. But if you're here, that means you're also considering Complete Payroll Solutions.
Complete Payroll Solutions has been providing outsourced payroll services to thousands of clients for 18 years. We know that could make us biased when talking about payroll providers, but we also know we're not the best fit for every company. Given that, we feel it's valuable to provide an honest comparison to help you feel confident in reaching your decision.
To help you evaluate ADP versus Complete Payroll Solutions to determine the best solution for you, in this article, we'll address how these two providers stack up in terms of:
Included Features
Cost of Payroll
Ease of Implementation
Customer Support
After reading this article, you'll know the key differentiators of ADP and Complete Payroll Solutions to help you make the best decision for your business.
ADP Vs. Complete Payroll Solutions
When choosing between ADP versus Complete Payroll Solutions, you'll want to carefully compare the offerings from both companies.
Included Features
Both ADP and Complete Payroll Solutions offer different payroll packages that include payroll processing as well as other support services. ADP breaks down their packages based on company size: they offer 4 options for companies with 1-49 employees (termed RUN Powered by ADP) and 4 choices for those with 50+ employees.
By comparison, at Complete Payroll Solutions, we offer 4 options that are suitable for any sized business and can scale with your company as you grow.
To make it easy to evaluate the features of the packages side-by-side, here, we'll compare ADP's 4 Enhanced option for businesses with 1-49 employees to Complete Payroll Solutions' Workforce package.
| | | |
| --- | --- | --- |
| | ADP Enhanced | Complete Payroll Solutions Workforce |
| Payroll | | |
| Computer, Mobile App, Phone Call | x | Online Only |
| Direct Deposit | x | x |
| Robust Reporting | x | x |
| General Ledger Interface | x | x |
| W-2s and 1099s | x | x |
| Tax Filing | x | x |
| Multi-jurisdictional Payroll | x | x |
| Debit Card | x | x |
| SUI Management | x | x |
| HR | | |
| Self-service | x | x |
| Onboarding | x | x |
| Employee Discounts | x | |
| Recruiting | x | |
| Background Checks | x | |
| HRIS | | x |
| Handbook Builder | | x |
| HR Library | | x |
| Time & Attendance | | |
| Web & Mobile Clocks | | x |
| Time Off Requests | | x |
| Accruals | | x |
| Scheduling | | x |
| Benefits | | |
| Pay-as-you-go Workers' Comp | | x |
| Marketing Services | | |
| Google Ads | x | |
While payroll with either company's package is essentially the same, one thing ADP offers at this tier -- and every tier -- that Complete Payroll Solutions doesn't is the option to call in your payroll. With Complete Payroll Solutions' Workforce, you need to submit your payroll online by computer or phone; calling your payroll in is only available if you choose our Classic payroll.
Both companies also offer several HR features with this level of payroll package; however, they differ slightly. For example, ADP offers some integrated recruiting at this tier whereas with Complete Payroll Solutions, recruitment is only available at higher tiers. Complete Payroll Solutions, on the other hand, provides assistance for workforce management with a handbook builder and access to a library of forms and policies.
Lastly, with Complete Payroll Solutions' Workforce, you get integrated time and attendance functionality; with ADP, that's an add-on that you'll have to purchase separately..
When comparing ADP's Enhanced with Complete Payroll Solutions' Workforce, the main thing you'll want to consider when evaluating them side by side is what, if any, additional products and services you want beyond basic payroll processing. That will help ensure that you pick a package and provider that has the features you'll actually use. Otherwise, you risk paying more for services that you don't need.
Cost of Payroll
When doing a detailed comparison of ADP and Complete Payroll Solutions, another factor you'll want to consider is cost. Generally speaking, you can expect to pay about $200 to $250 per employee per year to outsource payroll, although each provider charges a little differently.
The costs for ADP's small business packages aren't available online. Instead, you'll need to either call to get a quote or submit an online form for pricing specific to your business.
At Complete Payroll Solutions, our pricing is transparent. We include the costs for each of our offerings on our pricing page so you can know before you even start a conversation with us whether we offer a solution that fits your budget. Our pricing for our online payroll packages is as follows; however, you can also pick from a-la-carte options as well to meet your specific needs like our payroll-only Classic.
Workforce: $12 per employee per month plus a $70 base fee
Workforce Plus: $12 per employee per month plus a $135 base fee
Complete Benefits: $12 per employee per month plus a $150 base fee
Ease of Implementation
No matter what payroll company you choose, making the switch takes a lot less time and effort than you may think.
ADP's website says that companies with up to 49 employees can be up and running with payroll within 2 days, although some may choose to make the transition over a period of weeks. It also says that it offers dedicated new client onboarding support for small businesses of all sizes.
As a new client with Complete Payroll Solutions, it will take about 3 days to get your first payroll set up for a simple payroll to weeks if you're a larger, more complex business. To start the process, we'll pair you with a Business Solutions Consultant who will discuss your needs so we can customize your solution. You'll then work with a dedicated Implementation Specialist for the transition; if you're a larger company using additional solutions beyond payroll, you will also be assigned a Project Manager. In addition, we'll provide training so you're prepared to run your first payroll and are here for continued support thereafter.
Customer Support
If you're new to outsourcing payroll, it's likely that you'll have some questions either about setting up or running your payroll. That's when the level of customer support a vendor provides can be an important distinguisher.
ADP offers companies with 1-49 employees automated support by phone or chat 24/7 as well as an online help center that provides access to how-to guides and support articles. Clients can also email questions to the Payroll Center at any time.
A primary differentiator with Complete Payroll Solutions is that you're assigned a dedicated new client representative when you first sign on who will stay with you until you move to a permanent payroll specialist assigned to your account. With this approach, you'll have access to the same contact who knows you and your business each time you call. These individuals are available by phone Monday through Friday.
Is ADP or Complete Payroll Solutions better for me?
As you set out to find the best payroll vendor for your company, you'll see that ADP and Complete Payroll Solutions both have their pros and cons.
ADP may be the right choice if you:
Like a do-it-yourself model and don't need a lot of handholding
Want to be able to access support staff after hours, for example, if you run payroll late at night or on the weekends
Process international payroll since ADP is in 140 countries
Are interested in a PEO for your payroll that includes group health insurance and workers' compensation
Complete Payroll Solutions could be a good choice for you if you:
Want transparent pricing so you can better budget
Prefer personalized customer service from the same payroll professional
Are looking for a more consultative approach during the sales process rather than requesting information and a quote online
Want integrated options like health insurance and retirement plan administration that's under the same roof versus handled by a third party
If it sounds like Complete Payroll Solutions may be a fit for you, visit our pricing page for more details on our options.