Creating An Inclement Weather Policy: What, Why, & How For Employers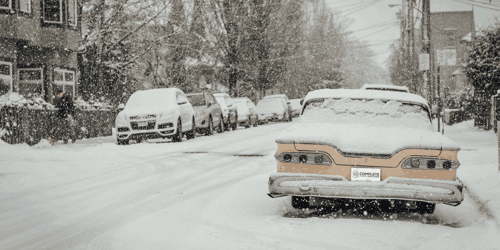 Depending on where your business is located, severe weather can pose a variety of workplace challenges. And one of the biggest is knowing how to handle closures or delays due to storms, extreme temperatures, and other inclement weather conditions. From paying employees to safeguarding them, there's a lot to worry about. What should your inclement weather policy contain to protect your business' future? Let's find out.
In this article, we'll discuss how to prepare your business for closings and delays, how to handle employees who opt not to come in, the impact of closures on pay, and any employment laws you need to comply with. After reading this, you'll know what your inclement weather policy should include to keep your business ready for any type of weather event, safely and compliantly.
What is an inclement weather policy?
An inclement weather policy outlines safety, operational, and employee compensation guidelines in the event of unusual or severe weather conditions that impact travel or the day-to-day operation of your business. These situations can occur due to:
School closures or local governments declaring an emergency

Loss of power or internet connection

Lack of water, heating, or cooling

Closed roads or mass transit down
Based on where your business and employees are located, the contents of your policy may vary. For example, an inch of snow in Vermont may not impact your workplace at all but that same amount in Texas could be considered severe weather that affects, for example, employees' ability to arrive safely at work. However, there are general topics you'll want to include, which we'll discuss next.
What should be included in an inclement weather policy?
When creating inclement weather policies, you'll want to consider the following topics:
Closure and Delay Determinations

Notifications

Leave

Pay
Closure and Delay Determinations
Outline what factors you will consider to make the decision to close your workplace or delay your start time so employees understand what to look out for such as school or local governmental office closures or delays. Be sure to spell out if there may be different considerations for essential personnel or when adverse weather affects only some employees' ability to get to work.
Notification
List what methods you'll use to notify employees of a delay or closure, such as phone, text, email, or emergency notification software. And let them know how far in advance they'll hear, for example, by 7 a.m. If weather conditions get worse as the day goes on, you'll also want to share how you'll let employees know of any plans to close early. As the weather improves, be sure to also provide status updates so employees can prepare for a return to the workplace.
Leave
There may be times that you decide to stay open but employees choose not to come in. For example, they may be worried about driving conditions or their children's daycare or school could be closed. One option is to let employees work remotely if they're set up to telecommute. Or you could allow employees to stay home and deduct the time off from their accrued leave. In fact, under federal law, you can require both exempt and nonexempt employees to use vacation time or PTO when the workplace closes due to weather. In cases where a nonexempt worker doesn't have enough leave, or they elect not to use their PTO, you can deduct the pay for the day(s) missed from their paycheck.
Either way, if the employee decides not to come in, you'll want to make sure you establish a policy for notifying their manager or supervisor before the start of the workday. And if anyone needs extended time to deal with repairs from a storm, your policy should outline that they should use accrued leave or, if exhausted, request an unpaid leave of absence.
Pay
You'll want your inclement weather policy to describe how employee pay will be affected if you have to close, whether you make that decision before the day starts or once employees already arrive to start work. Typically, that decision depends on whether an employee is exempt or nonexempt.
Exempt

: You'll need to pay your salaried employees their regular pay for days they don't work due to inclement weather closures if they performed any work at all during the workweek. So if you're closed for less than a full work week, you'd have to pay them their full salary regardless of the number of hours worked.

Nonexempt

: Under the

Fair Labor Standards Act

(FLSA), you're not obligated to pay your hourly employees for hours not worked due to your business closing for weather related reasons. However, some companies may choose to pay some or all of their pay under these circumstances. In addition,

some states like Massachusetts have laws that require you to pay employees a minimum amount

such as 3 hours pay if they show up at work and there is no work for them or leave early because of inclement weather.
It's important to note that if an employee is nonexempt but they spend time at home checking their email, you'll have to pay them for that time worked. If you don't have a rule prohibiting unauthorized work, be sure to set up a process for employees to report their time.
Why do I need an inclement weather policy?
An inclement weather policy is important for several reasons:
Eliminates confusion

: Because an inclement weather policy outlines the rules and expectations when bad weather hits, you'll avoid confusion among employees about whether they should report to work or how their pay will be impacted.

Protects employees

: Since inclement weather can create transportation issues or other hazardous conditions, having a policy in place that explains your procedures can help protect employees, a key component of a

workplace safety program

.

Ensures business continuity

: If you have a policy regarding inclement weather, your organization can be in a better position to continue operations or resume them as soon as possible. For example, you may want to spell out specific protocols for key employees so they can continue to work.
How do you create an inclement weather policy?
The first step in creating an inclement weather policy is to establish a team who will decide on the rules, expectations, and operating procedures for your workplace before, during, and after severe weather hits. This team should address all of the information we just discussed, making sure your unique business operations drive what's included. Once you develop a policy, you'll want to share it with all employees and include it in your handbook.
Since it can be difficult to create a new policy and update an employee handbook without expert guidance, many companies choose to outsource this function to ensure it's done properly. If you'd like to find out how Complete Payroll Solutions can help, learn more about the employee handbook services our team can offer.
in

HR , Compliance , Safety