Creating A Workplace Safety Program: Everything Employers Need To Know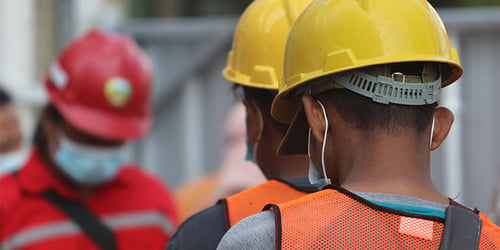 OSHA inspections are on the rise, with Congress recently allocating OSHA an additional $12.7 million for enforcement and establishing 50 new inspector posts. With OSHA penalties of up to $13,653 per violation, it's critical to have a proper workplace safety program in place to lower your risk. But how do you create a program that will ensure a safe work environment for your employees?
Complete Payroll Solutions provides outsourced safety services to advise businesses on how to create a safer workplace, reduce HR liabilities, and comply with workplace laws and regulations like OSHA. We understand the actions needed to get a comprehensive safety program up and running and avoid potential penalties.
In this article, we'll cover the steps to establishing a safety program in your company, including:
Commit to Safety
Write Job Hazard Assessments
Create a Safety Committee
Develop an Employee Safety Manual
Conduct Training
Have Timely Investigations
Maintain Logs
Prepare for an OSHA Inspection
After reading this, you'll know what you need to do to implement the right safety program for your unique needs.
8 Steps to a Workplace Safety Program
No two businesses are the same, but what all companies share is the common need to prioritize workplace safety. Here are the 8 things you can do to develop a safety program for your organization.
Make A Commitment To Workplace Safety
To create a safety culture, it's important for you to show your commitment to making the workplace safe for employees. Make it part of your values or include it in your mission statement so it's top of mind for workers. And back your words with actionable policies and procedures that demonstrate to employees you're taking safety seriously and inspires them to follow suit. What you want is for your workforce to look out for unsafe practices and feel empowered to report them.
Write Job Hazard Assessments
For each role, you'll want to understand the hazards that exist. These can be both activity-based such as in the use of machinery the employee will use as well as other risks like environmental. Keep in mind that some hazards will be obvious while others may not be easily detected and may require a professional assessment. Once you have the results, track them each year to make sure identified hazards are being addressed adequately so you're doing your best to keep employees safe within their roles.
Create a Workplace Safety Committee
A safety committee can be invaluable to a safety program by encouraging the participation and cooperation of key individuals in the effort to create a safe workplace. Create a committee consisting of diverse members from both management and non-management positions and hold meetings monthly or quarterly to discuss recent incidents, safety inspection reports, and training. By creating this type of committee, you'll help make sure there are dedicated personnel involved in creating a safer work environment.
Develop an Employee Safety Manual
Employees are expected to perform their duties in a safe manner in order to prevent injury to themselves and others. Be sure to develop a safety manual that outlines the rules and established policies for health, safety, and preventing injuries while at work review the procedures every year to see if there are gaps or opportunities to improve.
Depending on their role, these could be processes and procedures for things like:
Lockout/tagout
PPE
Emergency action plans
Electric safety
Fall protection
Fire prevention
Make it a condition of employment that employees follow the rules in the manual and have them acknowledge such by signing a form.
Conduct Workplace Safety Training
Knowledge of best practices is critical. Either with internal resources or a third party, run training that's customized to the specific risks in your organization for all new hires, those who are changing assignments, or when new hazards are identified or processes added. You'll also want to hold a refresher training when needed or required. With a focus on education, you'll not only show your employees you care about their safety, but empower them to make safe decisions.
Have Timely Investigations
Make sure you clearly explain reporting procedures to employees and explain the importance of timely reporting. Then be sure to investigate and track all incidents. Not only is this step required for OSHA reporting, but it's also useful in helping you to determine the cause as well as changes and preventive measures you can implement to reduce future incidents.
Maintain Workplace Safety Logs
OSHA 300 logs are a recordkeeping and reporting requirement that is designed to record serious work-related injuries and illnesses. If you have more than 10 employees, you'll need to maintain this information in order for OSHA to evaluate the safety of your workplace – unless you're in certain low-hazard industries – and keep the records for at least five years. Every February through April, you also need to post a summary of the injuries and illnesses you recorded.
Conduct a mock audit that will provide you with a list of potential violations. A good way to do this is to use a workplace safety checklist that evaluates the general workplace as well as more specific hazards like slip and fall safety or fall safety and even administrative deficiencies like recordkeeping and reporting. Depending on your expertise, you may want to hire a consultant to help with this step and can also provide examples of corrective action you can take to mitigate the consequences of an OSHA inspection.
How to Develop a Safety Program for Your Organization
If your company's operations expose workers to potential health or safety hazards, then you'll want to have a comprehensive workplace safety program in place to help mitigate the risks to your workers and your business. At Complete Payroll Solutions, our HR professionals can help you develop a program that's customized to your unique workplace and needs. Take the next step in reducing your exposure by visiting our dedicated outsourced HR consulting page.
in

HR , Compliance , Safety