Top 5 Signs You May Need To Outsource HR Functions For Your Business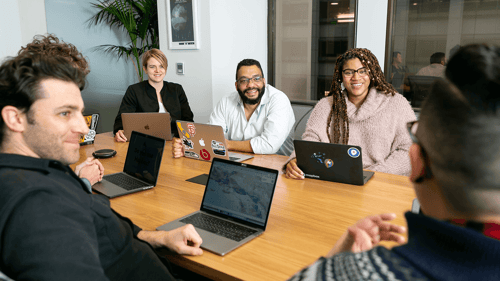 As a business owner, you may be handling HR yourself or tapping an employee with other responsibilities to take it on. You've likely realized it requires a lot more time and expertise than you have – and that can detract from your core business functions. If this sounds like you, then you may be considering outsourcing HR to ease the burden on you and your business. Not sure if it's time to make the switch? We'll share the top 5 signs you may need to outsource HR to help you decide.
After reading this article, you'll be able to determine if outsourced HR would solve the issues you face with workforce management and is the best approach for your company.
What is HR outsourcing?
Outsourced HR providers offer specific knowledge and expertise to help you reduce your risks that can arise from employee relations issues, wage and hour disputes, and regulatory compliance.
When you choose to outsource HR functions, an external professional will handle as much or as little as you'd like. You can hire an HR consultant for specific tasks like an employee handbook or engage them for more inclusive strategic guidance on all aspects of your HR program. Either way, you'll get proactive support from a specially-trained expert.
Top 5 Signs you May need to Outsource HR
How can you tell if your HR processes need external assistance? Here are 5 key signs you may be ready to outsource.
1.

HR is taking up too much of your time.
When you choose to keep HR in-house and don't have a full-time HR professional, you quickly realize it can take up a lot of your time. If you're a business owner, it's very likely that you aren't able to devote that much time to HR tasks. In fact, 45% of small business owners spend about one day a week or more on HR administrative issues.
Even if you ask another employee to handle HR tasks who has other core responsibilities, like an office manager, they'll spend more than 13 hours a week on HR, dividing their attention and increasing the chance that things fall through the cracks. Since HR is time-sensitive, doing HR internally makes the most sense when one individual or a team can be fully engaged in the function.
By choosing to outsource HR, your team will spend less time on tasks that don't contribute to revenue. Instead, you'll have more freedom to focus on other core, strategic initiatives that can help you grow the business. And, since HR companies specialize in, well HR, they have the knowledge and experience to get the job done faster so you'll be able to stay up with pressing deadlines and complex current events
2.

You're worried about liability exposure.
When you handle HR in-house, you'll need to make sure that you have the staff competencies to get everything right. That's because HR is vital to avoiding negative employee relations, fines, and litigation arising from noncompliance with everything from equal employment opportunity (EEO) laws and hiring rules to sexual harassment training and leave requirements.
If you hire an in-house HR Manager, they should be qualified to handle the complexities of the role. But in many cases, especially smaller companies, you won't have a dedicated HR professional so that means you or someone else whose primary role isn't HR must take on the task. If your team doesn't have the expertise and you find yourself searching "employment laws" online to try to stay abreast of what's happening, you risk steep fines for violations – so it may be time to outsource.
Outsourced HR providers have both general and specialized HR knowledge to make sure you're managing your workforce correctly to avoid financial consequences, for example, $100 daily fines for failing to provide lactation rooms in California. Whether you just need help filling knowledge gaps for specific issues where you have a deficiency or want full-time on-site assistance, outsourced HR providers can be a critical resource to keep you in line with compliance requirements, guiding you through what you need to do with little to no extra work on your end.
3.

Hiring a full-time HR professional is too expensive.
If you're thinking of hiring an HR professional in-house, according to the Bureau of Labor Statistics, the median pay for an HR Manager in 2021 was $126,230 — or $60.69 per hour. If you're a larger organization and have enough work to keep a dedicated HR professional busy, you may want to invest in someone in-house to handle the responsibilities. However, if you're smaller, say with less than 50 employees, and only need HR assistance periodically, paying a full-time employee's salary and benefits may not be the most cost-effective option.
To give you a sense of what you could expect to pay for outsourcing, at Complete Payroll Solutions, our HR team charges an hourly rate between $125 and $175 for consulting depending on the services you need. If you only want help with certain tasks, you can expect to pay $5,000 to $10,000 for outsourcing HR to cover most of your needs, making the choice less expensive than a full-time, in-house HR professional. And the costs aren't fixed, giving you greater flexibility in case your revenues fluctuate.
4.

Your culture and engagement are suffering.
In today's competitive labor market, it's more important than ever to have your finger on the pulse of employee morale. But you may not have the experience in house to know how to gauge what workers are feeling or what you can do to help boost retention. In fact, many small companies don't have the resources or knowledge to provide a good employee experience, yet, a highly engaged workforce can reduce a company's turnover rate by 25-29%.
When you outsource HR, the provider you work with can help you improve employee engagement and loyalty by customizing activities for your organization like surveys (and initiatives that respond to the feedback), team building events, perks that matter, career training and development, rewards and recognition, better collaboration tools, and more.
It's important to note that, by focusing on creating a positive culture, you'll not only foster an environment where employees want to come to work, but your organization will realize another big benefit as well: increased performance. In fact, companies that are the best in engaging their workers achieve earnings-per-share growth that is more than four times that of their competitors and 21% higher profitability.
5.

Your business can't keep up with hiring activity.
From creating the right job description and reaching vast networks of potential talent to background screenings and onboarding, there's a lot required to bring on new employees. And amid the great reshuffle, it's likely you're experiencing more turnover than ever, which can detract valuable time away from growing your business.
If you're at this point, you've probably found that handling hiring yourself can be overwhelming, so it may be time to seek the help of an outsourced HR company. When you choose to use a consultant, they'll act as an extension of your company and can handle the entire process of bringing on a new hire or just certain activities. For example, you may just want help with finding the right candidate so you avoid a bad hire. Or you may want help with setting up a proper onboarding process.
Whatever you need help with, you'll likely quickly understand why 44% of companies use an outsourced provider for the hiring process.
How to Decide if it's Time to Use HR Outsourcing Services
While there are some advantages to handling HR in-house, like driving strong relationships with employees directly, outsourcing can be a good option for companies who find it too challenging and expensive to have senior-level HR talent in house, are distributing HR tasks to multiple different people who lack the knowledge to handle the issues, or want to focus on more strategic activities to grow the business.
If this sounds like you and you think you're ready to outsource HR, read more about the cost and the top factors to consider when evaluating providers.
in

HR , HR Outsourcing