Letting an Employee Go: An Employer's Guide to Termination Compliance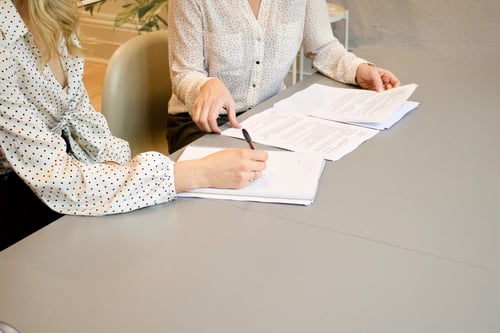 We know that terminations are one of the most challenging times for an organization. Yet even though you may be dealing with the emotional and organizational fallout of firing an employee, you still need to pay attention to your legal responsibilities. Otherwise you might be looking at penalties for noncompliance or lawsuits that can result in damages from tens of thousands to millions of dollars.
At Complete Payroll Solutions, our compliance experts have decades of experience guiding employers on how to comply with laws and regulations affecting everything from hiring to firing. To help you understand the actions you need to take when you terminate an employee, this article will cover:
Pre-termination actions
How to tell an employee
Dealing with the final paycheck and PTO
Sharing the news with co-workers
Recommended next steps
After reading this guide, you should feel prepared for the dreaded termination process in a way that minimizes legal consequences for your company. We'll start by addressing your right to terminate an employee.
Can an at-will employee be fired for any reason?
In the absence of an employment contract, the employment "at-will" doctrine allows an employer to terminate an employee for any reason or no reason at all without notice, as long as it is not discriminatory.
But there's no guarantee that an employee won't call an attorney or file a claim with the DOL, especially if one of these situations exists:
The employee falls under a protected class such as age, race, color, national origin, disability, religion, or gender. Make sure you understand federal and state statutes prohibiting discrimination.
You foresee the potential of the employee filing a retaliation claim because they recently filed a complaint about an issue like harassment in the workplace.
The employee expresses they feel they were dismissed unfairly or illegally.
You're planning a group termination that falls under the Worker Adjustment and Retraining Notification (WARN) Act and state mini-WARN laws.
When you fire an employee, you always risk that the terminating employee will take action. While you can't eliminate this threat, you can do everything possible to reduce it by taking proactive steps before, during, and after termination.
What should I do before terminating an employee?
If you're like most employers, terminating an employee is one of your least favorite tasks. So it's wise to consider other actions you can take as part of a fair and transparent performance management system to help rectify any issues.
According to SHRM, a performance management system should feature three elements:
Goal setting: This should establish objectives for the employee to achieve over time.
Performance feedback: During this step, you'll assess an employee's progress toward goals.
Performance improvement plan: If an employee regularly falls short of performance expectations, you'll want to have a corrective action process in place. It should include required documentation that will serve as a paper trail if termination becomes necessary, including:

Relevant dates
Description of expected performance and performance gap
Description of consequences
Plan of action
Signatures
This information will also help protect you in the case of any claims brought by the employee.
How do I tell an employee they are being terminated?
Once you've decided to move forward with a termination, you'll want to make plans to notify them. A face-to-face meeting is always preferable, which we'll discuss next. However, legally, you're able to terminate an employee over the phone or videoconference as long as they don't have a disability that makes these options an unreasonable form of communication.
Terminating an employee using technology may be appropriate in certain situations such as:
The employee is remote.
Your worker is at home when you learn of behavior that could lead to harm if you bring them back to the workplace.
The employee is unable to meet you in person.
Your worker cannot be located.
The employee is on leave (although terminating an employee who is on leave can be risky so you should consult an HR or legal professional).
While the situations or the COVID-19 pandemic may necessitate a termination by phone or video, it's still not the ideal approach. Instead, a best practice is to hold these types of difficult conversations in person during a termination meeting to show respect to the departing employee and preserve their dignity.
Conducting a Termination Meeting
When you hold a termination meeting, you'll want to be brief but it's important to communicate:
The purpose of the meeting
That you performed a thorough review of any incident or their performance
A clear reason for the termination
The effective date of termination
That the decision is irreversible
How benefits will be impacted
Plans for collecting company property
Typically, there are two people from your business that should be involved:
In most cases, the immediate supervisor should conduct the meeting as they are most familiar with the reasons for the discharge and know the employee best. So this makes them better equipped to handle emotions that may arise.
It is helpful to have an HR representative present to explain the details of things like final pay, benefits, company property, and exiting the building. Shifting the focus to these important details will also help to diffuse emotions and allow the employee to maintain a feeling of control.
What do I need to provide when terminating an employee?
Once you terminate an employee, there are certain documents that you are either required to provide or should consider providing.
Final paycheck: States have different policies on when and how to provide an employee their final paycheck so you'll want to familiarize yourself with your state's rules. You can check to see if your state regulates final paychecks by searching your local Department of Labor website. The US DOL has a list of the state websites.
COBRA notice: If your employee is eligible for continuation health coverage under COBRA, make sure you inform them of their rights. They will also need to receive the qualifying event notice within 30-days that explains how they can opt in to coverage.
Benefits information: You'll want to review with the employee how you'll handle any applicable life insurance or other benefits, compensation for vacation or sick time, and re-employment assistance.
Unemployment insurance: In some states, you may be required to notify terminated employees of their options for unemployment at the time of separation. For example, in Massachusetts, you'll need to provide the "How to File for Unemployment Insurance Benefits" pamphlet, so check your unemployment insurance rules.
Severance: If you have a severance agreement with the employee, which may be useful in reducing the likelihood they'll sue, be sure to follow the terms of the agreement such as those regarding monetary pay, benefits coverage, keeping company equipment, and outplacement services.
Restrictive Covenants: Whether contained in a severance agreement or previously signed, you may want to review any non-compete or non-solicitation agreements to protect your company, its assets, and information.
Some states have additional documentation requirements. For example, the Connecticut Personnel Files Act requires employers who create a documented notice of termination to provide that notice to employees immediately upon termination. The notice has to include the opportunity for the employee to provide a rebuttal.
How do I get company property back from a terminated employee?
To ensure your employee returns any company property, it's wise to have a process for tracking what items you issue to workers, such as a company credit card, key or access card, or computer equipment. When you terminate an employee, you can use this list to provide them a Return of Company Property Letter. This letter provides the specifics of what an employee has to do. For example:
How many days they have to return the property
What items need to be returned
Where the items need to be returned
How should I tell other employees about the termination?
Announcing an employee termination requires a careful balance between confidentiality and transparency. The right approach can actually bring your team closer together so consider these steps for the best outcome:
Share the fact that the employee has left and then discuss the transition plan.
If employees ask for more specifics, tell them that it is company policy to not release personal information.
Quickly address any rumors by speaking to the person(s) behind them to understand what their concerns are.
Get A Checklist To Help With Termination Compliance
As a next step, we created this termination checklist that will help you remain compliant through any termination. Complete Payroll Solutions also offers outsourced HR services that can help you navigate the legal minefield of firing an employee and minimize any financial consequences to your company with sound policies and practices regarding performance management, discrimination and harassment, and terminations. Visit our HR page to learn more.
in

HR , Talent Management , Termination