Classic Payroll Pricing At Complete Payroll Solutions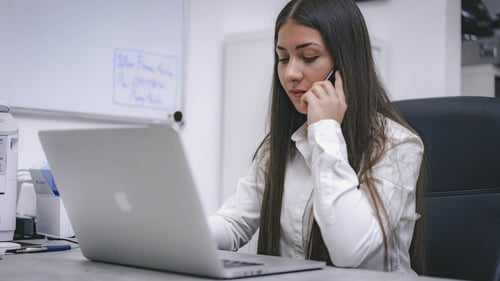 If you're considering Complete Payroll Solutions as your outsourced payroll partner, but don't think our online payroll packages are the right fit, you may wonder which of our solutions is best for your business.
Complete Payroll Solutions has been providing outsourced payroll services for over 18 years. We know businesses have varying levels of comfort with running payroll online. That's why, in addition to our online packages, we offer a Classic payroll option that allows you multiple ways to communicate your information each pay period, including by phone, fax, and email.
To help you understand what Classic payroll is and whether it could be right for your business, in this article, we'll discuss:
What is classic payroll
How much does classic payroll cost
Features of classic payroll
Who classic payroll is best for
After reading this, you'll be prepared to decide if Complete Payroll Solutions' Classic payroll option is best for you.
What is Classic payroll?
Complete Payroll Solutions' Classic payroll addresses one of the most basic wants and needs among employers – the ability to communicate directly with another person. In this model, you will be assigned a dedicated Client Relations Specialist (CRS) who is specially trained to accurately process your payroll and provide ongoing assistance.
Classic payroll is designed to meet the needs of businesses who want a higher level of support to manage their employee information, payroll processing, and reporting. Although the payroll technology we offer is great, we know that not everyone is comfortable with it or has the time to master a system. That's why we find Classic payroll is a perfect match for many businesses.
What's the difference between Classic payroll and payroll in a package?
The main difference between Classic payroll and our online packages is the level of support provided. Classic payroll offers live one-on-one support while our packages feature online service options, meaning you would maintain your database directly.
Another distinction is that Classic payroll is primarily focused on assisting clients with maintaining their data and processing payroll while most of our packages include a number of other services that a business may want such as benefits, time and attendance, and HR support. Depending on your needs, you may or may not want these options bundled together with your payroll. With Classic payroll, you can always add on these additional services separately.
Will I still get all the same payroll features and functionality?
With either Classic payroll or one of our online packages, the system used is exactly the same. That means you would have access to the same employee maintenance tools, payroll processing features, and reporting functionality with either approach. The only difference is in who interacts with the system.
In the case of Classic payroll, you would generally communicate directly with your CRS when you want, for example, a certain report. With any of the online payroll packages, you would access the system yourself to get reporting.
How do the costs compare between classic payroll and the packages?
The costs for outsourcing with classic payroll differ from our package pricing because of the level of live support provided. Generally, Classic payroll costs include a base fee per pay period and a per-employee per-month fee. The pricing is as follows.
Product

Base Fee

(per pay period)

Per Employee Paid

(per pay period)

Classic Weekly

$23.00

$2.00

Classic Biweekly/Semi-monthly

$34.00

$2.00

Classic Monthly

$55.00

$2.00
To see how this compares to one of our packages, let's say you have 10 employees and pay your employees biweekly. You would pay $54 for classic payroll per pay period for a total of $108 for a month with two biweekly pay periods. Our packages, on the other hand, are priced per month. So, for example, with our Workforce package, you would pay $190 for the same biweekly payroll.
While Classic payroll provides cost savings, our packages include more services beyond payroll, such as time and attendance, benefits and HR support, and may be an ideal option for companies looking for these additional features.
What are the benefits of Classic payroll over online?
The main benefit Classic payroll holds over an online relationship lies in the support model. With a Classic relationship, you would have a dedicated CRS permanently assigned to your account as soon as you become a client. Over time, your CRS will get to know you and your business well.
Since questions about things like employee maintenance, payroll scenarios and processing, database upkeep, and reporting can all be very intimidating for business owners, it can be reassuring to have access to someone with the knowledge and experience to address these situations.
Are there any disadvantages to Classic payroll?
While the support we just described is typically the primary reason employers choose Classic payroll, there are a few details to consider when deciding if this is the best option for you. One of these is that specialists are normally assigned to several clients. Therefore, their available time to work with you may be limited. In most cases, it's not an issue since you and your CRS would work out a communication schedule but it's still worth noting.
In addition, the specialists' access and availability may be limited by their working hours. Typically, these range between 8 AM and 5 PM Monday – Friday. If you regularly need to communicate with your CRS after hours, that could present a challenge.
How to Choose the Best Payroll Option for Your Business
If you have gotten this far, you probably already know whether Classic payroll may be ideal for you. Our Classic offering is probably the right option for your business if:
You prefer to maintain a direct person-to-person relationship with your service provider
You want options when it comes to communicating with your payroll vendor, including phone, fax, and email
You don't want to worry about getting or learning any special technology
If Classic payroll sounds like a good fit for you, then take the next step and view our pricing page. Not ready to decide? To learn more about all of our outsourced payroll solutions, visit our dedicated payroll page.
in

Payroll , CPS , Payroll Outsourcing