What HRIS Solutions Does Complete Payroll Solutions Offer?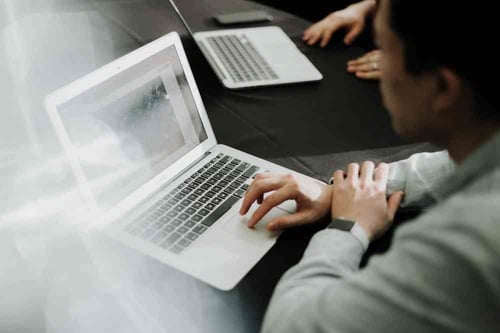 If you've decided to consider an HRIS system to help reduce your administrative burden as your company grows, there are a lot of options on the market today. As you evaluate your choices, you may be thinking about Complete Payroll Solutions and wonder what services we offer to help your HR processes become more efficient. .
Complete Payroll Solutions offers HR consulting to companies of all sizes and we often back up our services with personalized HRIS technologies for a range of HR activities like hiring, onboarding and performance management. While we know our systems may not necessarily be the best fit for everyone, we offer adaptable options that can free you up to focus on revenue-generating activities.
Here, we'll discuss the details of Complete Payroll Solutions' HRIS systems so you can decide if our offerings are right for you, including:
Features
Cost
Integration
After reading this article, you'll have the information you need to decide if one of our HRIS systems is right for your business.
Features of Complete Payroll Solutions' HRIS Systems
Complete Payroll Solutions' HRIS platforms are designed to help you maintain and manage employee information. Whether you need a more basic, introductory system or more comprehensive, enterprise-level solutions, we can customize our technology based on your needs.
Our offerings include the following workforce management features. Depending on your business, you may choose to use some or all of the available functionality.
Recruitment
With our HRIS, we can make it easier to recruit the staff you need thanks to a number of integrated features that you can utilize throughout the hiring process. With an automated approach, you'll not only have a more organized hiring process but you can also save on costs. And the benefits to prospective employees? The system will speed up the hiring process, boosting their satisfaction. Features of our HRIS' recruitment offerings include:
Applicant tracking
Candidate self-service
Interview tracking
Background screening
Onboarding
Complete Payroll Solutions' HRIS onboarding technology affords you a paperless way to efficiently bring a new hire up to speed. Since there's so much information to convey when a new employee joins your company, our HRIS makes the process seamless with options to complete the following tasks online:
Social Security number verification
E-Verify
I-9 submission/sign-off
W-4 election/submission
Our system also allows for completion of custom forms that you may include in your onboarding process.
Benefits Administration
Benefits enrollment can be burdensome and error-prone. With the benefits administration functionality in our HRIS system, you can automate the complex and time-consuming process by allowing employees the option to perform certain tasks on their own. Once they are eligible for benefits, the system will enable employees to:
View benefit plan information
Enroll and make benefit selections
Make changes based on life events such as a marriage or birth of a child
In addition, our HRIS seamlessly exchanges employee election data with the carriers in order to ensure coverage and cards are generated, and that cancellations are processed in a timely manner.
Compliance
Ensuring compliance with federal, state and local requirements is increasingly complicated, especially because employment laws and regulations change frequently. An HRIS can help your company comply by making it easier to compile necessary information and reports. Our compliance functionality includes:
New hire reporting
EEO reporting
Vets 100 reporting
Workers' comp injuries/claims management
OSHA reporting
ACA manager
Plus, our system automatically provides compliance updates when requirements change.
Performance Management
To help your employees achieve their goals and optimize their performance, our HRIS offers performance tracking and management features that can help you produce more effective and meaningful reviews, whether you do these annually or on a more frequent, informal basis. These include:
Goal setting
Performance appraisal definitions
Employee self-assessment
Multiple manage assessment
Compensation Management
Compensation management is an essential element of employee satisfaction and retention. To help you identify opportunities or make decisions regarding pay increases or other issues affecting compensation, our HRIS allows you to see and track all employee information in one place and make any adjustments instantaneously. From our system, you can view:
Salary history
Pay grades/steps
Benefit statements
Compensation reports
In aiding in decision making, this information can also help you better communicate to employees about their compensation and further pay transparency in your company.
HR Resources
To run your business efficiently, our HRIS provides a number of features that allow you to easily manage employee data, company information, and compliance efforts. These include:
Documents storage and retrieval
Employee directory/organizational chart
Company events and news
HR documents and forms creator
HR compliance library
What does Complete Payroll Solutions' HRIS cost?
On average, the industry cost for an HRIS ranges from $1 to $15 per employee per month. At Complete Payroll Solutions, depending on the functionality you select, you will pay anywhere from $1 to $10 per employee per month.
While it will cost less to implement if you only focus on the features you need at the outset, it's important to keep in mind that bundling features you anticipate needing in the future can save you money in the long run.
Does Complete Payroll Solutions' HRIS integrate with payroll?
Our solutions can be used as a standalone system. However, to maximize the benefits of using an HRIS, they deliver more value when implemented as part of an integrated solution where one employee record can be shared across payroll, time and attendance, and HR. That's why, for example, most of our payroll packages include at least basic HRIS features.
How to Choose the Right HRIS for Your Company
With a range of functionality and, therefore, costs, it can be challenging to decide on the best HRIS approach for your company. Hopefully, this article provided an overview of our available offerings and how you can customize them to best suit the needs of your business. No matter what level of support you choose, our HRIS solutions can be an ideal choice for a company who wants:
An experienced technical implementation team focused solely on setting up your HRIS
To be able to contact support directly and not get routed to a call center
A solution that can scale to accommodate future growth
The ability to access additional HR outsourcing services from the same vendor
Does an HRIS from Complete Payroll Solutions sound like a good fit for you? The next step is to view our detailed pricing page.
in

HR , HRIS , CPS , HR Software , Technology