Top 5 Employer Considerations For Your Company's Office Holiday Party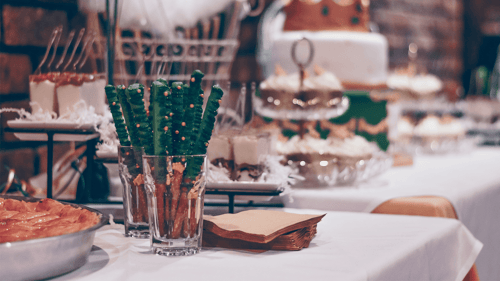 Plans for holiday parties are underway at many employers for the upcoming season. And while these celebrations can boost employee satisfaction, they can also be risky for your organization if things go wrong. What can you do to make your office holiday party a positive experience for everyone? We'll share the top things to think about.
In this article, we'll discuss 5 key things you'll want to consider to make sure you avoid potential problems. After reading this, you'll be prepared to plan an event that's fun and fosters morale while limiting your liability.
Top 5 Things to Consider With Your Company Holiday Party
As you plan your year-end celebration, there are several important considerations to keep in mind. We'll address 5 of them here.
1.
Serving Alcohol
One of the biggest decisions you'll need to make as you plan your office holiday party is whether to serve alcohol at your event. Even if you have a drug- and alcohol-free workplace policy, the party can be a narrow exception. However, if you choose to serve alcohol, you'll want to be aware of the potential risks that come along with this decision.
For example, alcohol can lower inhibitions. And that could lead to inappropriate behavior such as employees making sexual advances or offensive remarks that could give rise to a claim of harassment or discrimination.
There's also the risk of employees drinking and driving. To make sure employees get home safely from your company holiday party, you may want to consider holding your event near public transportation and provide a shuttle there or cover cab or ridesharing costs.
One way to mitigate these unwanted consequences is to control consumption so employees don't drink too much. To do that, you may want to:
issue drink tickets to limit the amount and avoid an employee overdrinking
limit the timeframe in which you'll serve drinks, for example, only during a 2-hour window
hold the party on a week night or earlier in the evening such as between 5 and 7 p.m.
only serve beer and wine
And be sure to ask supervisors to set a good example themselves.
2.
Ensuring Inclusivity
Another issue you'll want to address in your office holiday party plans is whether you should invite all employees or if you can limit attendance to certain groups. Since the party should be a morale-boosting opportunity for your company, best practices are to make sure all employees are invited.
And, in today's environment, that means remote employees as well. If it's too costly to fly remote workers to your headquarters to attend, consider sponsoring a regional holiday party if several workers live near each other or ship a gift card to a restaurant so they can enjoy a meal on the company. You'll also want to be inclusive when it comes to spouses, meaning, if managers are allowed to bring spouses, then non-managerial employees should be able to also.
3.
Preventing Sexual Harassment
Even in a more casual setting like an office holiday party, it's important that employees understand the same sexual harassment workplace policies apply in any work-related setting, including at an event that's on or off site. While employees may have reviewed and signed these policies previously, remind them in advance of what the expectations are and that the rules aren't any different than they are at the office.
If you witness inappropriate behavior at the party, you should be prepared to respond as well. Be sure to plan in advance how you'll address situations like this that arise like inappropriate behavior on the dance floor that crosses the line. Will you warn the employee? Ask them to leave? It's important to have protocols established so you can immediately step in.
4.
Avoiding Religious Discrimination
Many holiday events focus on Christmas themes in terms of things like music and decorations. However, it's important that your year-end celebration be inclusive of all employees and their religious backgrounds.
Avoid using the term Christmas and keep your event more general by calling it a year-end or holiday party intended to recognize employees' efforts and contributions. You'll also want your decorations to be secular or you could put up décor for each holiday. Lastly, be sure to plan your event around religious holidays that occur in December, so your dates don't conflict with employees' observances.
5.
Requiring Attendance
While you'd ideally like all employees to join in your office holiday party, it's important to make attendance voluntary. Not only may some employees not feel comfortable attending due to personal reasons such as alcohol being served, mandatory attendance could give rise to wage and hour issues. For example, if you don't pay nonexempt employees, then the party would likely be considered "compensable."
And be sure that employees understand there will be no negative actions taken if they don't attend, such as not receiving a bonus or not getting opportunities to advance.
How to Best Plan Your Office Holiday Party
Your company holiday party should be a positive experience. And paying attention to these common pitfalls can help ensure it is. As you plan your event, you may not feel you have the expertise in house to design a celebration that's compliant with employment laws and regulations, limits your potential liability, and increases employee satisfaction, and may be considering an HR provider. Read our next article on the top 5 signs you may need outsourced HR assistance to help you decide.
in

HR , Compliance , Employee Engagement